2 Hours Left To Get The November Loot Crate Completely Exclusive Comic Book (SPOILERS) The November Loot Crate Combat edition has a bunch of cool stuff. And right now is two hours and change left to order it if you really want to. Go here and use the code BLEEDINGCOOL for added discount.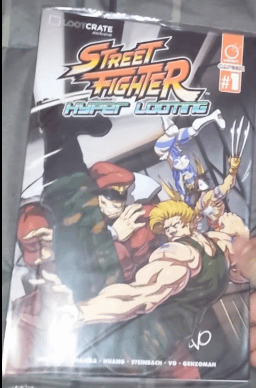 But among all the geeky goodness is a comic book. But one that probably won't affect the November charts as its fro a non-exclusive comics publisher and so the orders won;t go through Diamond.
It's from Udon and Capcom. It's a Street Fighter comic. But rather than just an exclusive cover, it's a totally exclusive comic book. And it's completely themed around Loot Crate.
Street Fighter Hyper Looting sees the employees of Loot Crate team up with the heroes of Street Fighter to fight Shadaloo and save the world.
Do they win? Well, the world is still here, isn't it? Leaving you to enjoy your other Loot Crate goodies,
Shredder helmet sunglasses from Teenage Mutant Ninja Turtles and Nickelodeon
Hunger Games Mockingjay pin
Voltboy bobble head from Fallout.
Gift Tags for regifting your Loot over Christmas
The Loot Crate Combat button
Blizzard Cute But Deadly figure and magnet set.