After 20 Years, Marvel to Publish Warren Ellis's 2 Issues of Satana
Once upon a time, Warren Ellis wrote a Satana series for Marvel, coming off his run on Hellstorm and Druid.
It was to be part of an imprint called Strange Tales, conceived to compete with Vertigo, reimagining Marvel's horror characters for a mature readership. J.M. DeMatteis and Liam Sharpe lined up for Man-Thing, Warren Ellis and Ariel Olivetti on Satana, Doug Moench and Tommy Edwards on Moon Knight, and Paul Jenkins and Leonardo Manco on Werewolf by Night.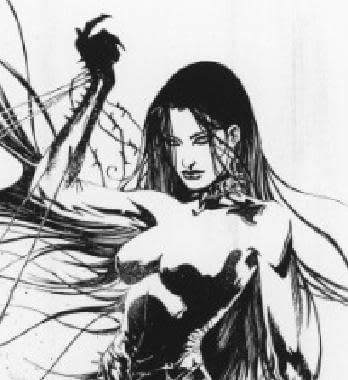 The image is a sliver of a cover by Jae Lee for Satana #2 that made it out.
Then Marvel, going through bankruptcy, suddenly decided it all had to be an all-ages line, and covered by the Comics Code. Warren Ellis pulled his Satana series and the other titles came out in a muted, bowlderised fashion. At the time he wrote:
Publication of SATANA, an intended monthly series for Marvel Comics, was suspended indefinitely in October 1997. Persons within the high managerial levels of Marvel — that is, above editorial — have decided that no comic bearing the Marvel colophon may be published without the Comics Code Authority stamp that ensures it is safe and decent reading for America's children. I was approached, commissioned and given creative control under the promise — made under an earlier administration — that SATANA would be a work of adult horror fiction, written without the strictures of children's comic guidelines. The new administrators of the company decided that adult fiction is antithetical to their view of Marvel Comics. It should be pretty clear that that someone didn't give a toss about breaking the company's promises to me, either.

None of this should be seen to blacken the names of Ralph Macchio, Bob Harras, Matt Ragone, Jim Sokolowski, Shirrell Rhoades or anyone else in their respective departments. The orders came from way above the shop floor and working publishorial levels. All these people behaved with honesty, guts and correctly aimed anger. They have supported me when they didn't have to, and I'd work with them again any time.
Years later, for Marvel MAX line, John Ostrander was approached to finish the story so that Marvel could release it as a mature readers mini-series. It didn't happen.
Possibly because by then Warren Ellis had already re-worked his two completed Satana scripts into the series Strange Kiss, published by Bleeding Cool's publisher Avatar Press, removing Satana and any Marvel characters in the process. In the introduction to Strange Kiss, he tells you of the Code's response to the first Satana issue submitted.
We all expected the photocopied edition to come back covered in notes, as it always did to Marie Javins when I did 'Hellstorm' and 'Druid.' This time, there were no scribbles, just a letter with it. It read, and I paraphrase: We cannot suggest any changes that would make this work suitable for humans, other than that it be completely rewritten and redrawn. I'm kind of proud of that.
Anyway, that was that. Until now. Where, as we have just published, Marvel Comics is putting out an Omnibus of Ellis' run on Hellstorm, Druid and the unpublished issues of Satana. The Code doesn't exist anymore.
If you want to read Strange Kiss first, of course, you can do that here.