2000AD Celebrates 40 Years With A Stellar Line-Up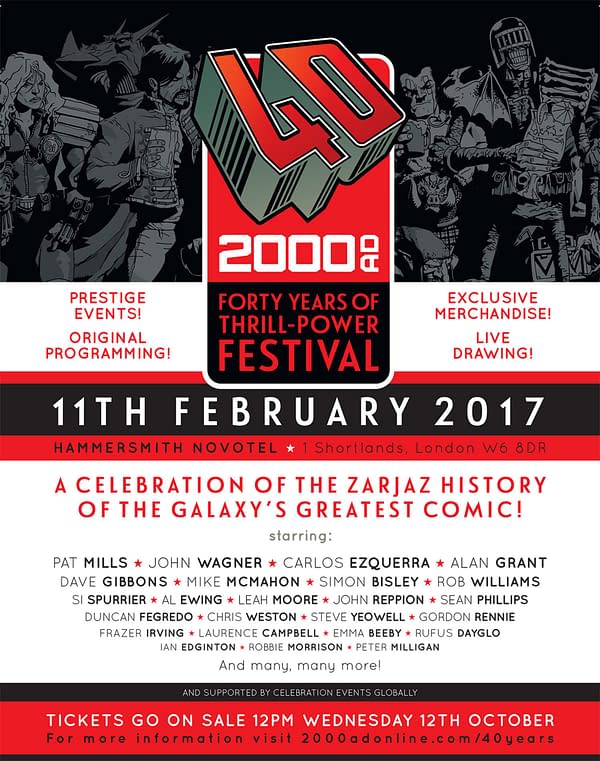 Olly MacNamee writes
You know 2000AD is celebrating its 40th anniversary next year, right? And, you know all about their anniversary celebration on February 11th? It's the UK's longest running sci-fi weekly and as such deserves to be celebrated! Without 2000AD, arguably we would never have had Alan Moore, Dave Gibbons, or top cop, Judge Dredd either. In its 40 years history it has been a trailblazer, a mirror on the darker aspect of society and, simply put, a great read on a weekly basis.
Well, take a look at the long, long list of creators past and present Rebellion have lined up for this one day event. An update on the list we have previously posted. Pat Mills and John Wagner in the same room? I'd pay to see that showdown at the drop of a hat!
The main event, a one-day 'immersive live extravaganza', will take place at Hammersmith's Novotel and includes a jam-packed schedule of prestige events, original programming, world exclusive merchandise and one-of-a-kind spectacles befitting the legacy of the finest comic book export the UK has ever produced.
The most ambitious single occasion in the history of 2000 AD publishing, the festival will feature an unprecedented number of writers, artists and editors to have graced its pages including (don't try and read this all out aloud in one go; you'll be out of breathe) :Pat Mills, John Wagner, Carlos Ezquerra, Alan Grant, Jesus Redondo, Robin Smith, Cam Kennedy, Arthur Ranson, Colin MacNeil, Andy Diggle, Henry Flint, Jock, Peter Milligan, John Higgins, John Reppion, Leah Moore, David Bishop, Emma Beeby, Gordon Rennie, Glenn Fabry, Simon Bisley, Ian Edginton, Dave Gibbons, Mick McMahon, Steve Yeowell, Rob Williams, Si Spurrier, Al Ewing, Sean Phillips, Dan Abnett, Duncan Fregredo, D'Israeli, Tom Foster, Kev Walker, Annie Parkhouse, Chris Weston, Clint Langley, Ian Kennedy, Richard Elson, Chris Blythe, Hilary Robinson, Richard Burton, Steve McManus, Jon Davis-Hunt, Alan Barnes, Alec Worley, David Bailie, Simon Fraser, Mark Sexton, Eddie Robson, John Tomlinson, Paul Cornell, Peter Hogan, Steve White, Charlie Adlard, Geoff Senior, Eoin Coveney, Ben Willsher, Boo Cook, David Kendall, David Millgate, David Roach, Dom Reardon, Dylan Teague, Frazer Irving, INJ Culbard, Jeff Anderson, John McCrea, Karl Richardson, Laurence Campbell, Lee Sullivan, Lee Townsend, Leigh Gallagher, Mark Harrison, Mike Dowling, Mike Collins, Mike Perkins, Nick Percival, Neil Roberts, Nigel Dobbyn, Patrick Goddard, Paul Marshall, Rian Hughes, Simon Davis, Simon Gurr, Simon Jacob, Steve Pugh, Steve Roberts, Steve Tappin, Tiernen Trevallion, Warren Pleece, Simon Bowland, Abigail Ryder, Roger Langridge and many, many more!
This is a huge line-up, as recognised by Rebellion's head of books and comics Ben Smith who had this to say when asked by myself: "We're confident that this is not only the largest assembly of 2000 AD talent ever, but a lineup that rivals any UK comic event. We very much hope that come February, Earthlets large and small will consider their minds well and truly blown!"
Tickets for the 2000 AD: 40 Years Of Thrill Power Festival are on sale now and can be purchased at 2000adonline.com/40years
For more information follow 2000 AD on twitter, like 2000 AD on facebook, visit 2000ADonline.com to sign up to the official newsletter.
Not a bad start to the con season now is it?