Another week! Another Wednesday! So what does it bring the comic book lover? Here's a brief look at a dew comics out today… A certain someone appears briefly, flashbacking in Constantine. That's all you'll get to see of her. She makes a larger appearance in Bizarro, where he takes to backwards speaking rather easily, much to Zatanna's distress.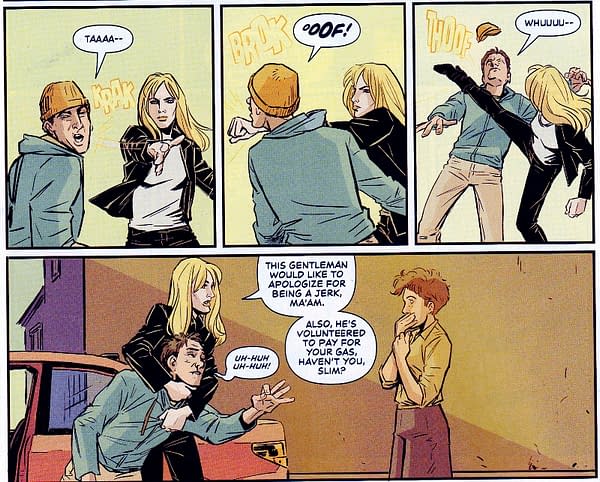 Don't worry he did attempt a carjacking first. It's not a complete assault for just being a jerk. Though I wouldn't put it past Black Canary. Okay, lets just make that canon now. Rename The Riddler to The Colon. I hear that Section Eight are looking for a final team member…



I does appear that Asgardians have dimensional pockets inside their stomachs when it comes to food, in Agent Carter.
Adventure Time with Fionna & Cake: Card Wars #3 also seems to favour a stomach dimensional bursting snack. This can only lead to one thing… If I ate that much, something like this, from Auteur #4, would happen. Oh look, sausages and… are those brownies? Take a sniff…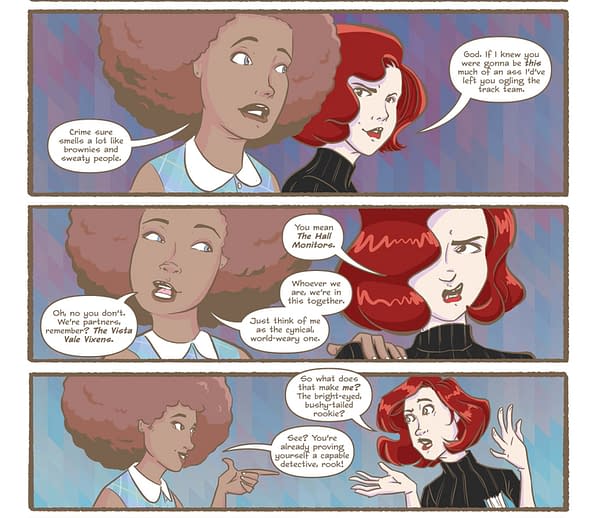 Nutmeg #4 kicks off the revival of Veronica Mars you've been waiting for. Invader Zim goes hipster. Scarf, check. Silly small hat, check. Big glasses, check. Tiny moose, check. Still, there are far worse youth cultures to adopt… Such as the idiotic youth of D4VE2 #1… The slicked back mod look of the merpeople in Lumberjanes #18… And the money-mad haters in Big Trouble In Little China #16. Though it's not just shaming… In Jem #7, they don't even get that far… there's a lot of frustration to be voiced. Something rather shared in My Little Pony #34, though that has more understandable water-based reasons. Always good to have some screaming therapy though. And don't forget the rogue role players hanging around street corners throwing dice accompanied by virulent rhetoric, as cruelly exposed in Pirate Princess #3… a twenty!!! After-battle sex is always the best like of make up sex there is, in Death Vigil #8. But there's always someone left out, as in Fiction #4
Equivocation for decapitating monsters can only go so far, even when talking to a feathery muppet, in Manifest Destiny. I don't know, Kirk, they may be from the Outer Hebrides. Star Trek #49 there. String Divers #2 introduces us to the latest episode of Seinfeld, in black and white. Challenged in light and dark by the first issue of Awake #1. TMNT Amazing Adventures #2 engages in some politically complicated acts of defenestration… UFOlogy #5 isn't quite as loquacious. But at least there's plenty of room for piercing.
The future of Tokyo Ghost gets very literal, with everything for sale in a can – or a syringe.
While Beauty deconstructs the tropes of a secretive office-breaking investigation… And Shutter… does an Animal Man….
Comics courtesy of Orbital Comics, London. With a Satanic Mojo signing this Saturday… Enjoyed this article? Share it!