Earlier this year, crowdfunding site Kickstarter announced plans to celebrate small press comics in September with their "Small Press, Big Ideas" initiatives. The idea was simple: launch your comic Kickstarter in September and send Kickstarter an email letting them know, and the project would be featured on the Small Press section of the site. The promotion coincided with the 2019 Small Press Expo, where Kickstarter was a sponsor of the Ignatz Awards.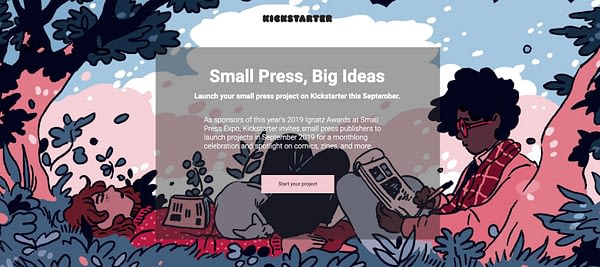 It's hard to measure how successful Kickstarter's September initiative was, though we hope they'll release statistics when the month is done. There have been some big successes. Dina Norlund's campaign for The Snow Cat Prince, described as "A graphic novel about a Snow Cat Prince and his quest for the Kings Crown," has raised more than $58,000 at press time on a funding goal of just over $6,000, with three days left to go. Zainab Akthar's campaign for Don't Go Without Me by Rosemary Valero-O'Connell has nearly doubled its funding goal by raising over $60,000, though there are still four days left to grab a copy. The Kickstarter for Niobe Returns in She is Death and the Untamed by Sebastian A. Jones raised a whopping $79,000 so far off a $21,000 goal, though if you want a copy of that, you'd better hurry, as there's just half a day left right now. Quite a few other comics have been funded at both huge and modest numbers.
But while some Kickstarters thrived, others have yet to meet their funding goal and are running out of time. If a project on Kickstarter isn't funded, the creators don't get any of the money, and barring a second attempt down the line, the comic doesn't get made. The following Kickstarters have less than a week left to raise funds but haven't yet met their funding goals. If you're looking for some new comics to support, give some of them a look. You can also browse through all of Kickstarter's comics campaigns here, sorted by the ones ending soonest first.
---
Kickstarter: Ichabod Jones: Monster Hunter #5 + Volume 1 Re-release
Campaign run by: Russell Nohelty
Description: A Lovecraftian dark fantasy horror-comedy inspired by H.P. Lovecraft's Dreamlands and Cthulhu mythos but set in a Christian Apocalypse.
As of press time, this comic has six days left and is around $2000 away from reaching its $15,666 funding goal. Entry level pledges are $5 for a digital copy of the comic and $13 for a physical one. If Ichabod Jones: Monster Hunter sounds like something that would interest you, be sure to check it out and consider pledging in the next six days.
---
Kickstarter: "What Fresh Hell Is This?" 9 levels of studio hell!
Campaign run by: Enrica Jang and Red Stylo Media
Description: An indie comic anthology inspired by Dante's Inferno.
This campaign has been featured on Bleeding Cool, and has just four days left to raise roughly $1,000 more to hit its $4,666 funding goal. It's $12 for a digital copy of the anthology and $25 for physical, so if you're interested, be sure to head over there in the next four days to reserve yours.
---
Kickstarter: DEATH TRAP : A paranormal, sideshow freak, grindhouse story!
Campaign run by: Matt Miner
Description: Together with her father's ghost, Ollie and her adopted circus crime family are vengeance-bound in a '68 Mercury Cougar.
This project, which features the return of artist Christopher Peterson to comics, has just five days to go to raise about $6,500 toward its $18,000 funding goal. Bleeding Cool featured an interview with Miner and Peterson earlier this month if you're looking for more info. If you want to grab a copy and ensure the project is funded, at an entry level pledge of $10 for a physical copy, head over there in the next five days.
---
Kickstarter: Tribute: The B.U.t14u7 1s (or, The Beautiful Ones)
Campaign run by: Vito Delsante
Description: A 28-page one-shot comic inspired by the music of Prince.
This comic inspired the music of the late Prince seemed like a sure thing to its creator, but in the most recent update for the comic, Delsante has all but given up on the project getting funded, with plans to retool it and launch again in the new year. But there's still five days left to raise another $4,700, so if you're interested, head over there and grab a copy for an entry-level pledge of $5 digital, $7 physical.
---
Kickstarter: Willowisp #2
Campaign run by: Elisa Bisignano
Description: A LGBT+ paranormal romance about a boy named Noah who moves to the hometown of his recently deceased mother.
Willowisp #2 is only looking for $2,565 to fund the project, but even with 100 backers, there's still $400 left to go and the campaign ends in just 21 hours. A digital copy is $6 and a physical one is $11, but if you want one, you have to move fast! Hopefully, you're reading this article shortly after it was published.
---
Time is running out for the campaigns above, though there's no reason all five can't hit their goals if enough readers are interested. But even after these ends, there are dozens of new Kickstarters each month that need support, so if you're getting a little tired of the same old super-mega-crossover events and number one issue relaunches from the superhero-industrial complex, consider checking out the Kickstarter comics page for some new ideas at any time.
And if you're running your own Kickstarter and need some support, be sure to let us know. In fact, maybe we should make this article a regular column for the end of each month. Let us know what you think in the comments.
UPDATE: Okay, let's make it six comics Kickstarters that could use your help right now! Creator Kevin Powers emailed us to let us know his Kickstarter for Patriot-1: "Ultimate" Edition, described as "Tom Clancy meets Captain America in this 194-page graphic novel about a soldier fighting conspiracy & standing up for an ideal," could also use a jolt. The campaign has five days left to raise another $1,500 and hit its goal. Entry level pledges for this nearly 200-page book start at $15 for digital and $25 for physical. Head over to the Kickstarter page in the next five days to back it.
Enjoyed this article? Share it!