By Oliver Mertz
Things are about to get interesting. Probably. The world of independent comics – and yes, there is indeed a vibrant world out there – is experiencing something new. We can call it a digital revolution but I'll get back to that in a second.
I co-write and publish First Law of Mad Science, a Lovecraftian horror meets Cyberpunk comic that was funded on Kickstarter and is now available for sale on ComiXology thanks to the brand new ComiXology Submit. The actual process of bringing First Law to readers has been four years in the making and is one that wouldn't have been possible without these excellent websites. I mention this for subsequent anecdotal evidence. Also, and let's face it, so I can plug my comic in hopes that you might give us the time of day.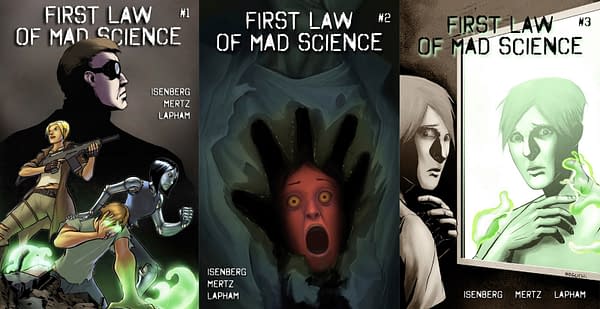 For years, breaking into the comics industry, and by that I mean being able to actually reach readers, was an extremely difficult process. You could write and draw a comic on your own but getting it into the hands of readers was a much harder process. Essentially, very few writers and artists actually made it through the door. This was due to a simple fact; printing comics was expensive. So expensive in fact that publication of a comic that didn't already have a built in audience was a gamble. There are publishers out there who take these risks but they still have to make a decision on which comics live and which die. By luck of the draw, based on what funds are available, some comics get the go ahead and some comics, however worthy of your attention, never see the light of day.
Why is this an issue, you might ask? Well, stop asking questions and just read the damn article! Actually, what I mean is, it is an issue because in the case illustrated above distribution has taken over control of content creation. Therein lies the rub. Or rather, and frankly speaking, if you prefer your answers in latin: auribus teneo lupum. When the cost of distribution dictates what content is created you end up with a limited spectrum of that content and end up limiting the potential of the medium as an artform altogether.
But anyway, let's quickly move along to the rise of Kickstarter; a key part of the aforementioned digital revolution in comics. Mike and I found Kickstarter early on, sometime in early 2010. (Author's note: this is part of that anecdotal evidence I mentioned before. Just sayin'.) At that point, only a few comics were on the site. Obviously, this seemed odd that there were so few comics projects posted because the Kickstarter model appeared to perfectly solve the problem of funding a comic that doesn't fit into the mold of already established publishers' wheelhouses.
By April of 2010, Mike and I had been writing First Law of Mad Science for nearly a year and half. We had been friends since childhood but it wasn't until late 2008, when Mike was down from New York visiting home in Washington D.C. where I still live, that we decided to create something that we would want to read. And once we realised that we would have to work our asses off to create anything of value, we did. We met at least three times a week for hours on end, all over Skype. With Mike in New York and me in Washington D.C., meeting in person on a regular basis was out of the question. We steadily wrote the first twelve chapters of First Law, which would become the first story arc in our ongoing series.

Once we finished writing those issues, we had a problem; neither of us could draw. We went to conventions, such as MoCCA Fest in New York, looking for collaborators. Each artist we approached asked us the same thing, "what are you paying per page?" Our answer, sadly, was nothing. We didn't have the money to pay anything per page. We did, however, quickly learn what a decent page rate was and how to locate artists looking for work on an online comics job forum. That is where we found Daniel Lapham, the incredible artist behind all of the pretty pictures in First Law of Mad Science. Now there was still the issue of paying Daniel. And that, dear reader, is where Kickstarter comes in. Mike and I grabbed a camera – I am a video producer by day, so that helped – and we made our pitch video. (You can still find it on Kickstarter if you'd like a laugh.) We calculated what we would need to pay Daniel and to print issues of the comic for conventions. With that, we were off and running. Within a few short days we had made our goal. Granted, we had drastically underestimated all of the costs involved in publishing a comic but all the same, we were off.

Daniel got to work. We also later brought on Jeff McComsey to do the digital gray scales, Jamie Noguchi to do the covers, and Lonny Chant to do inks on issue three. Keep in mind, at this point we had only corresponded with Daniel, Jeff, Jamie, and Lonny via email. We were all creating a comic together over the internet and it was excellent. By the time of the 2010 New York Comic Con we had a partially completed comic. We had already booked a booth so, armed with our "work-in-progress edition" of First Law of Mad Science #1, we exhibited. Thankfully, people responded positively to our comic and we lived to see another day. (A HUGE thank you goes out to those early readers. You kept us going and we are very grateful.)
Many conventions and two issues later, we had built up a small but loyal readership. It was then at the 2012 New York Comic Con that we spoke with ComiXology about digital distribution. They told us about the new ComiXology Submit portal which would allow independent creators to sell their comics in the same digital storefront as the Big Two. To some, this may seem like a small matter. It is not. Mainstream distribution of independent comics is going to change the comics landscape for the better. And just as independent films, which found distribution in the 90's, changed the face of American cinema, independent comics will change the face of the artform, more so. Hopefully, we'll get to see more independent comics spring up; comics which dare to take the medium in a different direction.
So, why is First Law of Mad Science a household name? It's not. But thanks to all of the amazing digital opportunities available for independent creators it now has a chance to be. And for that, I am incredibly grateful.
http://www.comixology.com/First-Law-of-Mad-Science-1/digital-comic/DIG002634
http://firstlawofmadscience.com/
Enjoyed this article? Share it!