A New Look for Mania in Tomorrow's Venom Funeral Pyre, Kicking Off Absolute Carnage (Spoilers)
Okay, so this is where Absolute Carnage really begins, after all those teases, reveals and foreshadowing across the Marvel Universe in recent months. Venom: Funeral Pyre #1, out tomorrow. And not to be confused with Venom: funeral Pyre from the nineties that pitted Venom against Punisher. I mean, for a start, this comic doesn't have Punisher in it. Or, for that matter, Venom.
There is flashback of course, mostly to the Flash Thompson Venom years from which the Mania symbiotic origin with relatively recent Mania host Andrea Benton belongs, as well as the events that saw the symbiote in question untimely ripped from her, but leaving her with the Hell-Mark. As well as the power, it seems, to wake up in bed with perfectly applied goth make-up.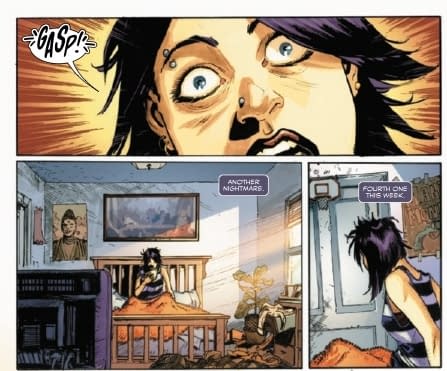 Impressive.
But her power base is a lot more than that. Hence the 'pyre' in the comic book title…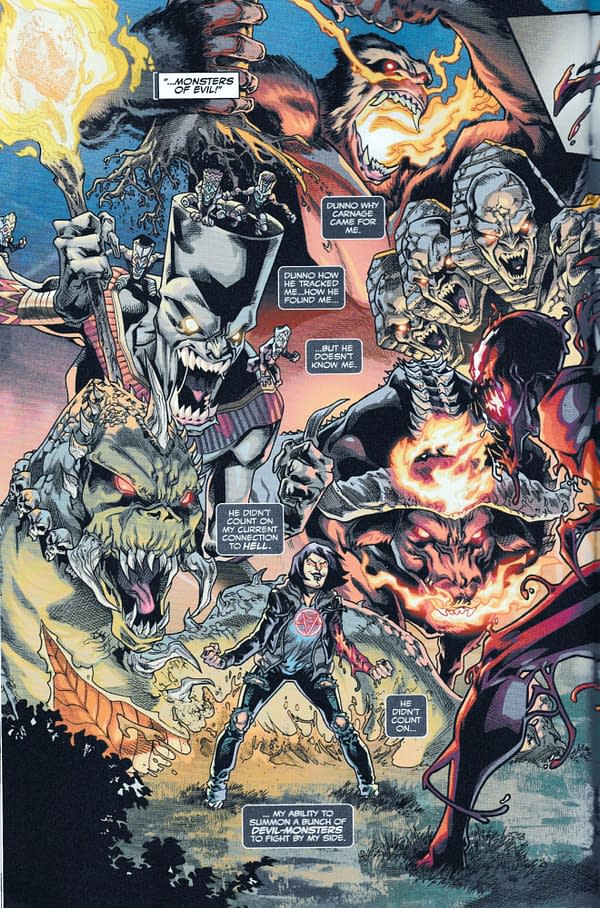 Of course, Carnage himself is now fighting with the power of the symbiote god Knull now of course. So it's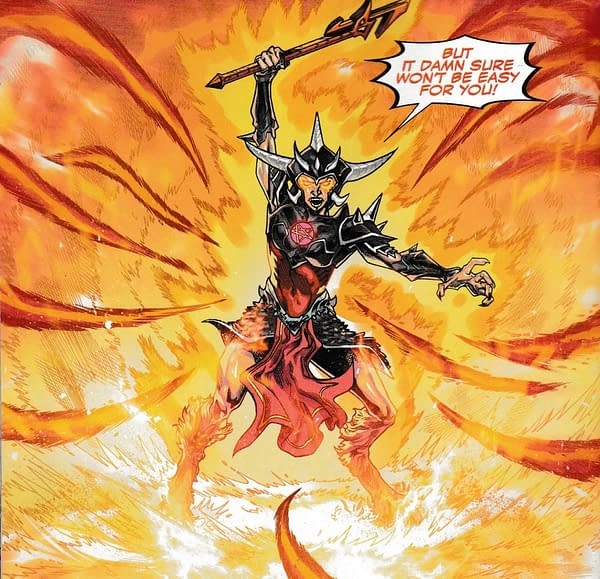 A nice new costume, and another ezample of Mephisto's influence on the Marvel Earth right now. Almost as if it's leading up to something more than just Absolute Carnage…
WEB OF VENOM FUNERAL PYRE #1
(W) Cullen Bunn (A) Alberto Jimenez Alburquerque, Joshua Cassara (CA) Declan Shalvey
For weeks, the serial killer called Carnage has been hunting former symbiote hosts and killing them. Next on his list is ANDI BENTON, formerly MANIA, who's back to living in Philadelphia and without any symbiote to save her… bThe path of bodies that leads to ABSOLUTE CARNAGE continues here!
Rated T+In Shops: Jul 24, 2019
SRP: $4.99