When it comes to super-mega-crossover events, bigger is always better. If a super-mega-crossover event doesn't rock the Marvel Universe to its foundations leaving nothing ever the same again, what good is it, really? Likewise, everybody knows that any super-mega-crossover event worth its salt will have dozens of tie-ins and spinoff mini-series and feature an enormous cast of characters. But with so many characters running around, it can be hard to keep track.
Plus, Marvel's readers are so stupid, Marvel had to announce a four-issue mini-series to teach them how to read a comic book. These things barely even have words. They're mostly pictures, really. We so dumb. Durr de durrrr.
Recognizing our stupidity, however, Marvel is helpfully releasing an Empyre with a Y handbook to explain who all these characters and alien races are and stuff. And all we have to do is shell out an additional $4.99 so we can understand Empyre?! Sold!
Check out the solicit below.
EMPYRE HANDBOOK #1
VARIOUS (W) • VARIOUS (A) • Cover by RON LIM
Multiple races across the universe are pulled into a major conflict when EMPYRE hits! The Official Handbook of the Marvel Universe helps keep the participants straight with updates of the major players in this star-spanning war: The Avengers! The Fantastic Four! Captain Marvel (Danvers)! The Skrulls! The Kree! Hulkling! Plus: All-new profiles of Kree members Bel-Dann, Captain Glory (Gla-Ree) and Tanalth, Skrull member Raksor, and the Cotati Swordsman! Also featuring the mysterious, never-before profiled Blue Area of Earth's Moon!
48 pages/ONE–SHOT/ Rated T+ …$4.99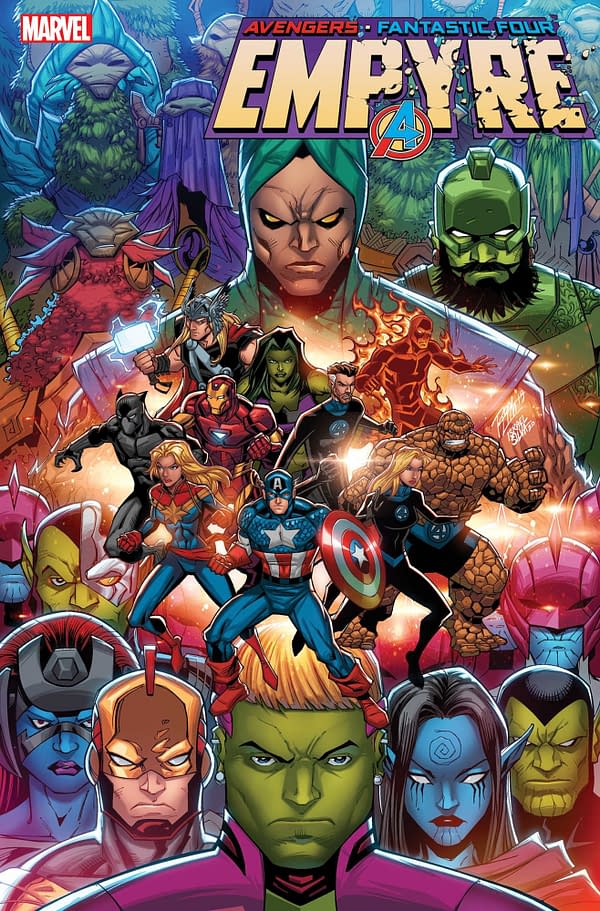 Enjoyed this article? Share it!