Abrams Cancels Dave McKean Suicide Bomber Comic After Concerns Expressed
A Suicide Bomber Sits in the Library is a new comic/picture book written by Rotten Ralph and Joey Pigza creator Jack Gantos and drawn by filmmaker and comics creator Dave McKean, and was to be published by Abrams in May 2019.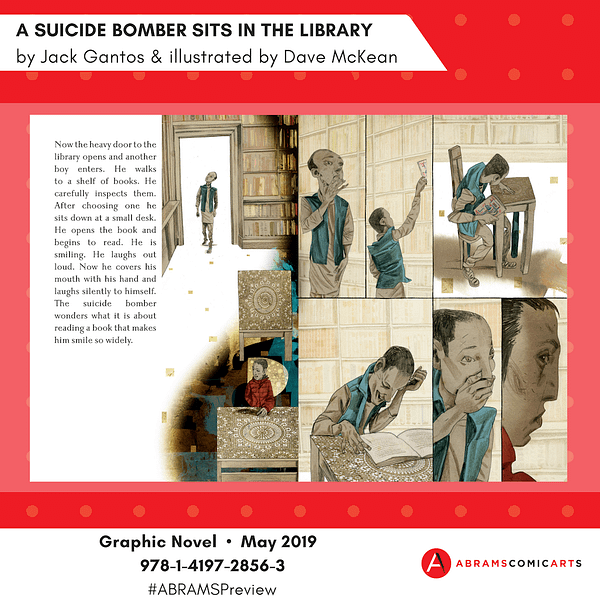 Five days ago, comic book journalist, publisher and distributor Zainab Akhtar noted its existence and pointed out some rather troubling aspects to the book about, as she put it, 'an illiterate brown Muslim boy who goes into a library with a suicide bomb only to start having second thoughts because people seem so into the world of books and if only he could read.'
This led to considerable discussion of the comic book online. Artist of the comic Dave McKean responded, writing
Which led to significant back and forths, with Zainab's followers, McKean replying to many, including this sample.
But reviews on Goodreads from people who had read preview galley copies (and posted art examples) began to plummet, giving the book 88 ratings and 30 reviews with an average of 1.7 stars. 1 star is the lowest.
The Asian Author Alliance wrote an open letter to Abrams also expressing their concerns, which was signed by over a thousand names, asking Abrams to 'look at the process that allowed this book to be acquired/written and to do better.'
Yesterday, Abrams issued the following statement, cancelling the book.
ABRAMS has decided to withdraw publication of the adult graphic novel, A Suicide Bomber Sits in the Library, which was to be published on its Abrams ComicArts list in May 2019.

While the intention of the book was to help broaden a discussion about the power of literature to change lives for the better, we recognize the harm and offense felt by many at a time when stereotypes breed division, rather than discourse. Therefore, together with the book's creators, we have chosen to withdraw its release.
Although Akhtar noticed some issues with that language as well.
Checking the Google cache confirms that the 'adult graphic novel' aspect attributed to the comic book is indeed a new one and that the author bios on the page emphasised Jack Gantos' books for young readers and Dave McKean's children's books The Graveyard Book, and Coraline. Oh, and the tweet at the top of this article came from the ABRAMS Kids imprint.
Comic book writer G Willow Wilson had some insight both into the origin and funding of the comic book and how she had been approached to work on similar volumes.