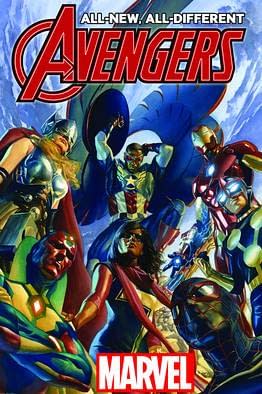 The Wall Street Journal, of all places, has the word on the All-New All-Different Avengers, with one token white guy on the team… Tony Stark. So, despite the discussion, that was him in the suit in the FCBD issue. And not Bruce Banner or Janet Van Dyne…
And as well as artist Mahmud Asrar, who drew the FCBD issue, Adam Kubert will be joining the art team, alternating with Mahmud. And will run for more than 12 issues a year.
The series will bring Warbringer from Nova as a bad guy, the series will see the formation of the team from scratch – and an unavailable Avengers Tower. And no Stark or SHIELD funding. And a mix of older and younger characters – the latter of whom still need to keep school hours…
The Some-Old And Some-New Avengers?

Enjoyed this article? Share it!