Afro Comic Con and Cosplay Photographer Discussion Went South Fast (UPDATE)
Toshiyasu Morita is a cosplay photographer who attended the Afro Comic Con, a non-profit organisation who held the show at the SAE Expression College in Emeryville, California last October.
The show bills itself as an event that features "artists, writers, creators, and thinkers as we discuss representation in comic books, literature, film and television. AfroComicCon's mission is to open doors for everyone in the arts and media professions that have not been adequately inclusive." It's hosted by the Afrofuturism Network.
On Friday, Toshiyasu was contacted by Michael James from the show asking if they could use photographs taken at the show, to promote the 2018 event. A not unusual or unreasonable request, especially as they stated that they would put his logo on the photos he used as well.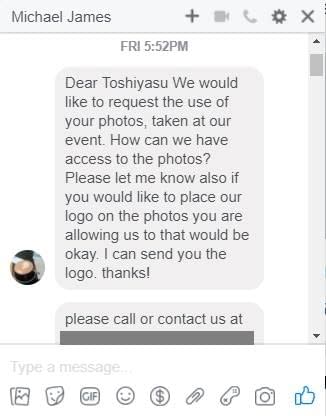 Although the line about "having an understanding" about photos taken at the show might raise an eyebrow or two… and foreshadowed what was to come.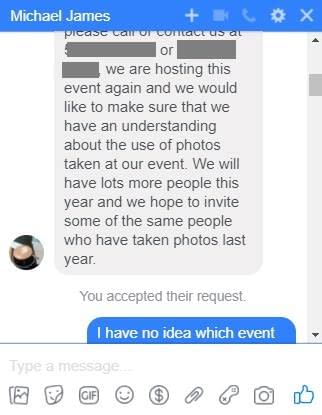 Initially, the Afro Comic Con representative didn't state which show he was representing. But that was quickly cleared up.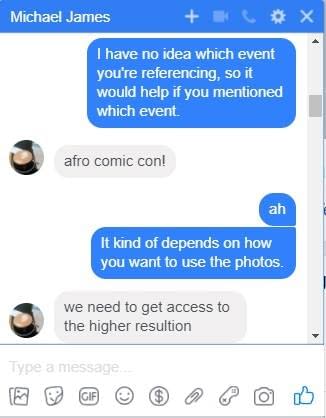 And so the discussion began. How would the photos be used? What resolution was available? That kind of thing.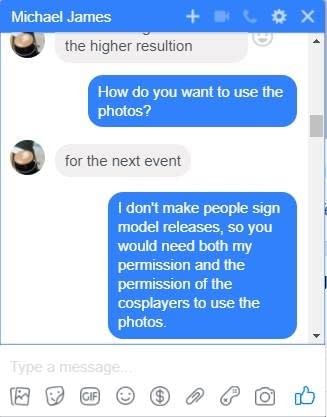 How was still a little unclear, though one might presume it was to promote and advertise the next event. Toshiyasu made them clear that they would need the cosplayers in question's permission as well as his. Which is again, completely reasonable. At this stage, everyone was in the same ballpark.
Or were they?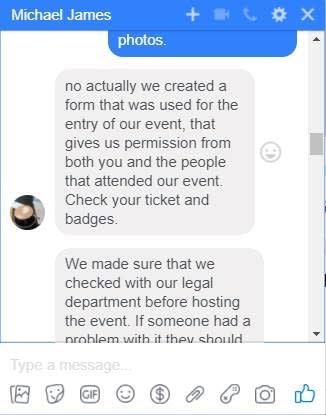 The show was now claiming that they already had permission from Toshiyasu and from any cosplayers who attended, via the forms people signed. So why ask permission in the first place?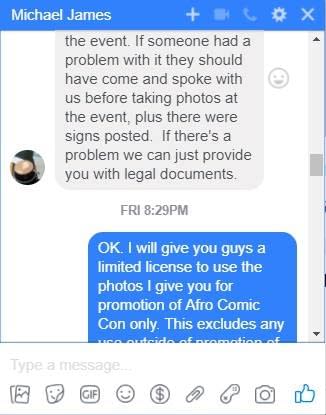 Toshiyasu was very clear about the rights he was happy to grant the show, to use his photos to promote the show only.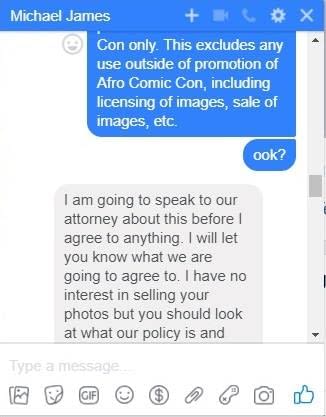 And suddenly the lawyers were being cited. Now it seemed the show was saying it definitely didn't need any permission and indeed they were able to set the terms, not Toshiyasu.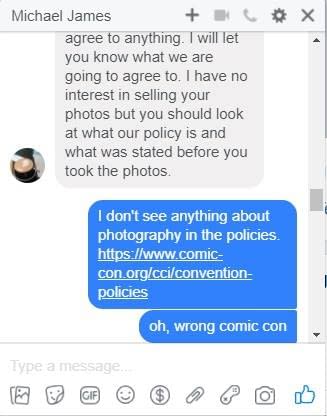 It's not hard to mix up Afro Comic Con and San Diego Comic-Con…
…when you look at the logos, anyway.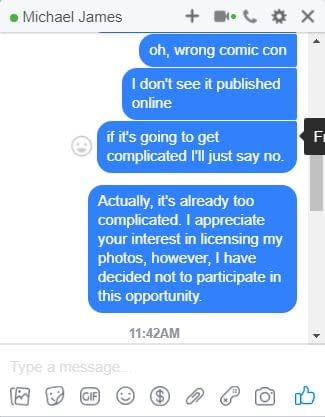 But at this point, Toshiyasu decided to decline. And the show decided that he was no longer allowed to use the photos he'd taken at the show with cosplayers on his site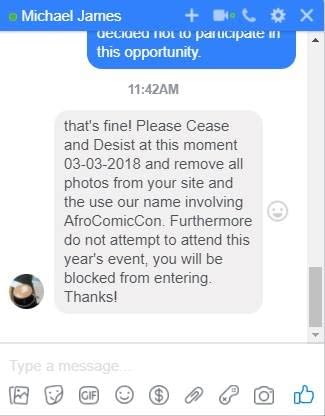 Wow. A slight overreaction? In that case, what followed was even more so.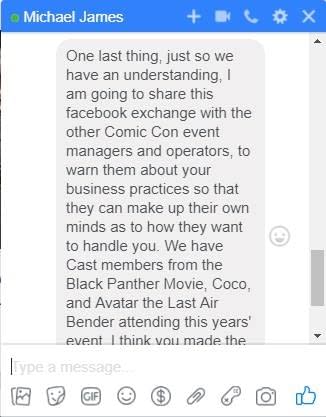 Well, since the show was going to share this info with other shows, Toshiyasu decided to do the same with his readers. And the social media explosion took place. Afro Comic Con representatives did their best to defend against criticism.
As the dialogue shows, he was more than happy with that. It was the talk of attorneys and lawyers that changed things. The show didn't only ask if they could use the photos to promote the net show, Toshiyasu was most agreeable with that. It was the implication that they already owned his work, that they demanded he take down those photos from the site, that he would be banned from attending the show and that the show would try to get him banned from other shows, that people took exception to.
And, yes, this is no doubt a controversy that racist individuals and organisations would take advantage of in order to target a black-focused comic convention. But it doesn't mean that there wasn't a problem from the get-go as well. As a result, the show looked like it was going to ban all photographers.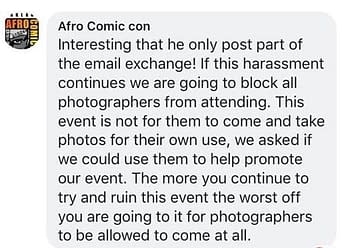 At the time, Toshiyasu had only posted the end of the conversation; he has now run it all.
It is worth knowing that all comic conventions attract photographers and have photography policies for each event. It doesn't seem as if there was anything in place that would have dissuaded Toshiyasu from attending as a photographer, indeed signage seemed to indicate that people attending at the show gave consent to be photographed, though Toshiyasu sought individual permission.
You can, of course, read the conversation above to decide how accurate this summation is.
Of course, many photographers are happy to use their high-end cellphones now. The next show will have to have some seriously restrictive entrance policies, akin to a press advance movie screening from five years ago.
Or they could have accepted Toshiyasu's terms at the very beginning… which were as reasonable as the ones they also set out, too.
Comic conventions do have to watch out how they act and react online, as The Lakes, Rhode Island and Outlaw Comic Con can attest.
UPDATE: Today, Michael James contacted Toshi with this not-quite-an-apology…
But then the Afro Comic Con updated their Facebook page with the following fulsome apology.
On behalf of AfroComicCon and myself, Michael James, I would like to apologize for the dispute with Toshiyasu Morita and Toshi Studios. I was wrong for questioning his rights to his own photos, I was also wrong to suggest that I would tell other cons anything negative about him. I was wrong to say his community racist. I have no ill will towards him or his community of friends, cosplayers, and fans. He is welcome to come back to AfroComicCon. We are a built on the concept of inclusion and we do not want to exclude or alienate anyone.
There is no excuse for the exchange to have gone the way it did and I take responsibility for that. I am passionate about our cause, and I allowed my passion to take a wrong turn and for that I am sorry. I ended up saying things I didn't mean.
We want everyone to understand that the decision to post this apology was made yesterday. I did not want to rush a statement out that would be seen as insincere as was my previous private apology to Toshi was. I had to think about my actions and my words that would follow. No one should ever have to feel oppressed or bullied. I should have thought through my actions and words more carefully. I'm truly sorry I made anyone else feel that way, it was wrong.
Part of our mission is honesty about what we see as injustice in our society and I want to say that we were wrong and unjust in this situation so we would like to offer our most sincere apologies and to let you know that I have learned from my mistake.