What kind of world is it than in June 2018, Alan Moore and Kevin O'Neill have two comic books out in the same month? This one, apparently. And we have found two pages from them.
First we have The League Of Extraordinary Gentlemen: The Tempest, the launch issue of a new six-issue series that will provide a cap to the series.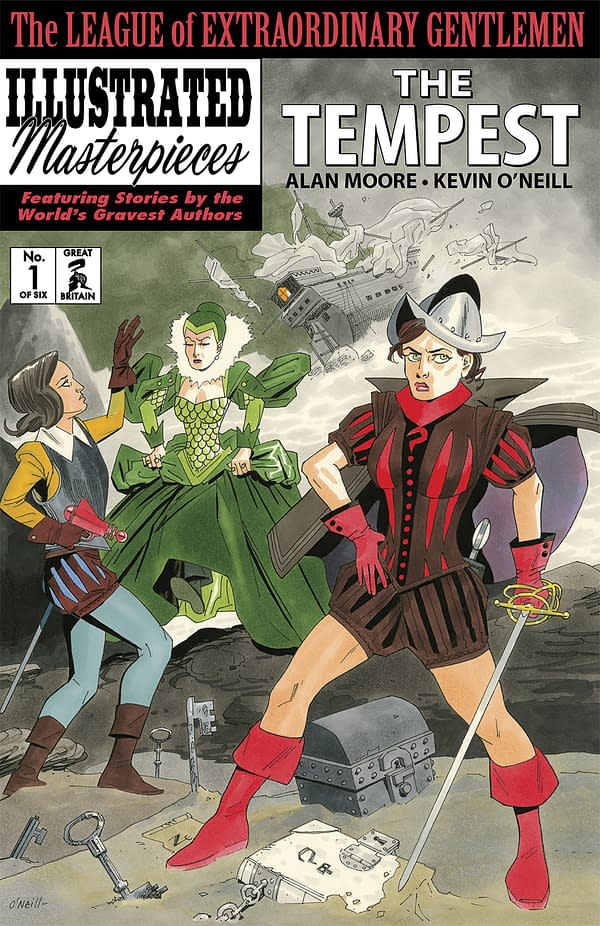 Here's a page.
Here's the solicit.
After an epic seventeen-year journey through the entirety of human culture, Alan Moore and Kevin O'Neill conclude both their legendary League of Extraordinary Gentlemen and their equally legendary comic-book careers with the series' spectacular fourth and final volume, The Tempest. This six-issue miniseries is a celebration of everything comics were, are and could be.

Opening simultaneously in the panic-stricken headquarters of British Military Intelligence, the fabled Ayesha's lost African city of Kor and the domed citadel of 'We' on the devastated Earth of the year 2996, the dense and yet furiously-paced narrative hurtles like an express locomotive across the fictional globe.

This is literally, and literarily, the story to end all stories. Here's how it begins.

— a 6-issue mini-series, each issue 32 pages in (mostly) full color, saddle stitched, 6 5/8" x 10 1/8" (standard comic-book size), $4.99 (US).
And here's what's to come in August as well, because we love you.
Opening with a 1919 deathmatch between two American superhumans in the ruins of Utopia, the second issue of Moore and O'Neill's final comic series takes its readers on a breath-taking ride over a waterfall of storytelling styles, from a startling 21st century Lincoln Island and its current incarnation of the legendary Captain Nemo, through a New York coping with an ageing costume-hero population, to a London where a drastic escalation is commenced by the rejuvenated sociopath controlling MI5. All this, and a further reprinted adventure of 1960s super-team The Seven Stars awaits in issue two of The League of Extraordinary Gentlemen Volume IV: The Tempest. — Issue #2 in a 6-issue mini-series, each issue 32 pages in (mostly) full color, saddle stitched, 6 5/8" x 10 1/8" (standard comic-book size), $4.99 (US).
The anthology series curated by Alan Moore, a Warrior Magazine for the twenty-first century continues, with Cinema Purgatorio #15 out in June.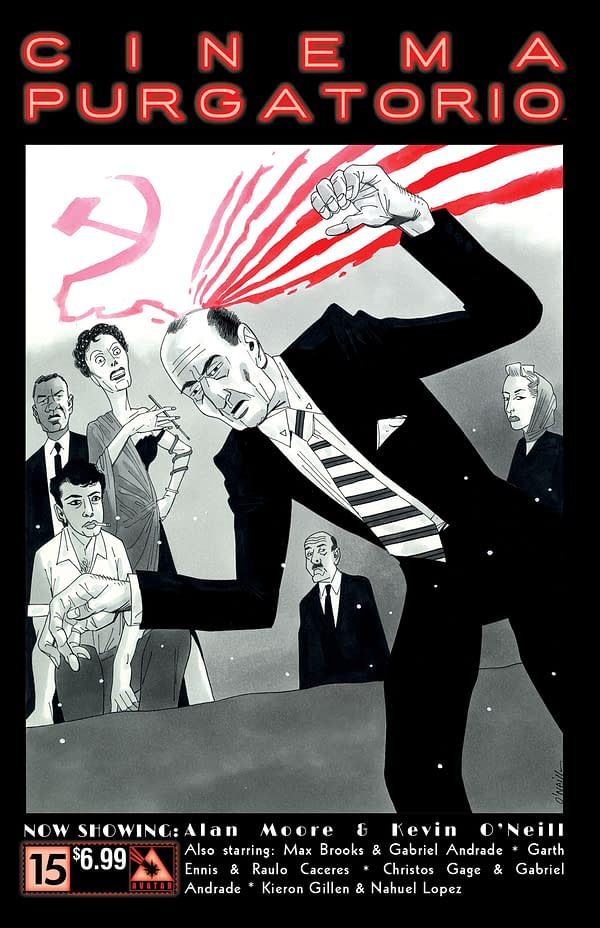 And since it's published by Bleeding Cool owners Avatar Press, I asked them if I could have a page to show from #15 as well, by Alan and Kevin.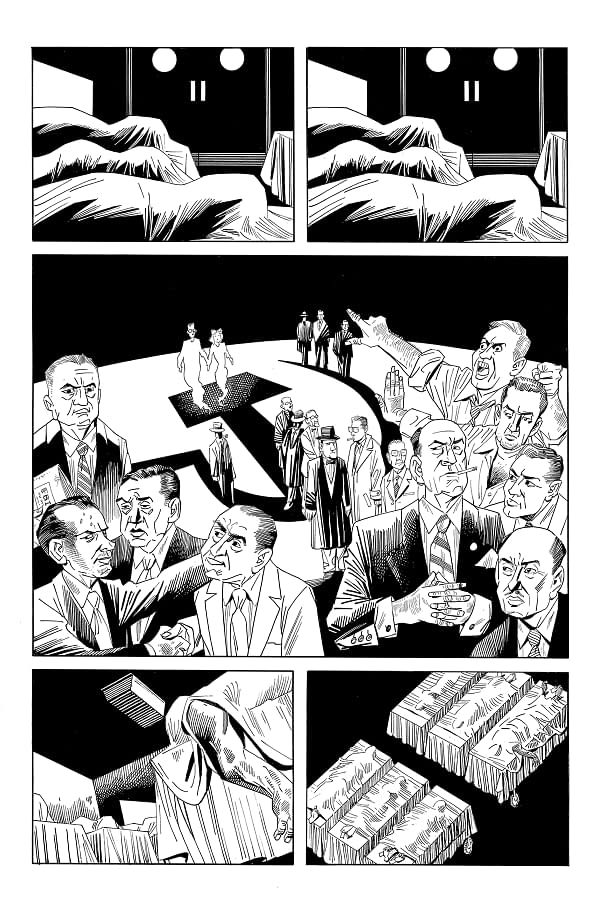 Well timed with Russian politics majoring in the news again. And with The Death Of Stalin released in the USA. Here's the solicit for that, too.
CINEMA PURGATORIO #15 (MR)
(W) Alan Moore & Various (A) Kevin O'Neil & Various (CA) Kevin O'Neil
Join a master class of sequential artisans as they spin stories to terrify and delight in the finest anthology in comics. Now showing: Cinema Purgatorio by Alan Moore and Kevin O'Neill, A More Perfect Union by Max Brooks and Gabriel Andrade, Code Pru by Garth Ennis and Raulo Caceres, Modded by Kieron Gillen and Nahuel Lopez, and The Vast by Christos Gage and Gabriel Andrade. Each story has its own cover by the series artist and there is also an Ancient Tome Premium edition limited to 1000 copies. (STL083314)
MATURE THEMES
48pgs, B&W SRP: $6.99
What riches with which we are blessed…
Enjoyed this article? Share it!