All-American Comics #61 is the first appearance Solomon Grundy, of one of the most important super-villains of the Golden Age of comics and a character who has remained a fixture of Gotham up to modern times. Written by Science Fiction great Alfred Bester and drawn by Paul Reinman, this Green Lantern story takes a nursery rhyme and brings it to literal and evil life. Solomon Grundy's nursery rhyme tale is the most basic form of biography when you think about it. He's born, lives his life, and dies, all in the space of one week. One can see how that suggested horror to Alfred Bester. It's certainly supernatural when taken at face value. The character's longevity as an icon that transcends comics is a part of the allure of All-American Comics #61 for collectors, and so is that wonderfully eerie cover by Reinman. A classic issue of an under-appreciated title, there's an impressive copy of All-American Comics #61 CGC 6.5 in Heritage Auction's July 9-12 Comics & Comic Art Signature Auction. The auction for this first appearance of Solomon Grundy ends on July 9, 2020.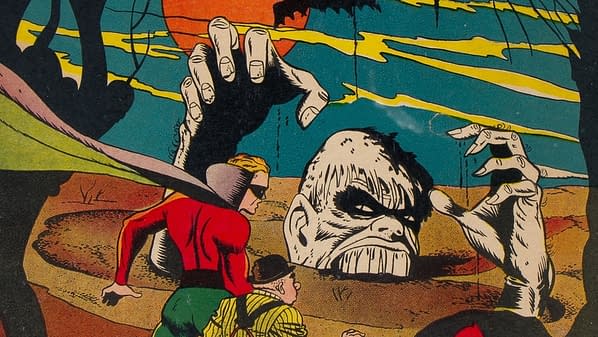 The Early Legends of Solomon Grundy
But contrary to popular belief, the nursery rhyme — first put down in written and published form in 1842 in The Nursery Rhymes of England compiled by James Orchard Halliwell-Phillipps — is not the first literary mention of Solomon Grundy. The name was used as a key character in a very popular play and a novel before that. Both of those characters appear to have inspired the DC Comics character as much as the nursery rhyme.
The 1805 play Who Wants a Guinea? A Comedy, in Five Acts by George Coleman was characterized as a Transatlantic sensation in its time, appearing in various modified forms in both the United States and the UK for decades. This version of the character was variously referred to as Solomon Grundy, Solomon Gundy, and Solomon Swap. As later recalled by The Gentlemen's Magazine:
Who Wants a Guinea? in which, on the actor's behalf, the role of Solomon Grundy was transmogrified for the nonce into Solomon Swap the Yankee. Apart from this, the original situations in the piece were retained. This, the first delineation in England of the genus Yankee by a Transatlantic artist, was remarkably well recieved.
The Materials of Exchange between Britain and North East America, 1750-1900 by Daniel Maudlin and Robin Peel further elaborates on the character:
The most important alteration to Who Wants a Guinea?, however, is undoubtedly Hackett's transformation of the garrulous rat-catcher Solomon Gundy into a Yankee merchant called Solomon Swap.

Purged of Francophilic malapropisms and 'cursed jabber' is squarely in the tradition of the Yankee's self-consciously mischievous double-talk. Hence while the benevolent landowner Torrent in John Bull at Home still hires the Solomon character as his footman, their relationship in Hackett's piece is marked by the verbal advantage Swap gains over his employer. "He does nothing but run about and talk", Torren complains of his errant servant at one point. "He knocks the furniture about as he does English, and makes as much havoc in the house as in a language."
Those familiar with the DC Comics character Solomon Grundy may note some basic similarities in the character to this earlier version here. But it goes farther. In the 1833 novel The Buccaneer. A Tale by Mrs. S.C. Hall, Solomon Grundy is again portrayed as a simple yet determined dolt who babbles and blunders along on misadventures:
Ah! Solomon Grundy, would that the Lord had given thee sense to understand, as he hath bestowed upon thee talent to speak according to thy understanding! As it is, Solomon, I lament that thou art a fool, Solomon, a very fool, except in what regardeth the creature comforts.

Solomon grinned, and applied himself with renewed diligence to his viands when the preacher had passed. He was now surrounded by a motley party.
It seems possible and perhaps likely that the DC Comics character drew at least indirect inspiration from these previous forms of the character, which had passed into the popular culture of the early 19th Century era, as it did from the simple nursery rhyme. As for the original version of the rhyme, it reads as:
Solomon Grundy,
Born on a Monday,
Christened on Tuesday,
Married on Wednesday,
Took ill on Thursday,
Grew worse on Friday,
Died on Saturday,
Buried on Sunday,
That was the end,
Of Solomon Grundy.
Mad Men and Wise Men of Gotham
Just a few pages before the Solomon Grundy rhyme in The Nursery Rhymes of England there's another rhyme called Three Wise Men of Gotham. In this original story in All-American Comics #61, the creature who was named Solomon Grundy terrorized Gotham as well. This begs some interesting questions about the origins of the character. I've found that Bill Finger, who wrote many Green Lantern tales in the Golden Age, put even more research into his stories than people generally realized, which makes one wonder if he was aware of the Gotham-adjacent rhyme and suggested that to Bester. These wise, mad men are tied into the original legends of Gotham.
Bester modified the original Solomon Grundy rhyme for his tale:
This is a tale of Solomon Grundy
Born on Monday
Got a mob on Tuesday
Robbed on Wednesday
Looted on Thursday
Murdered on Friday
Trapped on Saturday
And Sunday??
As Bester's twist on the rhyme suggests, not unlike Batman of the earliest era, the Solomon Grundy story in All-American 61 is horror-tinged noir. Set in Batman's Gotham, and it tells us something about Gotham too: it's a dark, grimy, dangerous place where anything can happen. That eerie cover (complete with bats) fits in very well alongside some of the classic Detective Comics covers from the era. The auction for this copy of All-American Comics #61 CGC 6.5 in Heritage Auction's July 9-12 Comics & Comic Art Signature Auction ends on July 9, 2020.
All-American Comics #61 (DC, 1944) CGC FN+ 6.5 Off-white pages. The issue starring Green Lantern has the origin and first appearance of Solomon Grundy. It's already tied for #79 on Overstreet's Top 100 Golden Age Comics list, and based on recent sales, it could be headed up. It's a tough book to find in high grade as CGC's census will verify. The classic cover's by Paul Reinman. Overstreet 2019 FN 6.0 value = $5,325; VF 8.0 value = $13,300. CGC census 6/20: 3 in 6.5, 10 higher.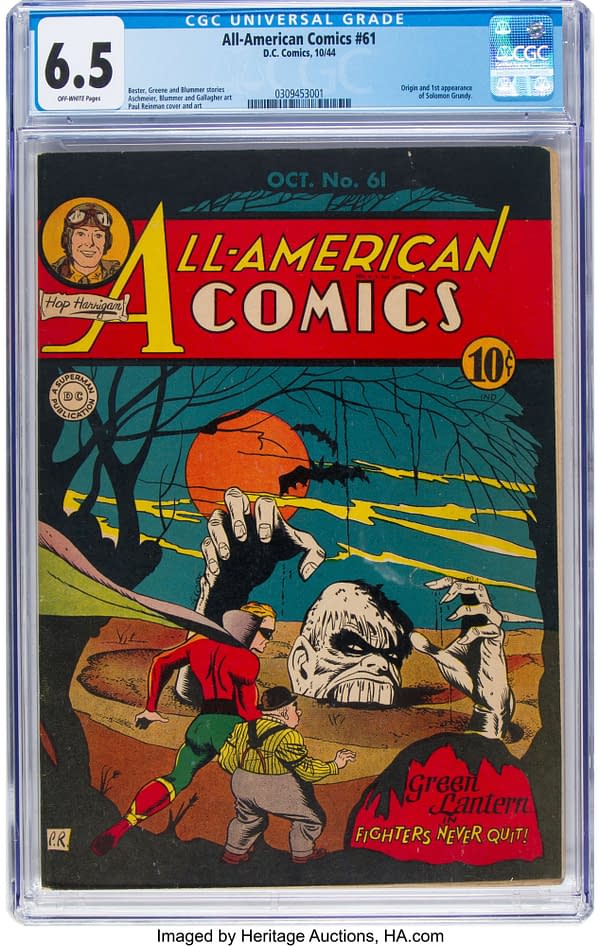 Enjoyed this article? Share it!