Amanda Conner's The Pro Signature Series CGC Header Is Hilarious
The CGC Signature Series header drawn by Amanda Conner features The Pro, co-created by Conner and Garth Ennis,being hilarious as ever.
---
The PaperFilms team of Amanda Conner and Jimmy Palmiotti have got into bed with CGC, the Comics Guaranty Company, to get some of their own titles reviewed and graded to sell to fans. And that includes a series of signed books that have been given a special CGC Signature Series header drawn by Amanda Conner. And they are, frankly hilarious. CGC grades comic books from 0.1 to 10.0, and now those grades will have a new meaning, courtesy of The Pro, co-created by Conner and Garth Ennis.

Amanda Conner and Jimmy Palmiotti will be making such titles available first to folk in their newsletter. So if you are into this kind of thing…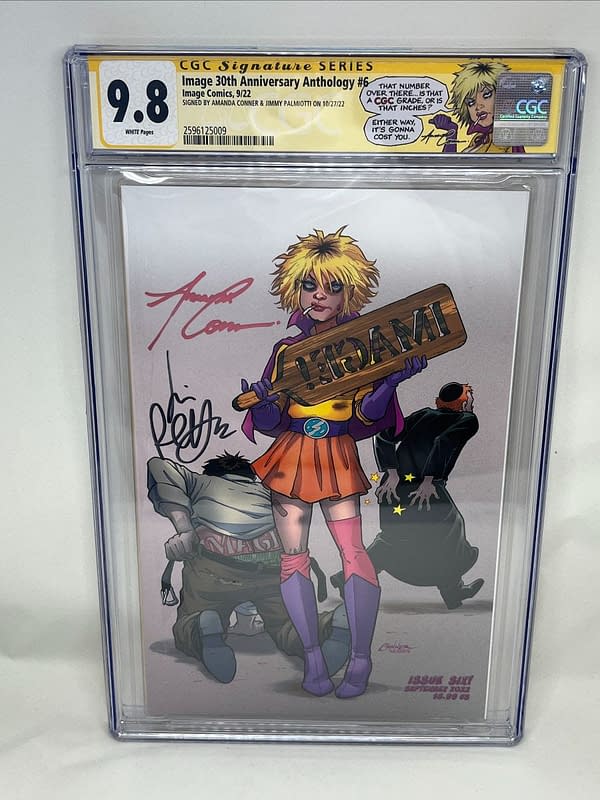 … it would be wise to sign up for it.
"What's the benefit of being a newsletter subscriber? Well, you know the secret time these items will go live. That's right, you have the inside scoop when these beauties will go live and available to purchase. And we also are including some copies of the hard to find, now iconic POP KILL #1 Paperfilms exclusive ADAM HUGHES cover! We purposely sold this tier short of the print run knowing we'd have fans wishing this to be graded. These copies are all graded at 9.8 (pre-screened so you'd get one of the highest grades possible). Follow the link and these items will all be launched on a first come, first serve basis on Wednesday, February 8th, 2022 at 10am EDT so be prepared for when these great products launch! Using the button/link below will take you directly to the page these items will be posted to when the launch goes live next week. Meanwhile, you can enjoy all of the other items available right now…"

"One of our first large conventions will be at PLANET COMIC CON in Kansas City on MARCH 17 – 19th, 2023! We don't always get to the mid-west so if you're in the area, this is your chance to potentially visit and meet the creative team in person! That's right, they will be hosting panels, signing autographs and meeting with all of the lovely fans in the area."
CGC is a sponsor of Bleeding Cool, but this article was generated editorially independently.