No, The Amazing Mary Jane is Not Cancelled With #5 – And Here's The Proof
The Amazing Mary Jane comic book series was solicited as an ongoing series from Marvel Comics…
SPINNING RIGHT OUT OF THE PAGES OF AMAZING SPIDER-MAN! "YOU JUST HIT THE JACKPOT!" ALL-NEW ONGOING SERIES!
Like that. But the Amazon listing for the first collection has had its 'Vol 1' label removed, and looks like it will contain the first five issues. Which is usually what happens just before a Marvel Comics series is revealed to be only 5 issues long. Leading some to presume The Amazing Mary Jane is cancelled with issue 5, out in February and no #6 in March.
Amazing Mary Jane Paperback – April 28, 2020 by Carlos Gomez and Leah Williams. Spinning right out of the pages of AMAZING SPIDER-MAN! The web-head's favorite redhead (and yours!) is taking a chance on her dreams. But if you've read AMAZING SPIDER-MAN #25, you'll know MYSTERIO is behind Mary Jane's big shot, and someone worse is behind him! What's real and what's illusion, what's illusion and what's Hollywood phoniness? Leah Williams (AGE OF X-MEN: EXTREMISTS; GIANT-MAN) and Carlos Gómez (UNCANNY X-MEN ANNUAL, Red Sonja) brings you all this intrigue plus more action, glamour, grit and -we'll say it – sass than anyone's previously dared to fit in one fabulous book! Face it: You don't wanna miss this! COLLECTING: AMAZING MARY JANE (2019) 1-5
However, I understand that this is not the case with The Amazing Mary Jane. The series is an actual ongoing, not a mini-series in disguise. And how do I know this? Because I have, by hook and by crook, the cover for The Amazing Mary Jane #6, confirming its existence – and that it is by the regular creative team of Leah Williams, Carlos Gomez and Carlos Lopez. Which seems to indicate that she has survived Mysterio and is heading back to New York for a new storyline…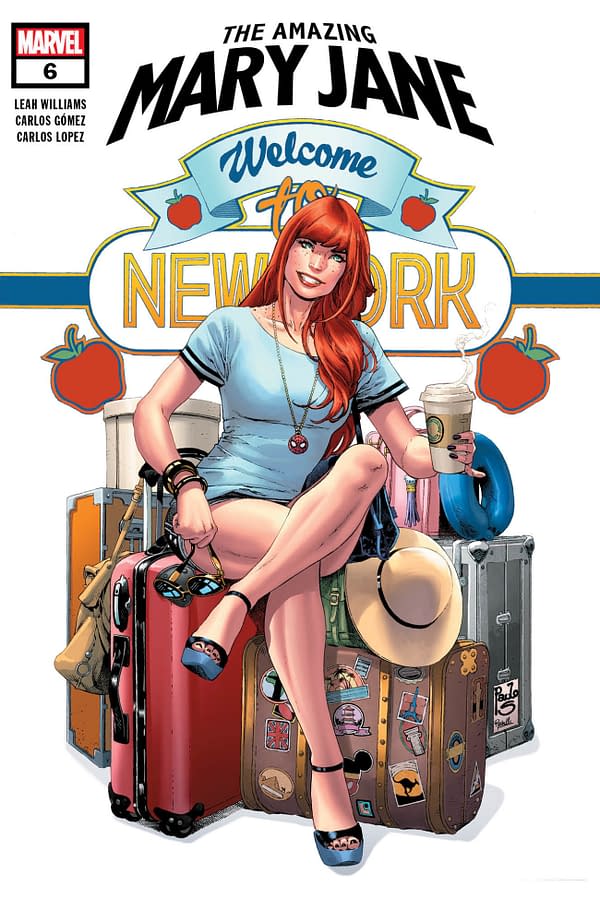 More when the full solicits get released I am sure.