If you're a fan of the 2099 universe or just of seeing Marvel Editor Nick Lowe yelling like a maniac, you'll be pleased to learn that Marvel has released a trailer for 2099, the new event kicking off in Amazing Spider-Man #33 tomorrow that revisits the 2099 universe to somehow cash in on nostalgia for something that takes place 80 years from now.
Marvel sent out a press release with more info on the event, but the bottom line is that Amazing Spider-Man #33 is in stores tomorrow, there will be lots of 2099 one-shots and variant covers, and it will cost $2,099 to buy them all. Oh, and you can watch the trailer right here.
THE FUTURE IS IN PERIL IN THE AMAZING SPIDER-MAN '2099' LAUNCH TRAILER!

New York, NY—November 5, 2019 — The past and future collide! Can the Spider-Men of two times set things straight, or will there be only dark times ahead for the Marvel Universe? The first chapter in the epic Amazing Spider-Man event, "2099," hits stands tomorrow – get the lowdown on the story in this launch trailer featuring Executive Editor Nick Lowe and writer Nick Spencer!

Miguel O'Hara, the Spider-Man of the year 2099, travels back to our time to enlist Peter Parker's aid in preventing the collapse of the time stream. But with Spider-Man's past making his present tense and Doctor Doom seeking to make the future perfect, does Spidey stand a chance? Plus – see a slew of new and returning heroes and villains in a series of 2099 one-shots!

"We wanted to capture the spirit of the original 2099, but while doing a completely new version and a completely new take," says Spencer.

"This isn't an alternate timeline! This isn't a What If…! This is the future of the Marvel Universe!" exclaims Lowe.

Amazing Spider-Man #33 is on sale tomorrow in comic shops, on the Marvel Comics App, and on Marvel.com! To find a comic shop near you, visit www.comicshoplocator.com or call 1-888-comicbook.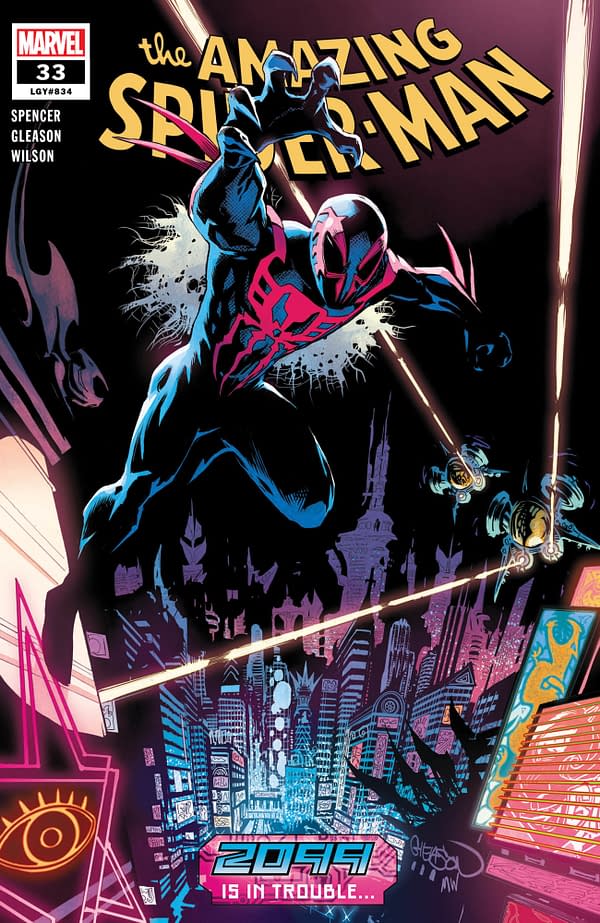 Enjoyed this article? Share it!