Time to do a little Random House fishing for upcoming DC Comics titles towards the end of 2018… and we begin with an American Vampire omnibus. Maybe they're getting ready to relaunch the series?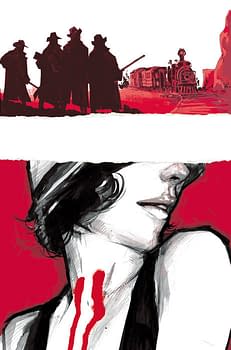 American Vampire Omnibus Vol. 1
By Scott Snyder, Stephen King, Rafael Albuquerque
$99.99 On sale Nov 06, 2018 | 984 Pages
Chronicling the history of a new breed of vampire, American Vampire is a fresh look at an old monster, a generational epic showcasing the bloodlust that lay hidden beneath America's most distinctive eras.

Like most good stories, it all starts with a question: What if vampires, like all species, evolved? What if, occasionally across generations, a vampire bites someone and creates a new kind of creature–a vampire that takes its strengths and weaknesses–not just from its predecessors, but its environment. So when crusty old Europeans come to the American Old West and turn a thoroughly corrupt gunslinger named Skinner Sweet into even more of a monster, he becomes something entirely new: a new breed of vampire immune to sunlight, one that hates every last one of his aristocratic European ancestors.

Follow this dark symbol of the New World as he moves through American history's most distinctive eras–1880s Old West, 1930s Las Vegas, World War II and more. But as Skinner's war with his predecessors inspires a mysterious society to rise and fight them both, his most upsetting decision might be the first person he chooses to join his vampiric ranks: A struggling young movie star named Pearl Jones.

Collects #1-27, American Vampire: Survival of the Fittest #1-5 and American Vampire: Lord of Nightmares #1-5.
Norm Breyfogle gets a second LEGENDS OF THE DARK KNIGHT: NORM BREYFOGLE VOL. 2. I'm sure he can use the royalties.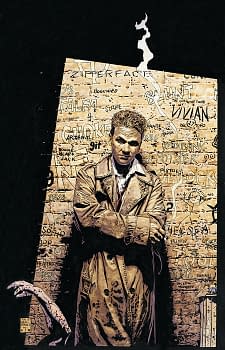 Hellblazer: 30th Anniversary Celebration
HARDCOVER $39.99
On sale Oct 30, 2018 | 248 Pages
When all the chips are down and everything's on the line, what would you do to ensure you come out on top? What would you be willing to sacrifice? For occult detective John Constantine, the only thing more difficult than answering that question almost every single day, is living with his decision. Whether it's due to a sense of self-loathing, a resistance to any sort of authority or a deeply hidden desire to do what's right, Constantine is willing to make the hard choices…so that no one else has to.

All of these facets of John Constantine's character has made him one of the most popular in graphic literature since 1988. HELLBLAZER: A CELEBRATION OF 30 YEARS collects some of the anti-hero's best stories from some of the greatest writers in his history, including Alan Moore, Garth Ennis, Brian Azzarello, Paul Jenkins, Jamie Delano and more. Collects Saga of the Swamp Thing #37, John Constantine, Hellblazer #11, #27, #41, #63, #120, #146, #229 and #240.
… although considering the most recent issue reprinted is #240 of the Vertigo series, it is more like celebrating the first 20 years and then ignoring the next 10. Which is probably for the best.
Absolute Swamp Thing by Alan Moore Vol. 1
Written by Alan Moore. Illustrated by Stephen Bissette
HARDCOVER $99.99 On sale Nov 13, 2018 | 432 Pages
Before the ground-breaking graphic novel Watchmen, Alan Moore made his debut in the U.S. comic book industry with the revitalization of the horror comic book The Swamp Thing. His deconstruction of the classic monster stretched the creative boundaries of the medium and became one of the most spectacular series in comic book history. With modern-day issues explored against a backdrop of horror, Swamp Thing's stories became commentaries on environmental, political and social issues, unflinching in their relevance.

Includes the story "The Anatomy Lesson", a haunting origin story that reshapes Swamp Thing mythology with terrifying revelations that begin a journey of discovery and adventure that will take him across the stars and beyond.

Author Alan Moore and illustrators Stephen Bissette, John Totleben, Rick Veitch, Shawn McManus, Ron Randall and Dan Day joint togehter to rise from the swamps in slipcased hardcover edition, Absolute Swamp Thing By Alan Moore Vol. 1. Collects Saga Of The Swamp Thing #20-34 and Swamp Thing Annual #2 with brand new coloring.
I think everyone was expecting an omnibus collection of Moore's run, but it looks like DC is using the budget for an absolute edition to remaster and recolor the book first like they did with Sandman.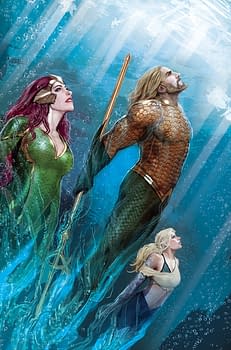 Aquaman: His Greatest Victories
Written by Geoff Johns
PAPERBACK $9.99
On sale Nov 13, 2018 | 168 Pages
Prepare for the highly anticipated Aquaman feature film with this anthology graphic novel featuring award-winning author Geoff Johns' groundbreaking stories in Aquaman: His Greatest Victories.
Geoff Johns' take on Aquaman shook the comic world by surprising many. Acknowledging much of the public's less-than-reverent perception of Aquaman and working that point of view into the initial storyline, Johns presented Arthur Curry a.k.a. Aquaman, as a hero fighting for respect among the community he serves and protects. The result was a fresh, occasionally humorous reintroduction to one of DC's now most popular superheroes.

Featuring Aquaman's first visit to the underwater kingdom of Atlantis and his first encounter with the Atlanteans following the death of his father. Aquaman renounced the throne of Atlantis–but the sea will not release Arthur Curry so easily. Now, from a forgotten corner of the ocean emerges…the Trench! A broken race of creatures that should not exist and will not be easily defeated. Aquaman must call on those he trusts most to try and help save the world above and below the surface.

These stories are collected here in Aquaman: His Greatest Victories, available at an affordable $9.99 price point. Includes stories from Aquaman #0, #1, #3, #13, #15, #25 and Aquaman: Rebirth #1.
Sounds like a greatest hits collection, but really only goes back to the Geoff Johns New 52 relaunch.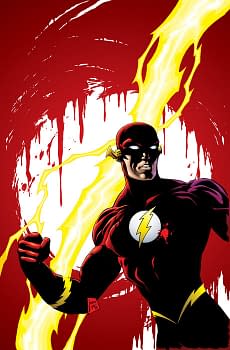 The Flash by Mark Waid Book Five
Written by Mark Waid
PAPERBACK
$34.99 Oct 16, 2018 | 368 Pages | 978-1-4012-8460-2
Critically acclaimed writer, Mark Waid's epic run continues in THE FLASH BY MARK WAID BOOK FIVE.

Wally West is pushed to his absolute limit when the ruthless Savitar attempts to take control of the Speed Force, an indefinable energy field that is the source of all speedsters' powers. A trip to the 64th century also proves eye opening for Wally as he is shocked to find out that in the future he is worshipped as a god!

Waid's legendary run on the Scarlet Speedster concludes here in THE FLASH BY MARK WAID BOOK FIVE. Collects: THE FLASH #106-118 and IMPULSE #10-11.
Might we end up with the entire run being collected — just as long as no one at DC notices?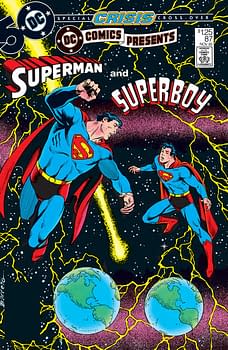 Crisis on Infinite Earths Companion Deluxe Edition Vol. 1
Written by Marv Wolfman
HARDCOVER
$75.00 On sale Nov 13, 2018 | 978-1-4012-7459-7
All the tie-in stories to Marv Wolfman and George Perez's CRISIS ON INFINITE EARTHS are finally collected in this massive deluxe compendium, CRISIS ON INFINITE EARTHS COMPANION DELUXE EDITION VOL. 1!

In 1985, DC Comics dramatically altered comics' original universe with CRISIS ON INFINITE EARTHS, a 12-issue series that rocked the comics community. This landmark graphic novel is one of the most nuanced, sweeping sagas ever told. Now, all the tie-in stories are finally collected in this massive deluxe compendium CRISIS ON INFINITE EARTHS COMPANION DELUXE EDITION VOL. 1!

This hardcover edition features all the action that spilled over into numerous comic books from Marv Wolfman and George Perez's unbelievable graphic novel, including tales with the Justice League, Wonder Woman, Green Lantern and the New Teen Titans, as well as cult classic characters like the Omega Men and Firestorm!

CRISIS ON INFINITE EARTHS COMPANION DELUXE EDITION VOL. 1 is a must-have for all collectors and fans of the original CRISIS ON INFINITE EARTHS series, as well as any completists who have yet to see many of these stories recollected in print! This graphic novel includes JUSTICE LEAGUE OF AMERICA #244, JUSTICE LEAGUE OF AMERICA ANNUAL #3, GREEN LANTERN #194, WONDER WOMAN #327-328, LOSERS SPECIAL #1, INFINITY INC. 318-20, DC COMICS PRESENTS #87-88, OMEGA MEN #31, BLUE DEVIL #17-18, NEW TEEN TITANS #13-14, ALL-STAR SQUADRON #50-51 and FURY OF FIRESTORM #87.
Vol. 2 to come in 2019? How many Red Sky crossovers are in there?
Enjoyed this article? Share it!