Amy Chu has a Writer's Commentary on KISS: The End #3 on sale now from Dynamite. She writes; Hey, so I'm back with another commentary! I hope you're following along.
First off, the big news: I have invited Bill Messner-Loebs to help out on writing duties for the next few issues. Bill has worked on just about everything for just about every publisher: Flash, Wonder Woman, Thor, and of course his creator-owned 1983 series Journey: The Adventures of Wolverine McAlistaire, written and drawn by himself.
I met Bill at 3 Rivers Comic Con in Pittsburgh a few years back. He was such a kind and overwhelmingly positive person I became curious about his work. That day, lucky for me I stumbled upon an almost complete run of Journey in the back issues bin at New Dimension Comics. I was blown away. So when one of Bill's friends Mike Jones contacted me it was a sign. I had the idea, why not collaborate on this issue together? Bill is without question one of the most wildly creative people I've ever worked with, and even rarer, entirely devoid of ego. Suffice it to say, after one brainstorming session, the storyline took on a whole kooky new direction that I hope you like!
If you missed issue #2 (I'm not going to lecture you about putting it on your pull list, but…), or need a memory jog, here's a brief recap:
Jay and Mania go back to New York City 1973 to find the sword of immortality. There they meet a new friend Ramon Ramone, a reporter for Creem magazine covering a new band just starting out called KISS. After partying all night, Mania reflects on the dichotomy of being Goddess of Death yet loving life. Mania saves Jay from some muggers, but kills one of them and disappears. Jay gets arrested instead, and is brought back to the Wasteland by an irate Lord of the Wasteland who wants to know where Mania is.
Page 1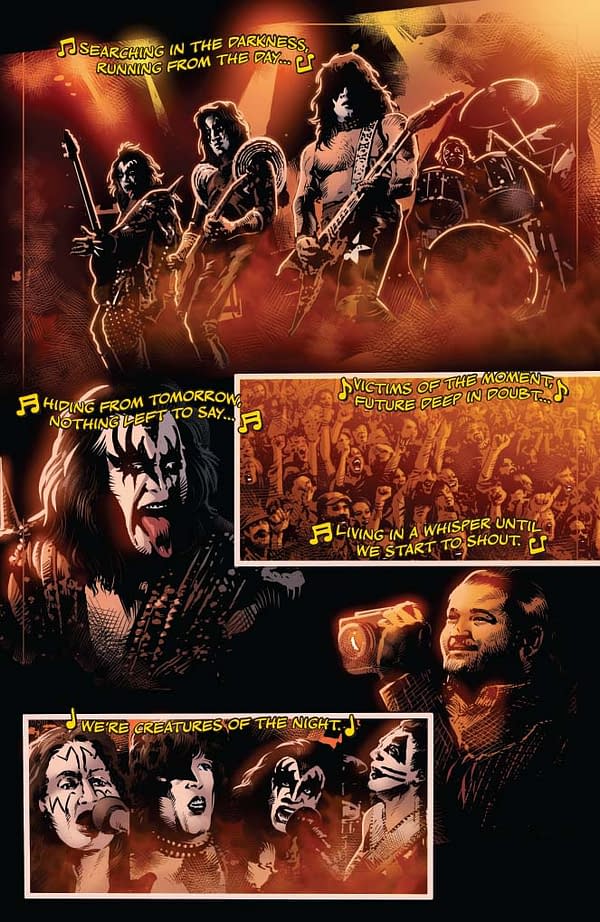 We open with concert and lyrics from Creatures of the Night tour. As I've mentioned before, our awesome letterer Troy Peteri is a KISS fan, so I figure he would have fun with these. (Fun fact: I think Troy is the only one out of our team who has managed to see The End concert so far!)
That's Ramon Ramone on the page there, 10 years older since the last issue. I had invented a whole backstory to this character (he is a pal of Joey Ramone so took on the last name like the rest of the band.)
Page 2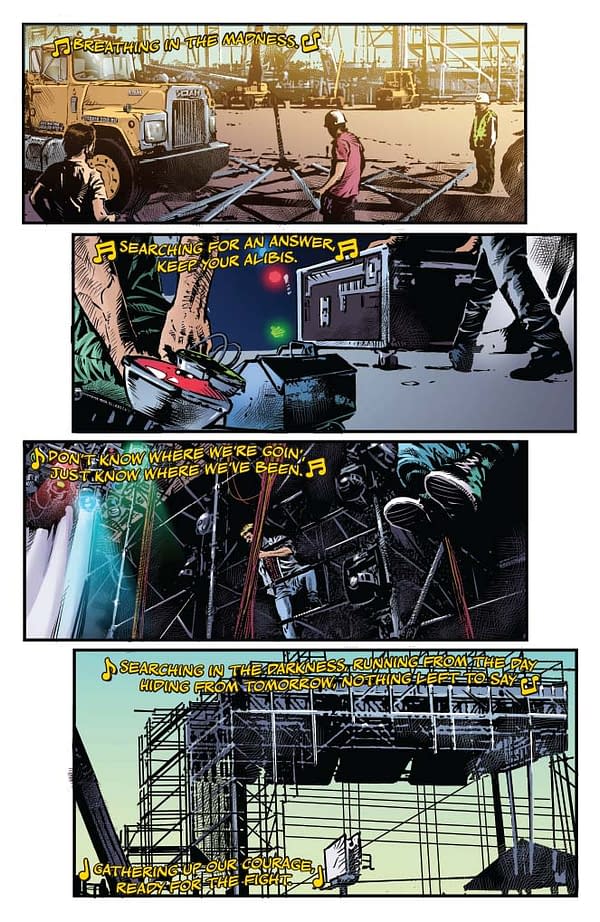 The setup for a massive concert stage – a nod to the opening of the Bohemian Rhapsody movie…
Page 3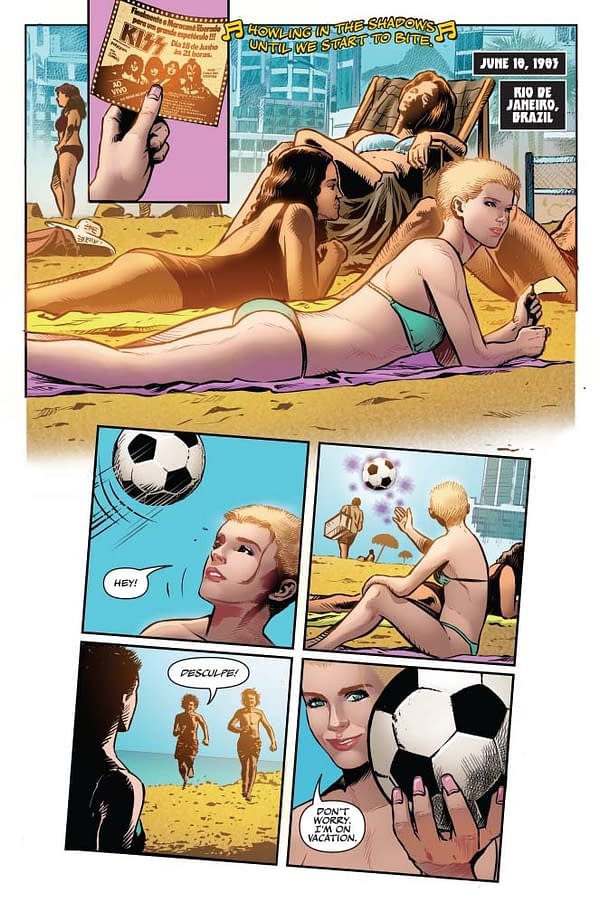 It's the 1983 concert in Rio! Still KISS's largest ever concert, I believe. I also thought it would be fun for the artist Edu (who is Brazilian) to draw this. So in this issue there was very little art direction. Most of the notes in the script are for the colorist Jorge Sutil to go full '80s Duran Duran video…
Mania is naturally enjoying the beach. Of course as Goddess of the Dead, she's hasn't aged a bit, unlike Ramon, and certainly doesn't tan. No need for SPF!
Page 4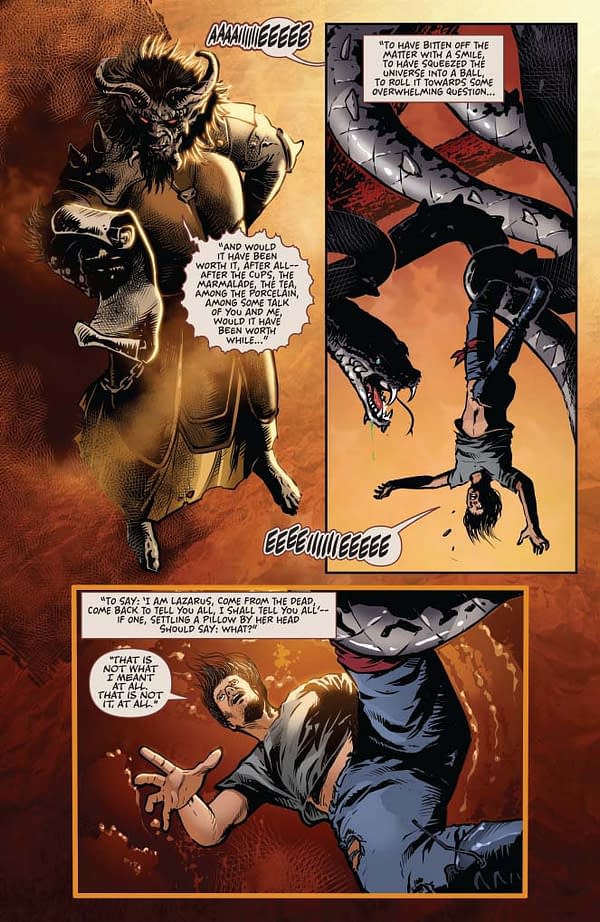 Cut to the demon Lord of the Wasteland torturing Jay with poetry. The inspiration for the scene is taken from the classic Hitchhiker's Guide to the Galaxy. The poetry itself is from another classic The Waste Land by T.S. Eliot.
Page 5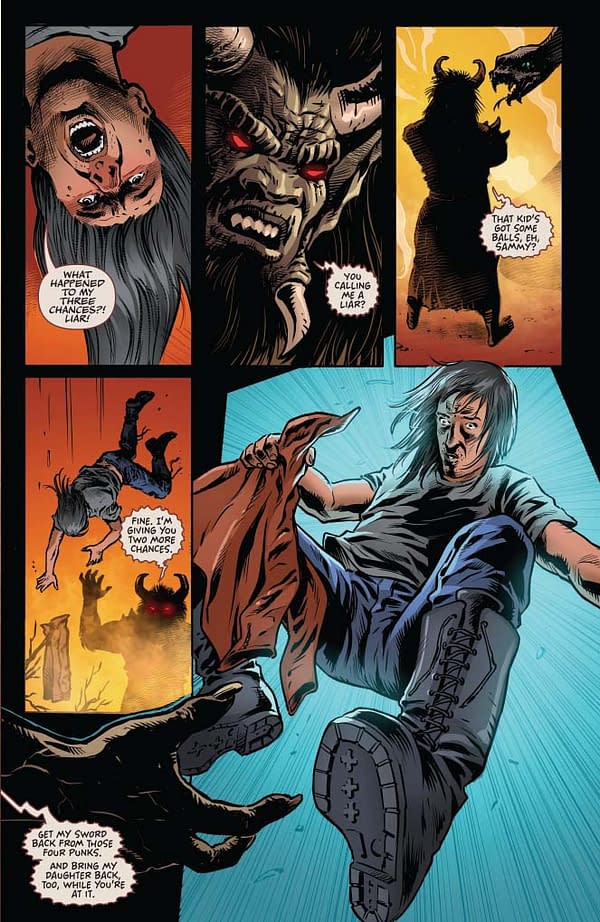 Jay amazingly talks himself out of this situation…
Page 6
…and gets sent back to Earth for another shot at retrieving the Sword of Immortality and Mania. Unfortunately for him, he interrupts the beach soccer game of some youth from the nearby favela.
I just noticed the colorful space time travel effects here — nice touch, Jorge! In case you were wondering, as a writer, I don't always get to the fully colored version until AFTER the issue has been printed. I'm usually working on the lettering script while the colorist is finishing up the pages so these things often get down to the wire…
I enjoyed putting some Portuguese dialogue here. I don't like doing the English translation thing if I don't have to. Of course I asked Edu to check my language and his own. I have actually been to Rio more than a dozen times (that is a whole other story you can ask me about at a convention some time) so he was of course scandalized my knowledge of "colorful" language!
Page 7-8
Apparently the only Portuguese I seem to know are food, beer and swear words, so Edu added some extra dialogue here.
Page 9
Wow, I'm really enjoying the color palette on this page!
Brazil is one of many countries that loves comics and produces some of the finest comic artists in the world.
So this issue is partly a love letter to the wonderful city of Rio. Beijos to you all! XOXO
Page 10
I love that Edu put in the Morro Dois Irmãos, the iconic Two Brothers Mountain in the backdrop.
Page 11
A little trivia. KISS historians already know this — Even though he was advertised, Ace never played in this concert! If you know this tidbit, it makes the final scene a bit funnier.
Page 12-13
The concert took place at the legendary Maracana Stadium. In retrospect an establishing shot of this landmark (I think it's now gone) would have been cool on the previous page.
Just about every Brazilian I know remembers this concert. One of my friends remembers the nuns who were horrified by the concert, but all the kids still went, so of course I added in a panel of them to honor them.
Page 14
Backstage in the KISS dressing room. Jay is overwhelmed, Mania is less than impressed.
Page 15
Fun fact that I may have mentioned before — The sword is an actual prop in the concert show. To my knowledge, there's no back story to the sword other than it being cool and on fire, so I made it up on my own. Naturally you can buy it from Gene after the show at genesimmonsaxe.com (do I get a commission for this, Gene?)
Page 16
I'm on the fence about one small detail on the page. I was going to change the security guard's dialogue to Portuguese but then I thought he could also be security that travels with the band and therefore speaks English. I'm sure I'm more bothered about this than you are, so let's move on.
Page 17
I prefer to not have a lot of dialogue for the KISS band members in my stories but sometimes it's necessary. As mentioned before, Ace was never at this concert. He was replaced by Vinnie Vincent who was fired a year later.
Page 18
Again, KISStorians may recognize Sam the snake from concerts ago. I personally haven't encountered Sammy myself but I thought it would be a nice touch.
Page 19
And once again, Jay F&*s up…
Page 20
Call back to the end of Issue 2, only this time it's Mania!
Stay tuned for Issue #4. We kind of went a little crazy with this issue. You will also see a cameo of a very important figure in American music history. It was my pleasure and privilege to work with Bill. He is one of the many freelancers who have given their life to comics only to find out they have no safety net in return as they retire. If you want to support Bill, here's a link: https://www.gofundme.com/billmessnerloebs
Thanks for listening to my soapbox! If you've enjoyed the ride so far, don't forget to put it on your pull list so you get to enjoy the rest of the story. And now back to writing…
Enjoyed this article? Share it!