Animals, Humans, Ghosts And Fun – The Center Of Somewhere
The Center of Somewhere vol. 1: Small-Town Heroes. Written and illustrated by Luke Foster, with book cover colors by Tom Chu and logo design by Constanza Segovia. Kickstarter ends Feb. 25, 2015. Published April 2015. This book collects the first 18 months of the comic strip The Center of Somewhere, an all-ages comedy about talking animals, humans, and ghosts having a good time in small-town Middle America.
Luke Foster writes,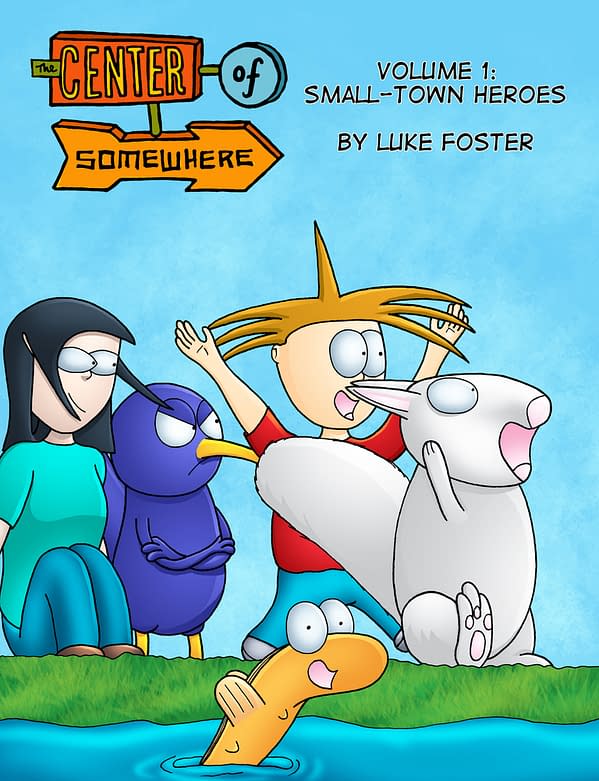 The Center of Somewhere was where I decided to start making happier comics.
When I started this comic in August 2012, I had already been writing and drawing webcomics for four years. My first long-form strip was a comic called Moon Freight 3, a cynical look at life as a twenty-something with a terrible job in space. As I was coming to what I soon learned would be the end of that strip I realized I was tired of constant cynicism and sarcasm. I wanted to do something more cheerful and optimistic, something anyone of any age could read and that a parent could let their kid read online without worrying they were going to stumble across anything inappropriate. Not only that, but I wanted to create something a parent could give their child if the kid was looking for a fairly simple gateway comic. And that's how The Center of Somewhere was born.
The Center of Somewhere has lived on the web since it's inception, and now I want to start collecting it in books. To do that, I've turned to Kickstarter. But before I get into the details of the fundraising, let me first tell you exactly what this comic is all about.
The Center of Somewhere has a fairly simple premise: a bunch of talking animals, humans, and ghosts have fun in an unnamed Middle-American small town. But beyond that, it's given me the chance to do a lot more with comics and storytelling than before. Like I said, it's good for the kids to read and it's given me the chance to write less cynical comics. Cheerful, yes, but also escapist. Pop culture references you'll get, commentary on the news, politics, and the rather bleak state of the world you won't. If I can't give people anything else, I can at least give them a temporary escape from all that grimness.
This comic has also allowed me to work with a larger cast with a wider variety of personalities in a much larger setting than before, which has given me many more chances to write and draw a variety of different strips that I couldn't do with a small cast on one space station. Plus it's given me a chance to play with storytelling a bit more. While I do plenty of serialized stories and one-off jokes like you'd find in most comics, I can also take a day to write terrible poetry or have my cast teach the audience real science facts. Or anything else I want to do, for that matter. In short, this comic has given me many chances to experiment and play and just plain have fun with comics, and I like to think the reader can see that.
So now, the Kickstarter: this book, which will collect every strip from the first 18 months plus never-before-seen bonus content, will be 108 pages and in full color. I am looking to raise just $2,000 to cover printing costs and a few other related fees. Backers can choose from a wide variety of rewards, from simple sketch cards to both physical and digital copies of this book, or a combination of these and other rewards.
All the work is already done, so as soon as the money is collected the book will be off to the printers and in my hands not too long after that. If I break the $2,000 goal, I have a stretch goal or two already planned that will make the final product even better.
Thanks in advance for any support and helping to spread the word. This comic is a lot of fun for me, and I hope I can share that fun with as many people as possible.
Twitter: http://twitter.com/cartoonistluke
Tumblr: http://cartoonistluke.tumblr.com