There's no word what Barack Obama thought of the Black Panther movie. Though as a Marvel geek of old, odds are good. Michelle certainly had good words.
Congrats to the entire #blackpanther team! Because of you, young people will finally see superheroes that look like them on the big screen. I loved this movie and I know it will inspire people of all backgrounds to dig deep and find the courage to be heroes of their own stories.

— Michelle Obama (@MichelleObama) February 19, 2018
But if you are missing his Presidential parlay, this June may bring you partial recompense. With a new comic book from Brian Denham recreating Obama as a familiar superhero… the Barack Panther… and up against a certain Donald Trump.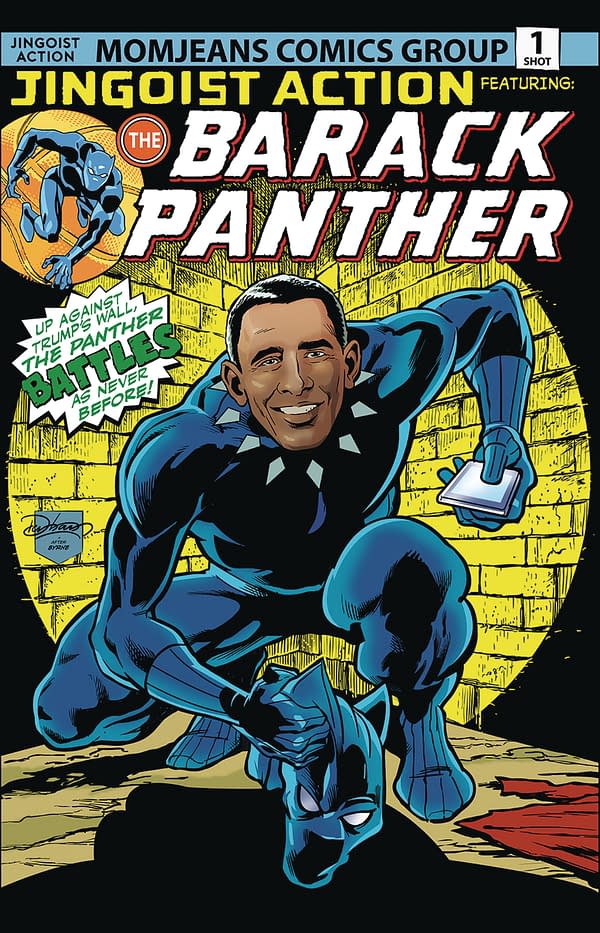 BARACK PANTHER #1
(W) Brian Denham (A) Brian Denham
Born the heir to an African king, raised an American President, after eight long years of service, Barack Obama has been living a life of luxury. Suddenly he finds all he fought for endangered by the Jaundiced Juggernaut himself, Tremendous Trump. Now he must step into the spotlight and once again become the legendary Barack Panther before his legacy is destroyed and erased from the history books.
In Shops: Jun 27, 2018
SRP: $4.99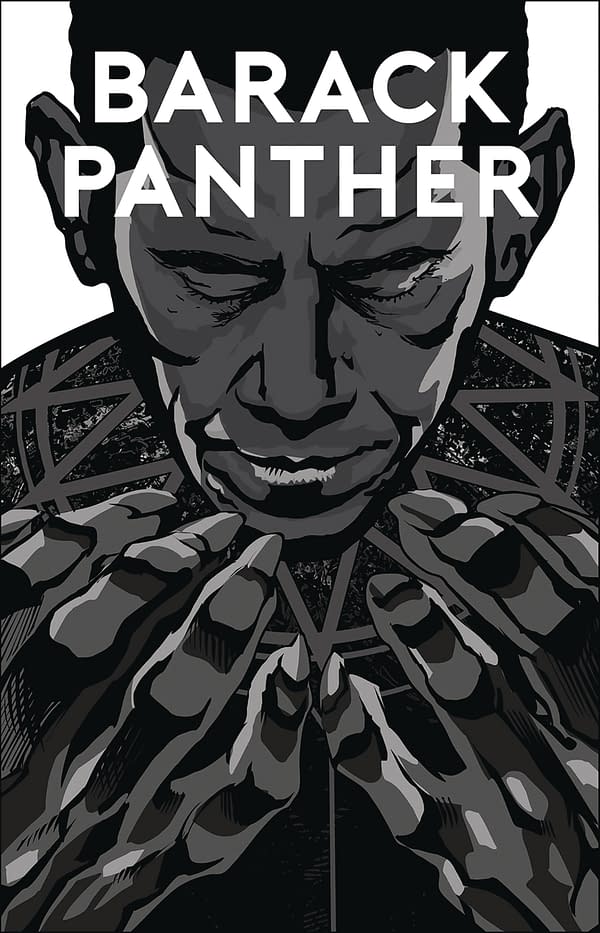 BARACK PANTHER #1 SILVER SCREEN VARIANT
(W) Brian Denham (A) Brian Denham
If you're hoping for change, we've got a change for you: a glorious "Sliver Screen" variant! Can we bring you an amazing cover to make this issue even more Wakanderful? Yes we can!
In Shops: Jun 27, 2018
SRP: $9.99
BARACK PANTHER #1 SILVER SCREEN FOIL VARIANT
(W) Brian Denham (A) Brian Denham
This special black & silver foil version of the already limited Silver Screen variant cover might be as hard to find as a good source of vibranium, so get one while you can!
In Shops: Jun 27, 2018
SRP: $19.99
And a few other titles from Antarctic as well…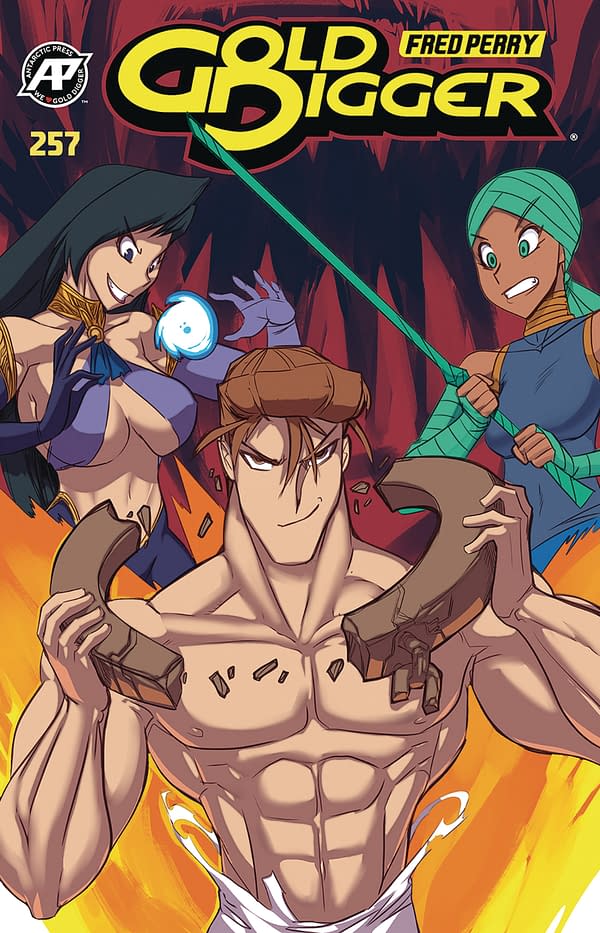 GOLD DIGGER #257
(W) Fred Perry (A) Fred Perry
The evil dragons of Jade Realm are in need of a new and powerful leader in order to mount an insurrection and dominate the whole planescape! After deliberation, the shadowy cabal decide that Fauntleroy, a vicious but expendable bastard, is just the dragon they need. But where is he? His concubines know, or do they? Yes, they do. They just don't know that they know! Right? Right!
In Shops: Jun 27, 2018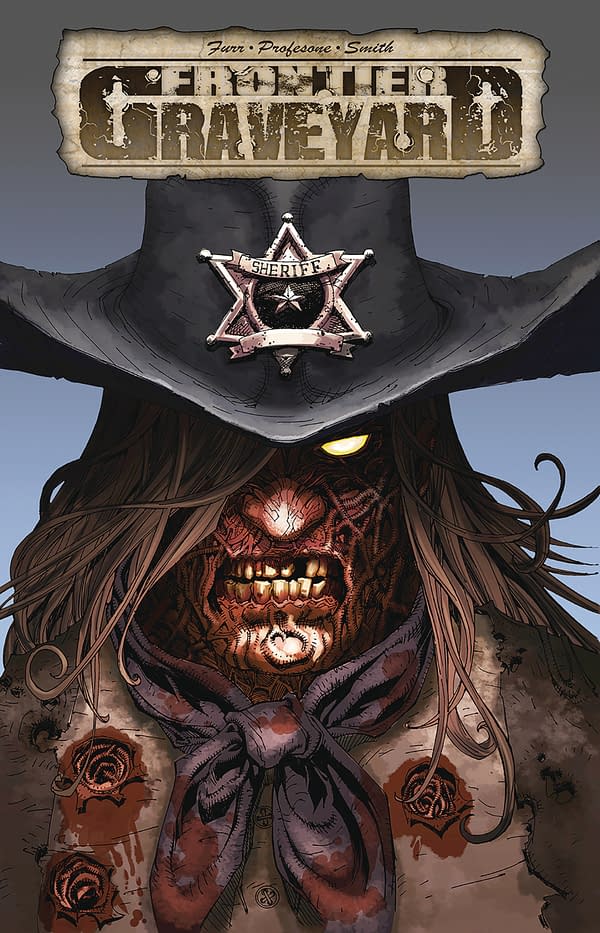 FRONTIER GRAVEYARD TP
(W) David Furr (A/CA) Mark Henry
A crew of rail workers has gone missing out in the lonely plains of the western frontier. The Pinkertons dispatch agent Nathanial Holden and the mysterious Ezekiel Grey to find them, but what the pair find instead is a trail of bodies and a secluded town harboring a terrible secret.
In Shops: Jun 27, 2018
SRP: $14.99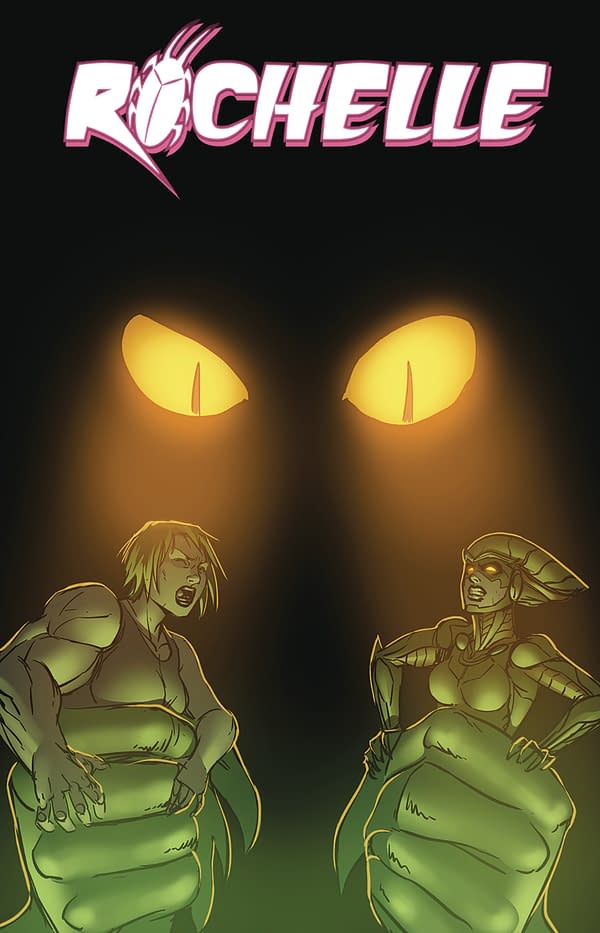 ROCHELLE VOL 2 #3
(W) John Crowther (A) Dell Barras
After rescuing their mothers from the grip of the diabolical ghouls Skeeter and Old Red, Rochelle and friends return to discover their lodgings in shambles and Rochelle's cousin Carmen missing. Our teenage heroes race to Carmen's rescue, but only a splash of genius can deliver the knockout punch needed to save her from vicious bite of the terrifying fiend known as Zika!
In Shops: Jun 27, 2018
SRP: $3.99

ADVENTURE FINDERS TP VOL 01
(W) Rod Espinosa (A/CA) Rod Espinosa
Fantasy master Rod Espinosa weaves an action-packed story of a small-town girl and her friends who want to make it big as renowned fighters! Clariette: part Barbie, part Xena, and all heart, out to make the world a better place. Ariarra: Pragmatic wandering cleric and healer, fiercely independent. Jolfe Endarion: Clari's cousin, an apprentice wizard with a love of adventure and good food. Together they set out in an age of constant warfare, across a world ruled by a monolithic empire, to battle enemies and monsters, make allies, save people in trouble, and find adventure!
In Shops: Jun 27, 2018
SRP: $19.99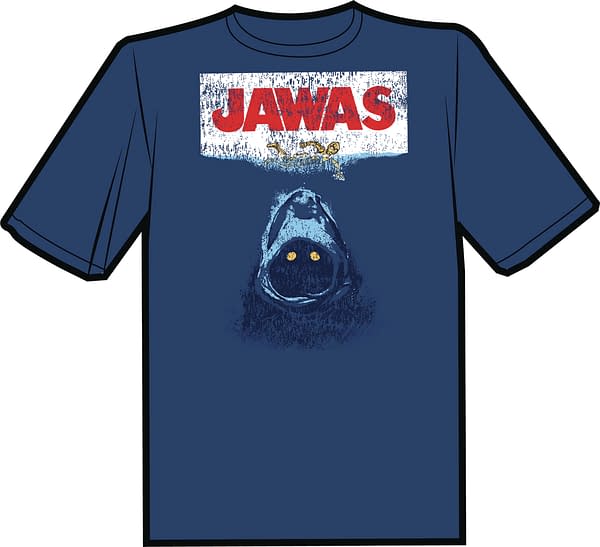 JAWAS VINTAGE DISTRESSED T/S SM
(A) Joe Wright
Just when you thought it was safe to go into the desert…a pack of the most voracious of junk-traders strikes! They're in a 100-footer…120, all 50 tons of it. Be dressed for the occasion.
In Shops: Jun 27, 2018
Imperial Stormtroopers may be precise, but to handle these sand sharks, they're going to need a bigger blaster…and a snazzy shirt like this.
When you're dressed to kill in a shirt like this, there's no need for hokey religions. Take aim with that blaster at your side and tell these sharp-toothed little scavengers, "Smile, you son of a bantha."
You've located the remains of the droids. You know this was no landspeeder accident. But you've got the right equipment, including this shirt, so go out and get a fair trade. Remember, if you're looking for a Jawa, you're only gonna find him on sand.
What you are dealing with here is a perfect engine, a haggling machine. It's really a miracle of economics. All this machine does is shoot and eat and capture little droids, and that's all.
Don't let any brown-robed, rodent-like swindler palm off a droid with a bad motivator on you. They may not look that threatening, but when they think they smell an easy mark, it's like blood in the water.
In Shops: Jun 27, 2018
Enjoyed this article? Share it!