Armstrong and the Vault of Spirits #1 Review: A Heartwarming Celebration of Valiant's Heroes
Armstrong invites Archer, Faith, Quantum, Woody, Punk Mambo, and his brother, Ivar, to partake in his wine vault. It has a bottle of wine for every year in his life and is made from futuristic technology to only give Armstrong access once every year and only to take a few bottles.
This is interspersed with memories of his encounter with Noah of the Bible after the "Great Cataclysm" for which Noah built his Ark.
Unfortunately, a coalition made up of the Knights Templar, the Wolves of Wall Street, and the Bacchae want access to Armstrong's, all lead by a shadowy leader, vault for their own nefarious purposes.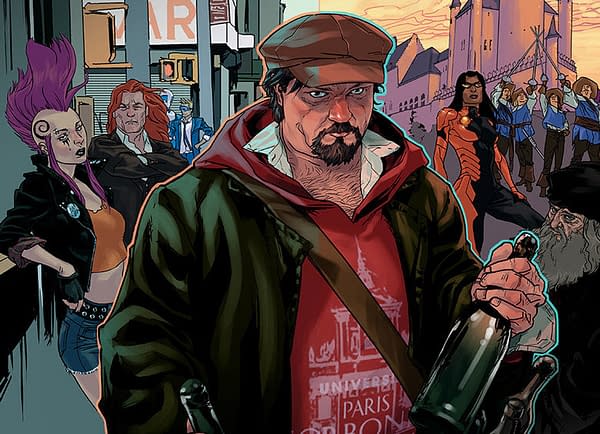 This is comic mostly focuses upon the relationships between the heroes and the humor of Armstrong's personality. Those villains mentioned above aren't treated especially seriously.
Fred van Lente's Armstrong really is a charming character who is really easy to cheer on and seems like a lot of fun. He's not a classical hero, but he's not an anti-hero either akin to the Punisher. He's very much like Greg Pak's Hercules, which makes sense. Van Lente worked on Hercules along side Pak. Armstrong is a bit of a drunken braggart. He's done a lot of wrong before, but he's trying to do better now. Archer is a religious puritan Amadeus Cho trying to keep him in line.
The other heroes bring their individual charms as well, Faith, as often, being very awesome. The villains don't get much development; they're intended to be throw-away rogues in this narrative.
That being said, the character interactions, especially between Armstrong and his friends and Archer and Ivar bring the comic together. They are enjoyable moments, and they give the comic some meat to enjoy.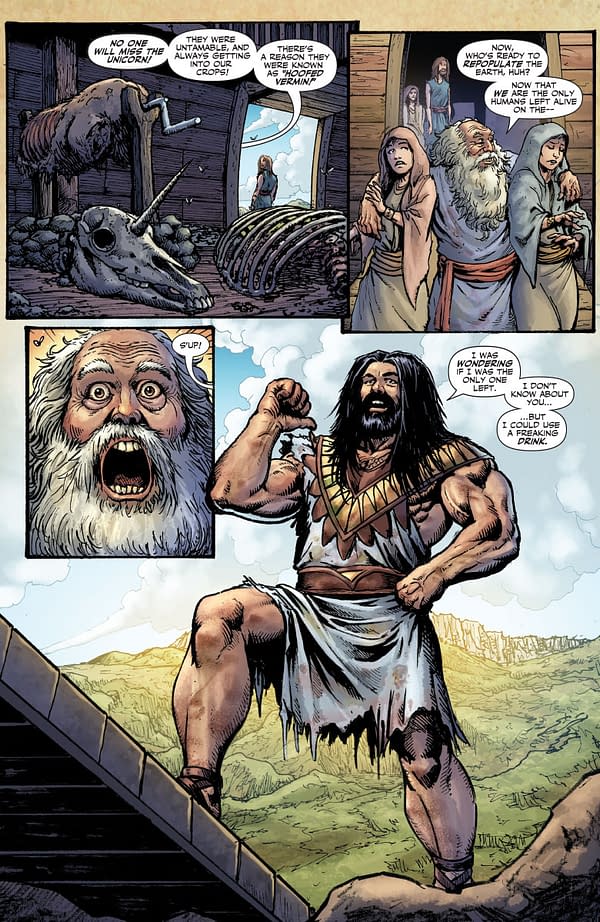 Cafu and Derrick Robertson's art is quite fantastic, and they bring a lot of detail and texture to the comic. The overall book looks really good, and it's one of the more gorgeous books I've seen in a while. Diego Rodriguez and Andrew Dalhouse cover the color of the book, and they keep things bright and dazzling too.
Armstrong and the Vault of Spirits #1 is an enjoyable read wherein the characters really do carry the story. Armstrong and his friends bring a lot of joy to the story. Cafu, Derrick Robertson, Diego Rodriguez, and Andrew Dalhouse collectively make the comic quite gorgeous, and there are a lot of laughs and emotionally weighty moments to be had. This one gets a recommendation. Give it a read.