Between the Court of Owls in Batman and the Penguin in Detective, looks like we're in for some fowl play for the month of January. You know if Adam West is reading the New 52, he's loving the looks of this month, and so am I, in fact. That actually reminds me to get another interesting Detective Penguin Post queued up for later.
And what's that [REDACTED] in the Birds of Prey solicit? Until Rich lands in London and puts a stop to all these bad puns, you may as well scan down and have a look…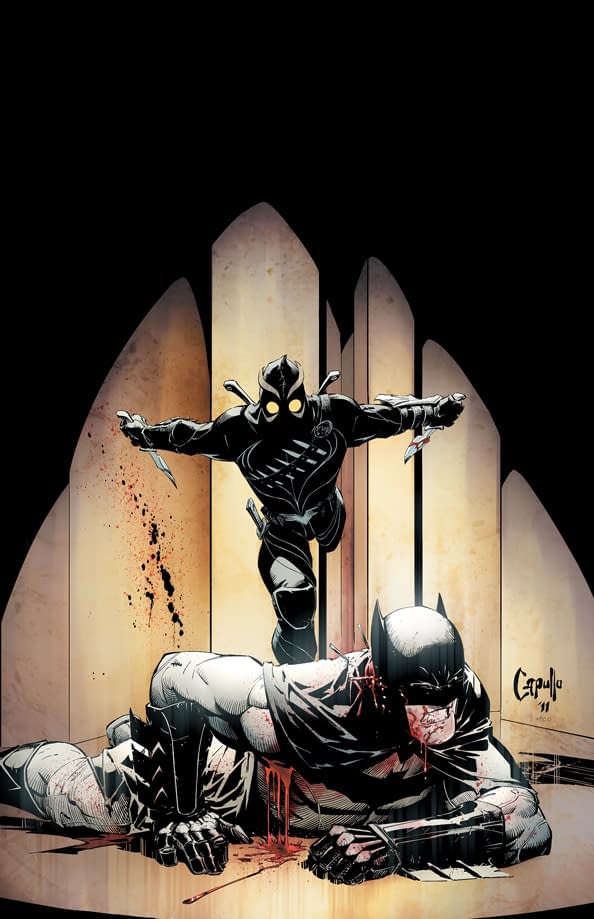 BATMAN #5
Written by SCOTT SNYDER
Art by GREG CAPULLO and JONATHAN GLAPION
Cover by GREG CAPULLO • Variant cover by ANDY KUBERT
1:200 B&W variant cover by GREG CAPULLO
On sale JANUARY 18 • 32 pg, FC, $2.99 US • RATED T
Combo pack edition: $3.99 US
Deep beneath Gotham City lies the Court of Owls' deadliest trap – and Batman has fallen right into it! Can he escape, or will he perish in a maze of nightmare? Enter the labyrinth, Batman – if you dare!
This issue is also offered as a special combo pack edition, polybagged with a redemption code for a digital download of the issue.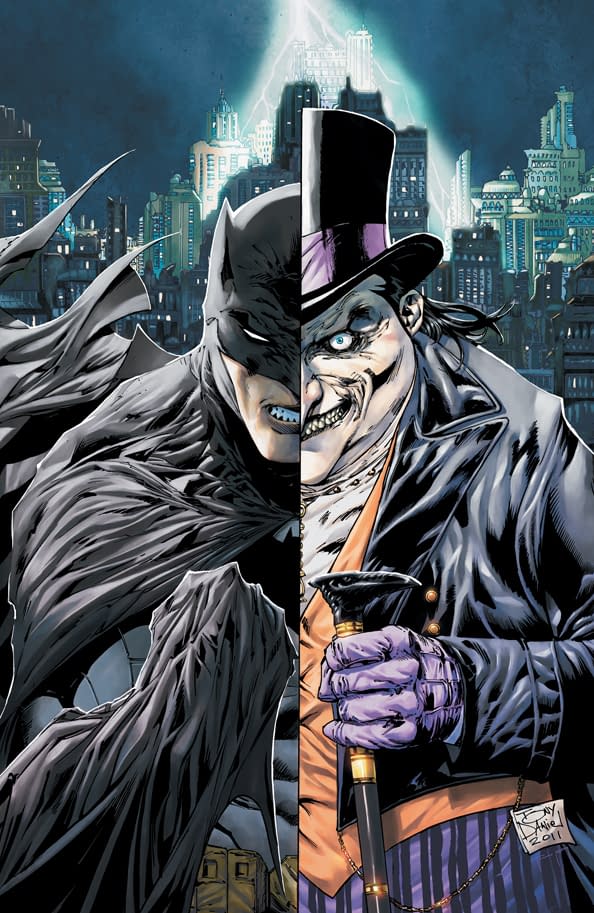 DETECTIVE COMICS #5
Written by TONY S. DANIEL
Art by TONY S. DANIEL and SANDU FLOREA
Cover by TONY S. DANIEL
1:25 Variant cover by TONY S. DANIEL
On sale JANUARY 4 • 32 pg, FC, $2.99 US • RATED T
There's been a seriers of assassinations in the criminal underworld – and The Penguin is among Batman's first suspects! But when seemingly ordinary women become part of the killings, Batman discovers a common denominator that leads him on the trail of a vicious killer who is spiraling down a path of destruction. Bruce Wayne's girlfriend, investigative reporter Charlotte Rivers, ends up on the killer's hit list. And with her missing, can Batman uncover the layers of lies and deception within the underworld in time to save her?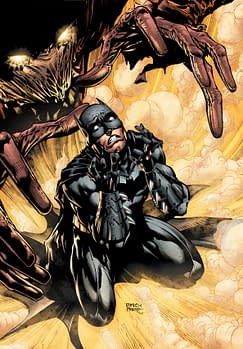 BATMAN: THE DARK KNIGHT #5
Written by PAUL JENKINS
Art and cover by DAVID FINCH and RICHARD FRIEND
1:25 Variant cover by DAVID FINCH and RICHARD FRIEND
On sale JANUARY 25 • 32 pg, FC, $2.99 US • RATED T
When a madman attacks Batman with a new and powerful fear toxin, The Dark Knight visits the coldest and most distant part of his soul. And as his deepest fears resurface, he must rely on old friends to help quell the terrible effects, and to remind him of his true mission as a hero. But what Batman discovers hidden in a moment of courage may change his life forever… for a dark figure from his past has returned – the one adversary The Dark Knight truly fears.
BATWING #5
Written by JUDD WINICK
Art by BEN OLIVER
Cover by KEN LASHLEY
On sale JANUARY 4 • 32 pg, FC, $2.99 US • RATED T
The mystery of the Kingdom, Africa's first and last Super Hero team, continues. When their former headquarters is opened to the public, its American benefactor, Bruce Wayne, is on hand. Will the villainous Massacre, who's been murdering the lost heroes, stop by for the grand opening? If he does, it will be up to Batman and Batwing to stop him. It's a battle of the bats!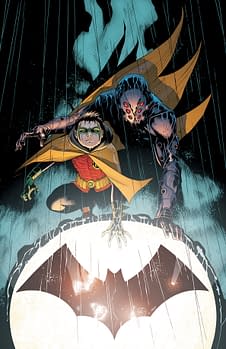 BATMAN AND ROBIN #5
Written by PETER J. TOMASI
Art and cover by PATRICK GLEASON and MICK GRAY
On sale JANUARY 11 • 32 pg, FC, $2.99 US • RATED T
There's a devil on Robin's shoulder – and his name is Nobody! Batman and Robin's relationship gets pushed to the breaking point as Nobody insinuates himself into Damian's life and tries to make him see that Bruce's plan to battle crime is hopeless – and only by teaming up and tapping into Damian's killer instinct can they ever hope to rid Gotham City of its evil roots.
BIRDS OF PREY #5
Written by DUANE SWIERCZYNSKI
Art by JESUS SAIZ and JAVIER PINA
Cover by DAVID FINCH
On sale JANUARY 18 • 32 pg, FC, $2.99 US • RATED T
After [REDACTED] in issue #4, the team agrees to take 24 hours to take stock of what just happened. But there's no such thing as R&R for the Birds of Prey, as Black Canary realizes that Gotham City is still in grave danger. And the key to unmasking the villain known as "Choke" may lie in the mystery of a man who one day just walked out on his family and life…and into a world of mind-control and murder.
BATWOMAN #5
Written by J.H. WILLIAMS III and W. HADEN BLACKMAN
Art and cover by J.H. WILLIAMS III
1:25 Variant cover by J.H. WILLIAMS III
On sale JANUARY 11 • 32 pg, FC, $2.99 US • RATED T
"Hydrology," the first arc of the critically acclaimed new BATWOMAN series, reaches its powerful conclusion! After the horrors Batwoman has faced, she has a final showdown with The Weeping Woman – a specter with the power to dredge up Kate's deepest pain. Can she finally forgive herself so she can dispel this evil? And how will she respond when Chase and the DEO tighten their grip, forcing Kate to make an impossible decision?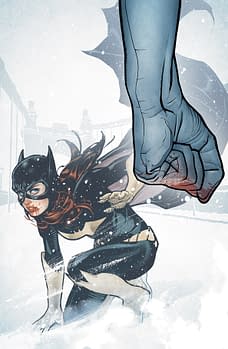 BATGIRL #5
Written by GAIL SIMONE
Art by ARDIAN SYAF and VICENTE CIFUENTES
Cover by ADAM HUGHES
On sale JANUARY 11 • 32 pg, FC, $2.99 US • RATED T
Still reeling from the shocking return of a major figure with secrets from her past, Batgirl goes on the hunt for the terrifying killer Gretel, whose eerie and violent power over the men of Gotham City leaves no one safe – not even guest star Bruce Wayne!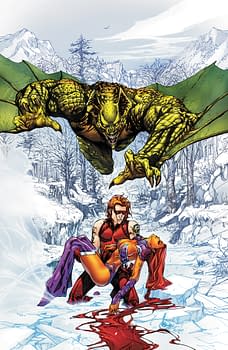 RED HOOD AND THE OUTLAWS #5
Written by SCOTT LOBDELL
Art and cover by KENNETH ROCAFORT
On sale JANUARY 18 • 32 pg, FC, $2.99 US • RATED T
With Jason going one-on-one with the ancient evil known as the Untitled and Koriand'r barely able to crawl to his side, it's up to Roy to stand alone against the monstrous threat known as Crux!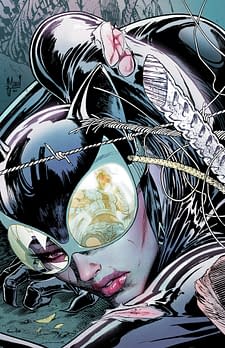 CATWOMAN #5
Written by JUDD WINICK
Art and cover by GUILLEM MARCH
On sale JANUARY 18 • 32 pg, FC, $2.99 US • RATED T+
Catwoman is flying solo and finding plenty of turbulence! She has her paws full when a simple smash and grab turns into a hit and pummeled, as she faces an adversary who is more than a match for Selina. She calls herself Reach, and she doesn't pull any punches. Can our favorite Feline Fatale land on her feet?
NIGHTWING #5
Written by KYLE HIGGINS
Art by EDDY BARROWS and PAULO SIQUERIA
Cover by EDDY BARROWS
On sale JANUARY 18 • 32 pg, FC, $2.99 US • RATED T
With winter closing in, Haly's Circus hits New Orleans! But as Dick Grayson gets closer in his search for answers about the mystery of the circus, it's not just the temperature that heats up. And just how does a voodoo ritual gone bad factor in? Find out as Nightwing takes the Big Easy!
Enjoyed this article? Share it!