Batman Day Will Be Every September Now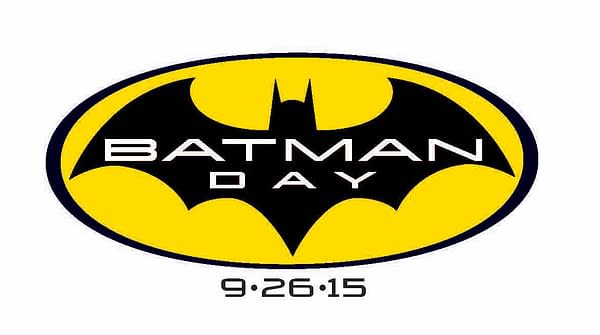 Saturday, September 26th is Batman Day 2015! While 2014's equivalent was held in the run-up to San Diego Comic Con, I understand that the end of the September will now be the fixed date for such Bat-activities in years to come.
As we reported, stores will be giving away copies of Batman Endgame Special Edition #1 by Scott Snyder, Greg Capullo and Danny Miki, which will also debut the Batman & Robin Eternal series by Scott Snyder and James Tynion IV, with a script by Tynion and art by Tony S. Daniel.
And DC is encouraging stores to carry the following…
And to help retailers achieve this, DC is offering extended billing on select Bat-titles, letting retailers order now but pay much, much later, as well as returning unsold copies of the following on October 30th, with bills finally coming at the end of November.
BATGIRL VOL. 1: THE BATGIRL OF BURNSIDE TP (DEC148636)
BATMAN ADVENTURES VOL. 1 TP (AUG140337)
BATMAN: ARKHAM KNIGHT VOL. 1 HC (FEB150258)
BATMAN: THE DARK KNIGHT RETURNS TP (NOV118095)
BATMAN: EARTH ONE VOL. 1 TP (MAY140376)
BATMAN: EARTH ONE VOL. 2 HC (JAN150232)
BATMAN: HUSH COMPLETE TP (MAY090178)
BATMAN: LI'L GOTHAM VOL. 1 TP (NOV130255)
BATMAN: LI'L GOTHAM VOL. 2 TP (APR140285)
BATMAN: THE KILLING JOKE SPECIAL EDITION HC (NOV070226)
BATMAN VOL. 1: THE COURT OF OWLS TP DEC120323
GOTHAM ACADEMY VOL. 1 TP (MAR150269)
GRAYSON VOL. 1: AGENTS OF SPYRAL HC (MAR150270)
Maybe it'll make up for #DeadComicDay