Batman: Gotham Nights #6 Review: The Joker's Most Diabolical Scheme
In another stunning triumph, this issue brings a surprising but wholly factual indictment of the Dark Knight Detective's defects in an unusually effective way. Shortly after the Batman's first year concludes, the criminal justice system is so overloaded with suspects that the government claims they need more prisons to keep up. Well, of course, that money has to be taken out of public health, and all of a sudden, the people of Gotham are scared to cough for fear of bankruptcy or poverty.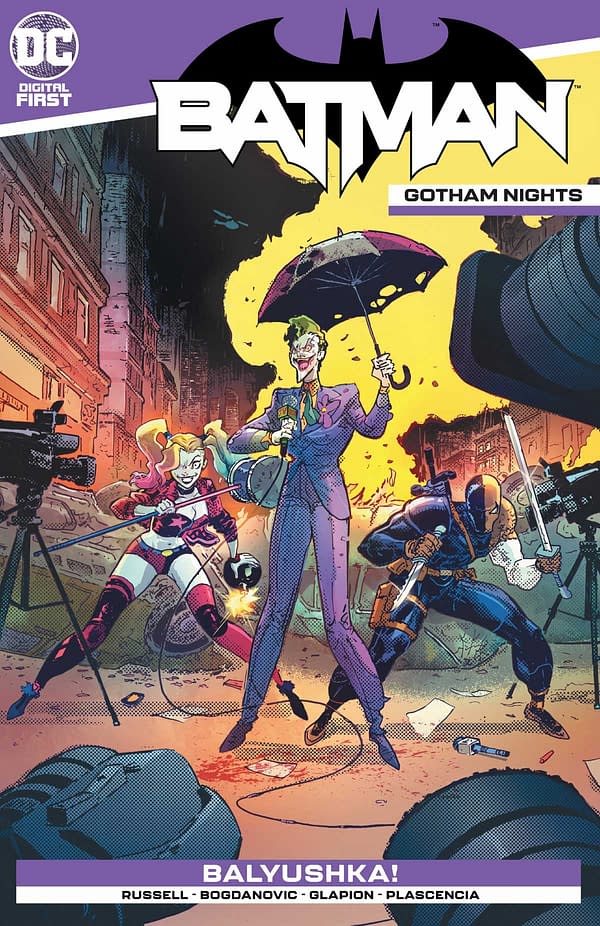 That's when an old friend steps on to the scene and, well, this could be the Joker's most diabolical scheme yet. Weaponizing the internet, the Joker turns the entire city of Gotham into a dystopian game show, painting the whole town with madness. Not only is the Bat helpless to stop this, but it's wholly legal and forces him to see the cost of his misuse of his greatest superpower: money.
With a script this wicked and timely, it could almost be no one other than Mark Russell. His economical, intricate writing delivers with page after page of innovations and cleverness. The visual storytelling from Victor Bogdanovic, Jonathan Glapion, and Ivan Plascencia do a great job of depicting the Joker's madness made municipal, and the fantastic twist ending shows shock even on the face of the Bat. Again, the true-crime happening in Gotham remains as unpunished and circular as the gates of Arkham Asylum itself.
Without a doubt, these are some of the best Batman comics available on the stands, and pretty much everything went right here. RATING: BUY.
Batman: Gotham Nights #6
The Joker has the perfect plan to cause mass chaos in Gotham City, one so simple—and legal—not even Batman can stop it!