Beasts of Burden: The Presence of Others – An Adorably Fuzzy BLOODBATH
Beasts of Burden: The Presence of Others is the comic I didn't know I needed; a blend of horror, the supernatural, and a character line up of dogs and cats working together to take down the monsters of the occult. I was immediately dragged into an action packed issue that filled the pages with adventure from cover to cover. Evan Dorkin (Milk & Cheese) hits the ground running with a first page spread showing newspaper clippings of the unexplained massacres plaguing a small American town called Burden Hill.
Sabina, a human girl, along with her father and brother Bean, have ventured into the woods of Burden Hill to investigate the causes behind the mysterious deaths. They're quickly joined by a pack of dogs, lead by a husky, who explain they're also looking into what has been attacking the townsfolk. Sabina and her father share the unique gift to understand the pets, and together decide that working together is the only way to get to the bottom of everything. What normally would be a quick job for the family quickly goes awry as Sabina's Father gets dragged into a crypt and the children are attacked by a hoard of demon rats. Fighting alongside the feline and canine comrades, Sabina and Bean kill the king of the rats but unfortunately their Father is too far gone from the attack, and comes after the children as a zombie.
Dorkin keeps this comic fast-paced, spending less time explaining the fantastical ability to communicate between species at a minimum and focusing instead on creating an atmosphere of intensity. Animal lovers will be especially invested right away, with a sassy Pug, noble Doberman, and brave little Beagle stealing the spotlight almost immediately. The artwork from Jill Thompson (Sandman) absolutely elevates the vibe of this story, with characters vibrantly standing out against beautifully blended backgrounds, and a bloody machete or two breaking through the panel barriers for more in-your-face action sequences.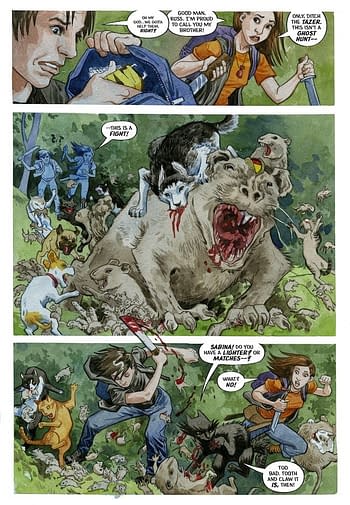 This comic is perfect for previous fans of Dorkin and Thompson's previous BOB lineups, and this two-issue miniseries is great for anyone wanting to try something new without getting in over their head. With 13 Eisner awards to their credit, this dynamic comic duo will not disappoint with Beasts of Burden: The Presence of Others, scheduled to release June 5th.