Beasts of Burden: The Presence of Others – Fluffy AND Violent!
Beasts of Burden: The Presence of Others' first issue from Dark Horse comics ended on a cliffhanger, where we were unsure of the father's fate at the hands of the crypt spirits. Writer Evan Dorkin (Blackwood) settles the matter rather quickly, beginning the second comic with dad resting on the ground surrounded by his children and the animals. What normally could feel like rushed writing can be excused with Dorkin's careful plot development; the spirits were merely a distraction against the bigger issue facing the family.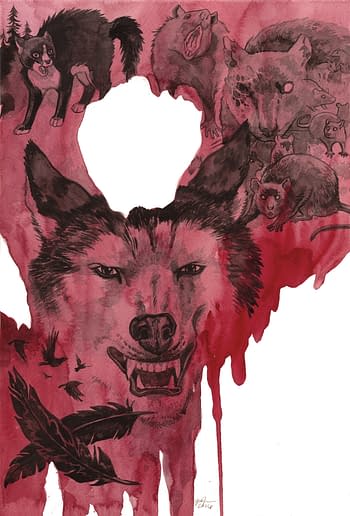 The ominous presence at Burden Hill still lingers. Dorkin develops the characters carefully in this issue, showing Jack the Beagle's gift of sight and the black Witch Cat's proclivity for pyrotechnics. The most astonishing development comes at an act of betrayal, where the husky Dymphna takes a few bullets and the full impact of a car…and gets back up to fight.
Dorkin succeeds at developing contention and suspense in this second issue, allowing the panel layout to expand at the action scenes and compress when stressful. Artist Ben Dewey (Strange Allies) works well in this format, using the flow of his softer medium choice to create a comic that feels like it's moving. The character complexity in this story adds magnitude to the issue as well, leaving questions about how desperation can ultimately undermine honor, loyalty, and family.
Dark Horse's creative lineup with Dorkin, Dewey, and letterer Nate Piekos brings in a creatively developed horror comic where Ghostbusters meets Secret Life of Pets. It is absolutely brilliant in the way the story flows and left me with audible gasps at the reactions from the characters and the twists to the story. Animal lovers may feel a twinge of hurt once they inevitably get attached to the critters in this comic, but it is well worth the read and a spot in a hold box.