 Last week we ran the story about a new kickstarter to published a remastered edition of the Swords of the Swashbucklers by Bill Mantlo and Jackson Guice. I followed it up with an article about the tragic life that Mantlo has lived since creating characters like Cloak & Dagger, Rocket Raccoon and so many more. Since a hit and run accident in 1992, Bill has been living in a care facility where his brother Mike has been there for him. Writer Keith Davidsen (Reanimator) and Dynamite's Marketing Director talked with Mike Mantlo about his brother, what his life is like now and the fact that some of his creations are becoming extremely popular in the mainstream.
KEITH DAVIDSEN: Why don't we start off with an anecdote from younger days, can you describe an experience with Bill where you really got to witness his remarkable creative talent?
MIKE MANTLO: Well, as kids, I was always in awe of Bill's artistic talent….he started out by "self teaching" himself how to draw through a Saturday morning TV show (infomercial, really) featuring the "Jon Nagy Learn To Draw" methods. Me? I couldn't keep the paint by numbers inside the lines (lol)! As to Bill's writing period, somewhere around 1980-ish I remember him telling me how he managed to write 8 different titles each month without mixing up characters or plot lines, and I was completely blown away by how simple he made it sound. "It's all basically the same thing" he said…."good guy tries to stop bad guy…bad guy gets the upper hand for a while, and then the good guy finds a righteous reason for summoning the strength to defeat said bad guy. Throw in a romantic interest, or loving family twist, and you've got a story". As if it were that easy for the rest of us mere mortals.
KD: So many of the titles that Bill worked on were cosmic in nature — ROM, MICRONAUTS, and of course, SWORDS OF THE SWASHBUCKLERS. Where do you think that interest in space adventure originated?
MM: I wouldn't call it an interest in space adventure….it was simply his fascination with science fiction, mythology and the surreal. We Mantlo's were taught to read very early on, and Bill read everything he could get his hands on. Trips to the library and used book stores were frequent, and then the early 60's introduced COMIC BOOKS! From that point forward, everything was magical.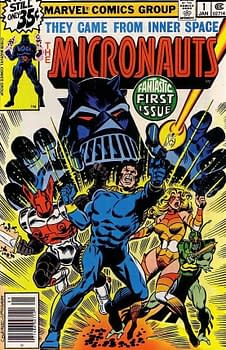 KD: Over the years, you've seen an outpouring from creators, giving credit where credit's due, identifying Bill Mantlo as a major inspiration on their careers. How does that make you feel?
MM: Incredibly proud, yet horribly sad at the same time, because it is so difficult for Bill to understand just how revered he is. When he was writing for Marvel, he was certainly not given much credit for the enormous outpouring of creativity that he produced. In fact, he was usually referred to as the "fill-in" king. I keep Bill informed of everything that's happened over these past 25 years, and while he is thrilled when hearing of his successes and the praises that have been sung about his work, he doesn't have the ability to hold onto the memories of that new information for any length of time. But, if it's my lifelong task, I will happily remind him and refresh those memories every chance I get. Nothing makes me happier than seeing his eyes light up when he hears this stuff.
KD: What does it mean for the Mantlo family to get SWORDS OF THE SWASHBUCKLERS back into print?
MM: It means a LOT, as SOTS was one of the first projects that Bill was able to hold creator rights to, and he was incredibly proud of that. For fans, and newcomers to Bill's spacey saga, this is a fantastic opportunity to discover Bill's talents.
KD: Butch Guice — who is an amazing artistic talent — has lent his support to the Kickstarter. What are your thoughts on Butch's past creative partnership with Bill, and his partnership in this promotion?
MM: I humbly bow in Butch Guice's direction, and give major kudos to him for the effort he's put into freshening up Bill's, and his, labor of love. I hope and pray that both Bill and Butch receive all the credit they so obviously deserve for this project, and that it is a smashing success!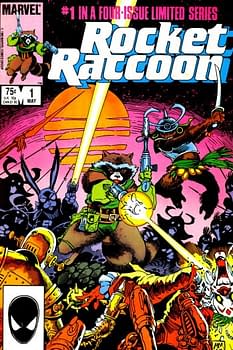 KD: Let's talk Rocket Raccoon. What's it like to see one of Bill's creations become a pop phenomenon?
MM: It is AWESOME! I always knew Bill would one day be recognized for something he created, but never imagined that it would be Rocket. In a way, it all fits perfectly, as Rocket was one of Bill's most satirically cynical creations, and born from Bill's love of the Beatles.
KD: What would you say to people who are discovering the SWORDS OF THE SWASHBUCKLERS project for the first time through this Kickstarter?
MM: I'd say STRAP YOURSELVES IN, GANG! You're in for one hell of a ride!
The Kickstarter is still going on if you want to check it out.
Related Posts
Enjoyed this article? Share it!