Black Adam #1 & Dark Crisis: Young Justice #1 Will Be Returnable
Black Adam #1 and Dark Crisis: Young Justice #1 are two DC Comics going to Final Order Cut-Off, or FOC this coming weekend. Indeed, quite a lot will be going to FOC this weekend, two weeks worth of comics, due to the Memorial Day holiday in the USA, with no titles on FOC the following week.
So how to make those two titles stand out? Well, DC Comics is making them both returnable to retailers. A measure that costs DC Comics a significant amount, but generally entails retailers being able to order comics at a non-returnable direct market discount – but still get returnability. Enabling them to order less conservatively, order enough for potential sales and maybe discover that they could sell more of them than they thought they might. And help sales of subsequent issues.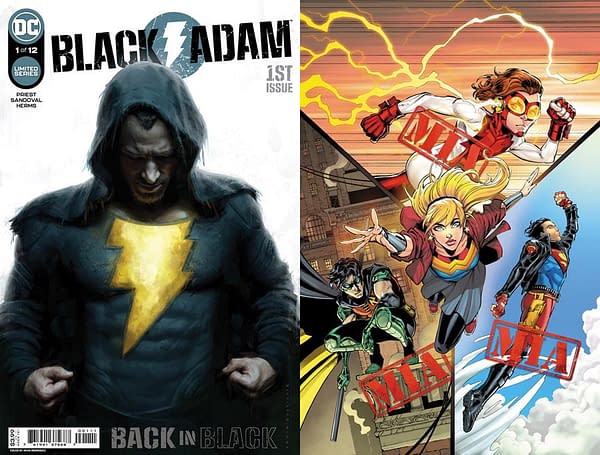 BLACK ADAM #1 CVR A IRVIN RODRIGUEZ
(W) Christopher Priest (A) Rafa Sandoval (CA) Irvin Rodriguez
Before the Warner Bros. film debuts this October, Black Adam stars in a brand-new solo comic book series set firmly in the DC Universe! Writer Christopher Priest and artist Rafa Sandoval, both working at the top of their game, present an entirely fresh examination of the man you love to hate! There is no forgiveness for Black Adam. This is the reality Teth-Adam, immortal man of indomitable will, must face when he discovers he has been infected with an incurable plague destroying his immortality. Haunted by the specter of centuries of dark deeds, Black Adam transfers his powers to a worthy successor who will redeem Adam's legacy and defend their ancestral homeland of Kahndaq, only to subsequently become mystically handcuffed to him when Adam's plague is arrested, giving birth to perhaps the most volatile and dysfunctional super-team in DC history! Powered by stunning art by Rafa Sandoval (Justice League) and breathtaking painted covers by Irvin Rodriguez (Detective Comics), writer Christopher Priest (Deathstroke, Justice League) brings his trademark wit and skill for character deconstruction to an entirely fresh examination of the man you love to hate! Get ready to ride the lightning!
Retail: $3.99 FOC Date: 5/22/2022 In-Store Date: 6/21/2022

DARK CRISIS YOUNG JUSTICE #1 (OF 6) CVR A MAX DUNBAR
(W) Meghan Fitzmartin (A) Laura Braga (CA) Max Dunbar
Crises have always had devastating impacts on the generation of heroes that make up Young Justice, and Dark Crisis will hit them even harder. Tim Drake, Impulse, and Superboy go missing during the Justice League's funeral. The only person concerned enough to find them? Cassie Sandsmark, a.k.a Wonder Girl. But…the three boys of Young Justice aren't on this Earth anymore…they're on the world of their dreams, one they may never want to leave!
Retail: $3.99 FOC Date: 5/22/2022 In-Store Date: 6/21/2022