Bleeding Cool Bestseller List, 23rd September 2018 – Damned Batman
This is the Top Ten Bleeding Cool Bestseller List, as compiled by a number of comic stores from their sales on Wednesday and Thursday. It measures what are known as the "Wednesday Warriors", those who can't wait until the weekend to get this week's comics. We salute you, and the keenness you bring to your passion.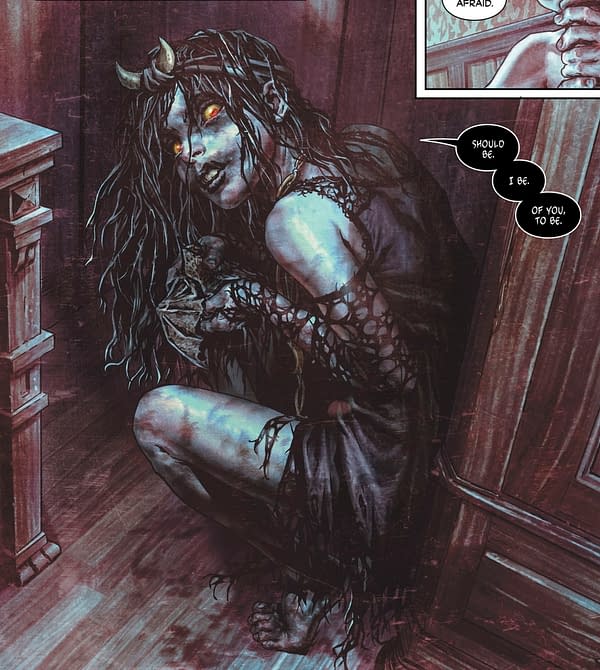 This week… there could only be one comic on the top of the Batpole. As it were.
TOP TEN:
Batman: Damned #1
Batman #55
Return Of Wolverine #1
Justice League #8
Venom #6
Mister Miracle #11
Immortal Hulk #6
Venom First Host #4
Thor #5
Amazing Spider-Man Annual #1
Thanks to the following retailers:
And here's what they have to say:
Batman Damned was a (very much expected) hit at FFF this week, selling out completely by Thursday afternoon. We've also had a record number of people ask about since then. Both the controversy and the stellar story have quickly made this the biggest book of the year, hell the last ten years. Every store under ordered and DC probably under printed. We'll see if the second printing is as popular. As for everything else, Return of Wolverine took the #2 spot on our Weekly Top Ten outselling regular Batman by 8 copies. Strange to see Batman under a Marvel book, but Damned sure as hell makes up for the difference. The Amazing Spider-Man Annual sold very well thanks to a handful of cool variants. Venom First Host is still holding strong for a weekly book. Immortal Hulk is in the Top Ten again which is always cool to see. Marvel is still holding strong, but if DC keeps pumping out the hits then it'll be a while before the House of Ideas stands on top again.

Best week we've had since early July. All because of a certain aspect of Batman Damned.

Nothing bigger in comics right now than the first appearance of Lil' Wayne. The Bat-pole issue has catapulted to the top spot this week and Batman #55 to the second spot, beating out Return of Wolverine. Wolverine's return was by no means a flop but it certainly hasn't pulled numbers like I thought it would.

The top half of our bestseller list was dominated by Big 2 series, with (do I even have to say it?) BATMAN DAMNED #1 outselling everything else by a mile. Lots of speculators. Lots of folks annoyed by our policy that only let them buy one copy of it a day. But, closer to the bottom of our top 10, a few smaller contenders made a mark, namely SWORD OF AGES #5 and SEVEN TO ETERNITY #11, and issues of both series sell consistently well, even if they don't cause quite the commotion that a certain piece of Bat equipment has.

Our best seller this week should come as no surprise to anyone who's so much as read the word "Batman" in the last two days, and I don't think anything I can say will add substantively to that conversation. So! Moving on…

Our 2nd place seller this week would likely have been our first place any other time of the month: BATMAN #55, itself containing a fairly momentous event in the world of the Dark Knight. Just behind that, we've got the first issue of RETURN OF WOLVERINE. Yes, the actual return of Wolverine. Finally.

The rest of our list is most of the usual reliable sellers, and mostly Marvel. We've got the penultimate issue of MISTER MIRACLE, another issue of the excellent IMMORTAL HULK, and a smattering of Marvel's usual suspects.

Batman Damned blew out the doors. I hear Frank Miller will follow it up and have Superman go Full Monty next. We sold out of it on Wednesday and we were lucky enough to get more ordered before Diamond was out. Batman 55 is still bleeding readership and slipped to third place even with the big hype for the issue. Though it was a really weak set up. Gordon calls Batman with the Batsignal because someone in Gotham wrote something on a napkin? Is there a no writing on napkin law in Gotham? Was Gordon bored? Lazy writing? Return of Wolverine wasn't the big return we had hoped for. Justice League is still doing great sales wise. Venom is enjoying a sales boost with the upcoming movie. Aquaman is also starting to see improvement here sales wise thanks to a certain movie in December. Looking forward to next week. Lots of big titles coming out.

DC took the top three slots with Batman: Damned, Batman, and Justice League–but from there on, it was all Marvel. This should concern DC: many of their former top-sellers have slipped to solid mid-list sellers, while many of their mid-list books are now slumping into lower-tier category. There's a general consensus that DC has lost a lot of the direction that they had rediscovered with Rebirth, and "dark & grim" isn't a good look for DC. The Flash is particularly problematic: for the first 40 issues, it was consistently a top ten book. Now, the book barely makes our top twenty!
Notable sales:
Incredible Hulk #181 5.5 $2,800 – Our Greensboro location moved this hot key just in time for his return to the new racks.
New Mutants #98 F/NM $328 This book sold within 24 hours of the time it came into the store.