This is the Top Ten Bleeding Cool Bestseller List, as compiled by a number of comic stores from their sales on Wednesday and Thursday. It measures what are known as the "Wednesday Warriors", those who can't wait till the weekend to get this week's comics. Batman takes the top two, pushing ahead of the Dawn Of X books. Wonder Woman #750 is relatively lower – but it was a ten buck book. And Guardians looks like it relaunched low…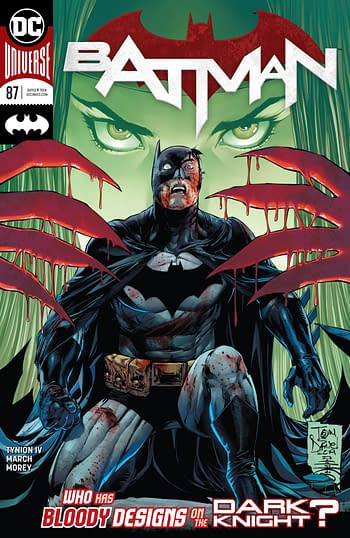 Top ten bestselling comics of the week
Batman #87
Batman Curse of the White Knight #6
Marauders #6
Amazing Spider-Man #38
Excalibur #6
Batman/Superman #6
Wonder Woman #750
Superman #19
Guardians of the Galaxy #1
Detective Comics #1019
Thanks to the following retailers…
If you would like to contribute to the retailer charts, let me know at richjohnston@bleedingcool.com. Probably have a few more folk and folk returning in the New Year…
Who had this to say…
Big week for DC at FFF this week with seven of our top ten bestselling books coming from the publisher. Last week I was convinced Batman would be back on top as he had 4 titles with his name directly in the tradedress (Batman: Detective Comics still counts!) but I totally blanked on Wonder Woman's big anniversary issue! We didn't sell a lot of any one cover, but we sold well on each which helped boost the number a little higher. We sold the most of the Jim Lee cover which was a little surprising. It's a beautiful cover for sure, but up against J Scott Campbell and Adam Hughes I thought there would be stiffer competition. Tynion's sophomore issue of Batman was #3 in our Top Ten, coming in right behind Al Ewing's new Guardians of the Galaxy run. I think DC and Tom King alienated some Batman readers and it's going to take them a little while to come back to the book. The numbers haven't (and more than likely won't) drop dramatically, but there was definitely a few hits to the book that will take time to recover. The rest of our Top Ten were usual titles like Amazing, Once and Future and the three other Bat-Books. Year of the Villain Hell Arisen just barely peeked through to the bottom of the list. As an event, YOTV has been all over the place. There hasn't been a unifying title other than Justice League which was 30 something issues into a year long story. People either picked up or passed on the one shots related to the books they were reading, but even the main titles that "tied in" only did so tangentially and confusingly. Then there were The Infected one shots which did not do well with us at all. It's a little surprising to see the culmination of all of that actually sell fairly well. I guess putting the Batman Who Laughs on the cover really will do wonders for a title.
—-
Much better week than last, but Amazing Spider-Man is much lower on the list than it used to be, and we had several customers cut it from their pulls recently. A lot more foot traffic overall though, with a handful of X-books and Batman out this week. In fact, there were four Batman titles in our top ten; Makes me wonder how people find it in themselves to complain about the "oversaturation" of X-Men books when four Batman books a week is just about the average.
—-
What a week. Bad weather this week hurt our sales. The old short term sales spikes are no longer working. Guardians of the Galaxy #1 had more people saying "Another number 1 Guardians of the Galaxy?" than actually buying it. Guardians did not even make our top ten and looks to be a title that we will lose money on. Wonder Woman #750 did not beat out Batman for the top spot. Going from issue 83 of Wonder Woman to issue 750 failed to impress customers. I just lowered my order on Flash #750 due to Wonder Woman #750 not doing as well as I had hoped. We need people actually reading comics instead of multiple cover gimmicks and renumbering.
—-
Things are looking quite a bit back to normal on this week's sales charts, with BATMAN in the top spot and plenty more of the Caped Crusader sprinkled through the list with DETECTIVE COMICS and CURSE OF THE WHITE KNIGHT.
The two Dawn of X books that shipped this week -MARAUDERS and EXCALIBUR- also continue to be strong sellers. The debut of the newest GUARDIANS OF THE GALAXY series also performed well.
Elsewhere we've got familiar faces knocking around like AMAZING-SPIDER-MAN and SUPERMAN, as well as sort of mini-event book HELL ARISEN holding up the bottom of the list.
—-
Much better sales than the past few weeks, but strong on the Big 2.
—-
DC makes it into the charts very strongly this week, taking five of our store's top ten slots–and four of those five were taken by Batman books. Even after all the publicity for the identity revelation, Superman #19 could only climb to 11th spot on the charts–too many lost Superman readers are unwilling to come back, apparently. Marvel's first two hit titles, Amazing Spider-Man and Fantastic Four, made it into the week's top ten slots, while Boom! placed with Once & Future #6. One good sign: readers who bailed on Tom King's tedious Batman run (particularly those who felt betrayed by his Batman-Catwoman-wedding bait-and-switch) are willing to come back now that James Tynion IV is writing the series.
Enjoyed this article? Share it!