This is the Top Ten Bleeding Cool Bestseller List, as compiled by a number of comic stores from their sales on Wednesday and Thursday. It measures what are known as the "Wednesday Warriors", those who can't wait till the weekend to get this week's comics. And this week sees all three Marvel Comics Dawn Of X take the top three beating out he traditional chart-topper Batman…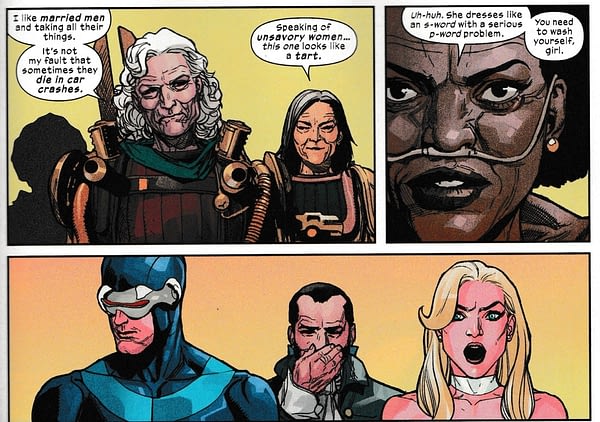 Top ten bestselling comics of the week
X-Men #3
Excalibur #3
Marauders #3
Batman #84
Amazing Spider-Man #35
Justice League #37
Conan: Serpent War #1
Green Lantern: Blackstars #2
Savage Avengers #8
Doctor Doom #3
Thanks to the following retailers…
If you would like to contribute to the retailer charts, let me know at richjohnston@bleedingcool.com.
Who had this to say:
Only two DC titles made it into this week's top five–and even the former juggernaut title Batman can only come in fourth place behind a trio of Marvel mutant titles. Dreary storytelling, sluggish plots, unfocused events–DC seems uninterested in making exciting comics nowadays. Marvel, thankfully, has taken up the slack, turning out some of their best comics in years.
—-
X-Men #3 beat out Batman #84 for the top spot this week, and I'm grateful it's still holding strong. It's nice to see the Dawn of X line consistently competing with a title like Batman that used to be relatively insurmountable. The rest of the top 10 was populated by the usual heavy hitters, with Justice League, Green Lantern, and Spider-Man trailing after Marauders and Excalibur. Marvel's current crossovers unfortunately don't have much steam behind them, and the only book from either Annihilation Scourge or 2099 that has managed to break into the ranks thus far is Venom 2099, and I'm fairly certain it's just because, well… it's Venom.
—-
Not a great week for the indie publishers, but hopefully they're just getting a holiday break.
Enjoyed this article? Share it!