We just pointed out that DC Comics are republishing every individual issue of Watchmen as a hardcover volume and then collecting them all together in a box set for Christmas.
And speculated that this may have the fingerprints of John Cunningham.
Well, looky here, they're doing it to the original issues of The Dark Knight by Frank Miller and Klaus Janson as well. The four volumes, The Dark Knight Returns, Hunt The Dark Knight, The Dark Knight Falls and Dark Knight Triumphant.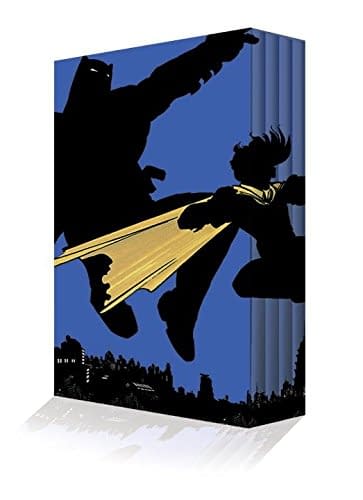 All in hardcover, all in a box set, all for $50.
I can see this a little but more, in that the originals were published in prestige format. But it still feels a little silly….
The anniversary celebration of Frank Miller's epic interpretation of the Dark Knight's future continues with this new slipcase edition that reprints each issue of the original DARK KNIGHT RETURNS miniseries in its own hardcover volume, all in a beautifully designed slipcase. It is ten years after an aging Batman has retired, and Gotham City has sunk into decadence and lawlessness. Now, as his city needs him most, the Dark Knight returns in a blaze of glory. Joined by Carrie Kelly, a teenaged Robin, Batman takes to the streets to end the threat of the mutant gangs that have overrun the city. And after facing off against The Joker and Two-Face for the final time, Batman finds himself in mortal combat with his former ally, Superman, in a battle that only one will survive.
Enjoyed this article? Share it!