Brazilian Court Backs Rio Mayor's Ban on LGBTQ Comics; YouTuber Felipe Neto Buys Them All, Gives Them Away
Developments in the situation at Rio de Janeiro's Book Biennial continue to come at a rapid pace. Courts Saturday backed Mayor Marcelo Crivella's attack on LGBTQ comics, which started Thursday when he posted a video message on Twitter ordering booksellers to stop selling copies of the 2010 graphic novel Avengers: The Children's Crusade. Crivella, who once called homosexuality "a terrible evil" and is a bishop of the evangelical megachurch Universal Church of the Kingdom of God, wants the books placed in sealed plastic bags with warnings about their content, which he claimed was inappropriate for minors. The content in question is a romantic relationship and kiss between two male charters, Wiccan and Hulkling, which is not inappropriate for anyone.
In the ensuing roller coaster, copies of the book sold out with an hour of Crivella's initial announcement. However, the next day, Crivella ordered fifteen city officials to scour the festival and forcibly censor or confiscate any copies of the book. When the festival organizers responded with a legal motion to block Crivella, one which was initially supported by courts, it seemed that common sense had won the day over anti-LGBTQ bigotry. However, according to Brazilian independent newspaper O Globo, Saturday saw a reversal of fortunes, as higher-ranking court officials overturned the original ruling and lent support to Crivella's efforts, saying that Crivella's case "sufficiently demonstrated" the need to avoid "risks of injury to public order" by censoring the books. Emboldened, Crivella refocused his efforts Saturday, ordering officials to forcibly censor not only Avengers: The Children's Crusade, but also any book featuring homotransexualism, a term presumably taken from Matthew 22:39, in which Jesus famously said, "Love your neighbor as yourself, but under no circumstances let the children see that homotransexualism."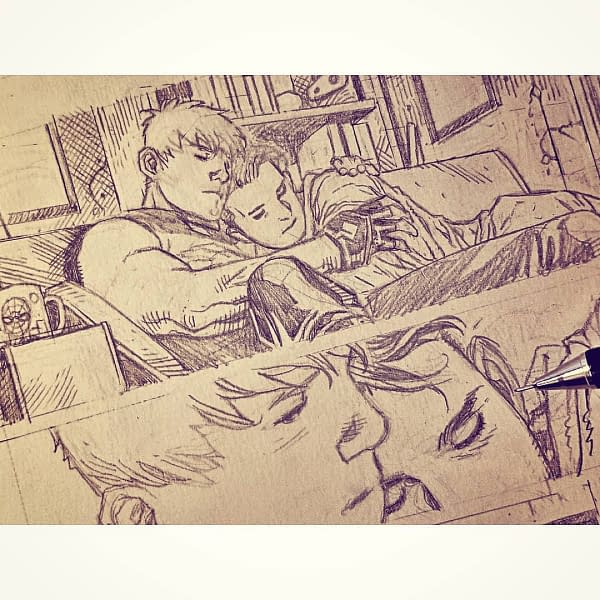 But in another twist, popular Brazilian YouTuber Felipe Neto, who counts over 34 million followers on the video service, decided to buy 14,000 books, the entire stock of LGBTQ books at the festival, and distribute them for free in sealed plastic bags with a sarcastic message about censorship, reading, "This book is inappropriate – for backward and prejudiced people." Would Brazil be interested in trading him to us for some of America's YouTubers?
And according to Neto, he succeeding in giving away the 14,000 books before officials arrived at the festival.
"At this moment Crivella's troops want to invade the Biennale with 20 ARMED men, among children," Neto tweeted. "No more LGBT books to confiscate. All were distributed."
And that's where things stand right now, though the festival is set to continue Sunday. Meanwhile, comic book artist Jim Cheung, who co-created Avengers: The Children's Crusade with writer Allan Heinberg, posted a message of support for LGBTQ people on Instagram.
The story has penetrated the mainstream international news cycle, with stories on all major comic book websites as well as mainstream outlets like CNN. Even chicken website ComicBook.com took time out from posting about the new McDonalds Spicy BBQ Chicken Sandwich to write about the events in Rio. In addition, social media users around the world have been busy responding to Crivella's tweets with messages of protest or, even better, images of gay comic book characters kissing.
The saga continues, and we'll keep you updated.