Will Brian Bendis Get Superman Directly Involved In Politics? (Action Comics #1018 SPOILERS)
Political endorsements can be a dangerous game, you never know where you'll end up. Just ask Mark Millar (#34 on the power list), who backed and promoted Scottish politician Alex Salmond and the Scottish National Party in 2011, appearing in their party political broadcasts, and publically thanked by Salmond when the SNP won almost all Scottish seats in the General Election. Salmond went on to appear with Millar at a number of comics and movie-related events including the Glasgow Film Festival and Millar was recommended by Salmond – and received – an MBE for his contributions to culture. But, since Salmond was arrested and now charged with sexual assault and rape, charges he denies, you won't see much mention made of their time together.
Mark Millar is also known for writing Superman, with his comic book Superman: Red Son just adapted by Warner Bros as an animated movie. But the regular Superman series are currently written by Millar's Ultimate stable-mate Brian Bendis (23# on the power list). DC Comics has just published Bendis' latest tale that has seen Superman reveal to the world that he is Clark Kent – a twist that Millar told John Siuntres' Word Balloon podcast that he thought was a bad idea. Maybe he might have something to say about public political allegiances too. Because in this scene, set before the big reveal, Clark Kent talks to the new fire chief Melody Moore, with whom he has shared quite a bond as Superman, about the corruption in Metropolis.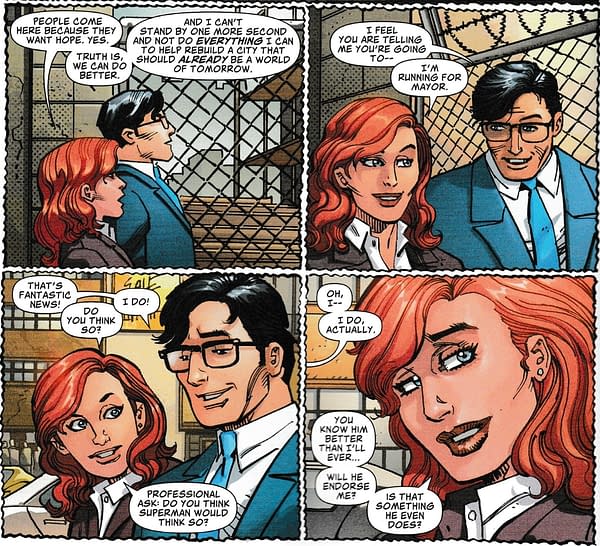 With Melody Moore announcing her intent to run for Mayor. And wanting to get Superman's endorsement.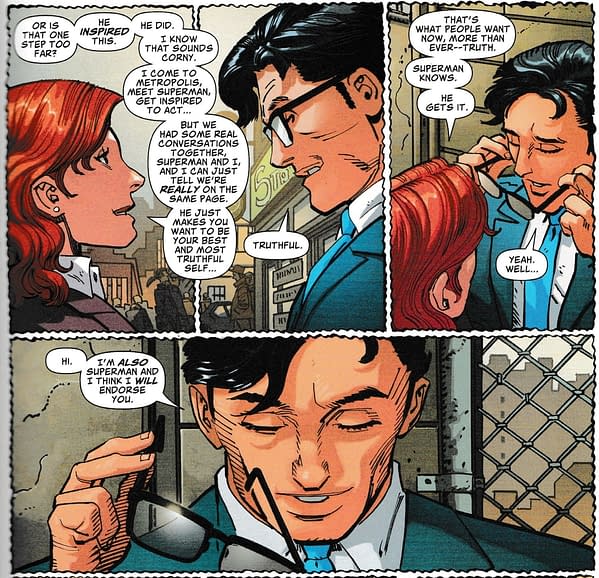 With Clark Kent revealing the truth that he is Superman to Moore before he did to Jimmy Olsen and Perry White. And granting his endorsement – as Clark Kent and Superman.
Superman to endorse Metrpolis'first female mayor? Wonder if Bendis will follow this logically ahead of a 2020 US Presidential election? Or will Mandy Moore be arrested and charged for something, with all those endorsements hurriedly shoved under the carpet? Of course, there could be scandal in another direction courtesy of Lois Lane #7…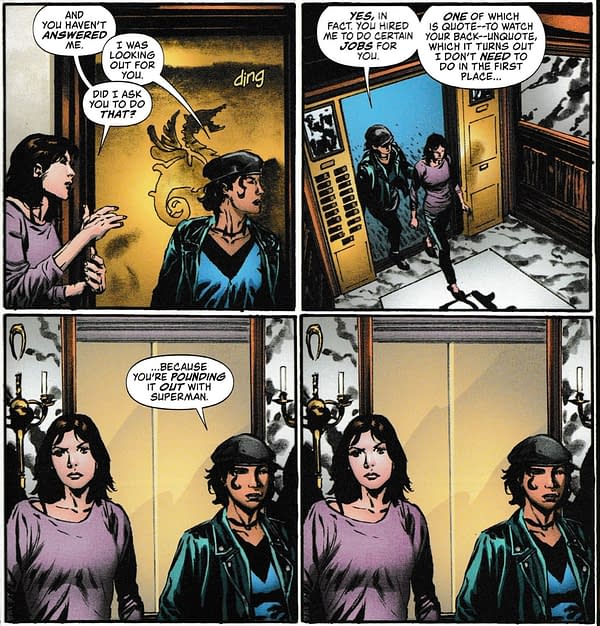 …but by the next issue, that will have been reduced to 'woman has sex with her husband'. But, despite the issue solicitation, that reveal hasn't happened in-issue yet…
Oh and look, some Superman Secret Identity ads running in comics today. Let's add those too.
ACTION COMICS #1018
(A) Brian Michael Bendis (A/CA) John Romita, Klaus Janson
One of the biggest Superman stories of all time continues in "Metropolis Doom" part two! War and chaos strikes the heart of Metropolis. The Invisible Mafia, Lex Luthor, and the Legion of Doom all stand their ground to take over Metropolis. Superstar writer Brian Michael Bendis reunites with comic art legends John Romita Jr. and Klaus Janson to bring you a Superman story for the ages! Guest starring the Justice League, Young Justice, and more!In Shops: Jan 01, 2020 SRP: $3.99

LOIS LANE #7 (OF 12)
(W) Greg Rucka (A/CA) Mike Perkins
Someone wanting to kill Lois Lane is nothing new for the famed reporter, but is it because of something she knows or something she's about to uncover? Plus, this issue ties to the events of December's Superman #18 and the gigantic status quo shift for both Lois and her husband, Superman, when the Man of Steel decides to reveal his identity to the world.In Shops: Jan 01, 2020
SRP: $3.99
Action Comics #1018 and Lois Lane #7 are published today by DC Comics in all good comic shops. I bought mine from Piranha Comics in Kingston-Upon-Thames. Piranha Comics is a small south London comic store chain with a small south-east store in Kingston-Upon Thames's market centre, which runs Magic The Gathering nights on Fridays, and a larger south-west store in Bromley, which also runs Magic nights and has an extensive back issue collection and online store. If you are in the neighbourhood, check them out.

---
---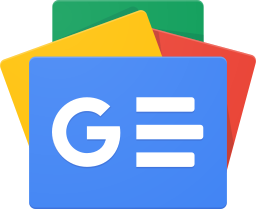 Stay up-to-date and support the site by following Bleeding Cool on Google News today!