Horror novelist and comic book writer Brian Keene was badly burned in an accidental fire this week, and currently resides in a burn unit with first-degree burns on his face and second- and third-degree burns on his arms. Not much is known about the accident other than that Keene was burning brush in his York, Pennsylvania compound when winds shifted.
Keene, like many freelance writers, does not have health insurance, so friends have set up a GoFundMe to help pay his medical bills. Keene noted on Twitter that book and audiobook sales will also translate directly to royalties that will help him pay for medical care.
In addition to his prolific career as a horror novelist and his comics for publishers such as Antarctic Press and DC Comics, Keene also co-hosts the eponymous Horror Show with Brian Keene podcast alongside Dave Thomas (not the Wendy's guy) and Mary SanGiovanni. Keene's annual telethon for the Scares that Care charity raised over $20,000 this year to help others suffering from childhood illness, burns, and breast cancer.
On a personal note, if I may "break character" for a moment, Brian is one of the kindest, most principled people I've met since I started my comics "journalism" career, always willing to stand up for others and never afraid to use his fame and platform to fight injustice. If you can spare a few bucks to help out Brian Keene in this trying time, there's not another person who's "paid it forward" more.
That being said, we're confident that his new morphine drip will help him produce some of the best work of his career, once he regains the use of his pen. Pretty much all of the classic horror writers were on laudanum all the time, after all.
Click here for the GoFundMe. Below are some tweets with updates on his status:
Brian is in the hospital right now with 2nd degree burns. He's ok but in a lot of pain and won't be answering the phone, so contact me if you need anything. @ScaresThatCare and @outfortune are doing a Go Fund Me to raise money for bills, so more on that soon

— Mary SanGiovanni (@marysangiovanni) June 5, 2018
Yes it's true. I'm in hospital. Being transferred to another burn hospital. I am alive and grumpy and on morphine. Also PLEASE stop fycking texting/calling me and @marysangiovanni as its hard to Tweet with burned slung sloughing off my arm.

— BrianKeene (@BrianKeene) June 5, 2018
Slung should be skin and fyking should be fucking. Apologies for the typos. I have a morphine drip and it is delightful. Yes, I'm making jokes. Its joke or scream at this point. Anyway, @marysangiovanni says I have to go now. Love you all. See ya on the other side. https://t.co/eNjgxrTjmt

— BrianKeene (@BrianKeene) June 5, 2018
Short version — my left arm took brunt. Also my forehead. Skin sloughing off arm. Being transferred to burn unit hospital in a while. But I'm conscious and in good spirits and asked @marysangiovanni to bring my laptop so I can type one-handed. https://t.co/eNjgxrTjmt

— BrianKeene (@BrianKeene) June 5, 2018
Update: They are transferring me to a burn unit upstate. I will be out of commission for foreseeable future. Thanks to all for your concern and well wishes.

— BrianKeene (@BrianKeene) June 5, 2018
I have a notebook to write in and @marysangiovanni Mary brought me @paulGtremblay's latest (to finish) and @StephenKing'sTHE STAND (my fave). The pain is pretty intense, even with morphine, so don't know how good I'll be at answering your Tweets and emails.

— BrianKeene (@BrianKeene) June 6, 2018
And thanks to all of you. I still have the most kick-ass readers and fans, and the most kick-ass girlfriend, sons, and friends. Love you all. Hang in there. It will all be okay.

— BrianKeene (@BrianKeene) June 6, 2018
No way I'm getting any writing done, between the bandages and the morphine and the oxy — but I did finish @paulGtremblay's latest and started an old favorite by @StephenKing. (That burn scene with Trashcan Man should be fun to reread). pic.twitter.com/GstF4Litx7

— BrianKeene (@BrianKeene) June 6, 2018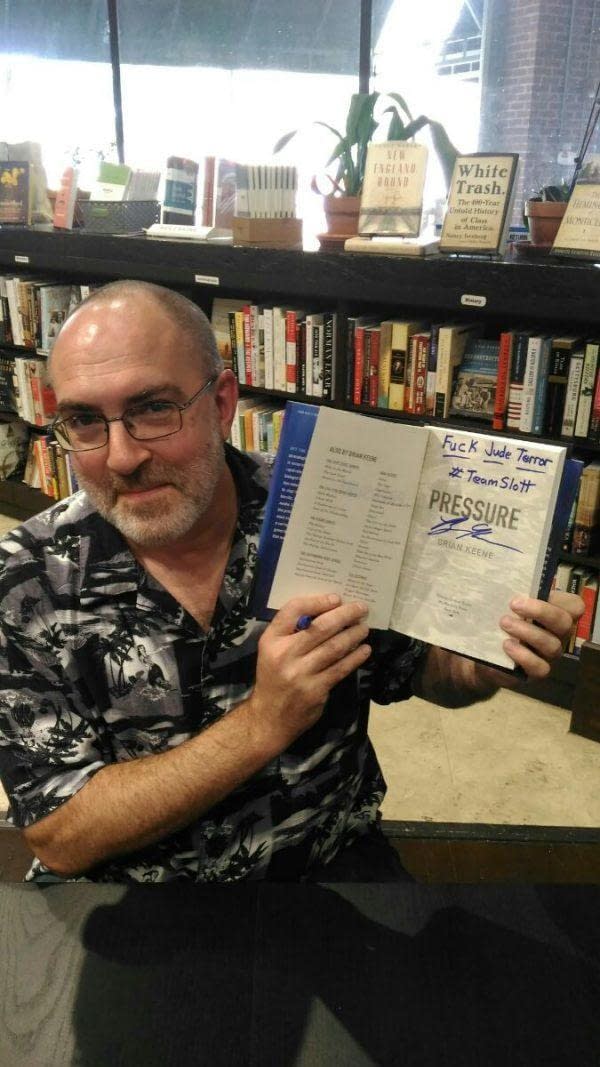 Enjoyed this article? Share it!