DC Comics has officially stated that the following collections have been cancelled.
Batman: Brave And The Bold: Bronze Age Omnibus Vol 3
Justice League Of America: Bronze Age Omnibus Vol 3
Batman: Faces In the Shadows (DC Essential) TPB
Batman: The Long Halloween (DC Modern Classics) HC
Green Lantern: Earth One Vol 1 TPB
DC Comics sales that these will not be resolicited. Others Omnibuses announced but looking like they are cancelled include:
House Of Secrets: Bronze Age Omnibus Vol 2 – #112-154
Joker: The Bronze Age Omnibus – Collects Batman #252, 260, 286, 291-294, 321, 353, 365-366, 400; The Brave and The Bold #111, 118, 129-130, 141, 191; The Joker #1-10, Detective Comics #475-476, 504, 526, 532, Wonder Woman
DC Universe by Jack Kirby: Bronze Age Omnibus – Collects The Days of the Mob #1, Spirit World #1, The Demon #1-16, The Sandman #1-6, OMAC #1-8, Our Fighting Forces #151-162, Super Powers #1-5 (1984), Super Powers #1-6 (1985), 1st Issue Special #1, 5 and 6, DC Comics Presents #84, Richard Dragon, Kung Fu Fighter #3, Weird Mystery Tales #1-3 and Forbidden Tales of the Dark Mansion #6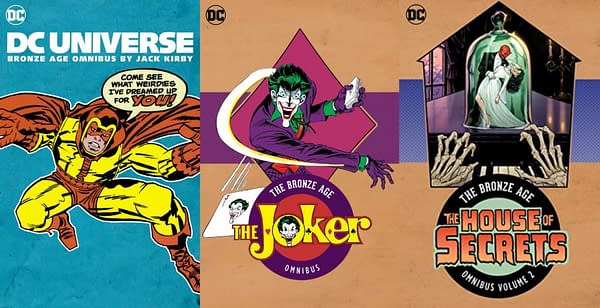 It looks like Batgirl: Bronze Age Omnibus Vol 2 that came out today will be the last Bronze Age omnibus hardcover for awhile.
UPDATE: The information above was gathered from Diamond listings for the items that showed up as Cancelled. After publication of this article, they were switched to Backorder – Unavailable which just means that retailers can't add any guaranteed orders to their existing orders yet. Dan DiDio wrote on Facebook,
Good afternoon. Just a follow-up note to all our fans tracking the discussions around our collected editions. Not sure where this one came from but there are no changes to our plans to collect Joker, House of Secrets ( vol.2) and Jack Kirby Bronze Age in omnibus form. All are on schedule, so need to be concerned about your pre-orders for these books.
The original article continues below:
This is galling for some collectors – Bronze Age Batman Brave & the Bold Volume 3 Omnibus would have completed the series, while DC President Dan DiDio's response to these concerns that they might be resolicited has been vague – that the material may be first printed in smaller non-omnibus volumes, and if the demand was great enough, then they would be reprinted as Omnis. This release from DC Comics to retailers is rather on the nose – though these decisions can, as we have seen, be reversed.
The bronze age paperbacks, which recut the HCs into slimmer volumes, still seem to be on schedule. however and he cancelled-then-uncancelled Doom Patrol: Bronze Age Omnibus is scheduled for September. Might it lose the 'Bronze Age' branding if there's nothing else out at the same time?
Bleeding Cool also understands that the restoration work for the Justice League and Joker Omnibuses was completed before DC pulled the plug, so they will probably come out in some form or other, even if only digitally.
It would be a shame if nobody got to see the unpublished Joker #10 after they went to all the trouble of tracking it down and colouring it.
Enjoyed this article? Share it!