Now #Canucks4Comics Sees Creators Help Canadian Comic Shops In Need
The fundraising hashtag #Creators4Comics came to a conclusion for now, yesterday, with a few stragglers along the way. It looks like it may have raised a high six-figure or low seven-figure sum, when all the money is totted up, to be spent on helping comic book stores in need. However, the chosen agency for doing that, the Book Industry Charitable Foundation or BINC, only plans to help comic stores in need in the USA. A number of participating creators from other countries were a little surprised to discover this when it was pointed out, and it wasn't an issue the organisers were willing to address.
Well, it appears the Canadians have stepped up to address this initially. The legendary Kaare Andrews has got in touch, talking about helping the struggling Emerald Phoenix Comics who had announced they were closing because they were unable to make their rent this month. The store is less than an hour's drive from Kaare and he is auctioning off the cover art for Green Arrow #43 on Instagram to help the store survive, paying for some moving, storage, and rebuilding costs as they plan to stay in the industry and resurrect themselves.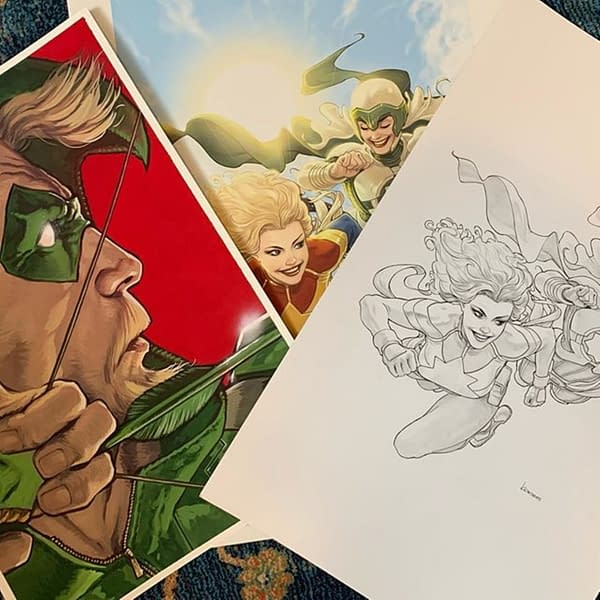 As well as this, he is joining a new Canadian retailers initiative with the hashtag #Canucks4Comics with another piece of original art from Life Of Captain Marvel #5. The funding is being managed by the Canadian non-profit Comic Legends Legal Defense Fund, which will be pivoting their mission to help comic book stores in Canada deal with the current global crisis. Kaare is being joined by a throng of others. Here's a smattering of examples.
You can enjoy Kaare talking about the auction and fundraising below, part of his new Making Comics With Kaare Andrews YouTube channels. Anyone else, Canadian or otherwise, like to step up?