Captain Marvel #8 Gets Rather Topical, Regarding President Trump's Tweets (Spoilers)
Well, Captain Marvel #8 just got very topical, out of pure blind luck. Or maybe it was inevitable. Just as Lois Lane #1 managed to stumble onto a plotline that was then replicated in reality, and Viz Comic similarly managed something the same weekend that it kicked off with upcoming Conservative Prime Minister Boris Johnson,
Talking of Boris, he's surprised many by speaking out against Donald Trump's latest tweets, in which he stated that four non-white American congresswomen should go back to the countries they came from. Johnson said: "If you are the leader of a great, multi-racial, multi-cultural society, you simply cannot use that kind of language about sending people back to where they came from. That went out decades and decades ago and thank heavens for that." And that's coming from one of Trump's biggest friends.
Well, today's Captain Marvel #8, as part of Monster Wednesday, which sees the arrival of new character Star, also sees Captain Marvel under the cosh for being half-Kree.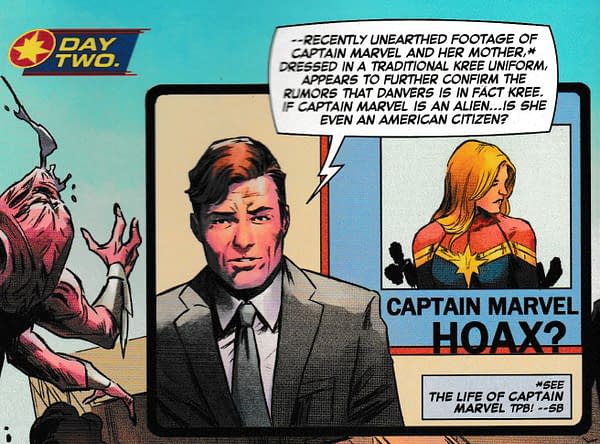 Asking how American she is. If she is an 'enemy among us' even as new hero Star is lionised by the same media.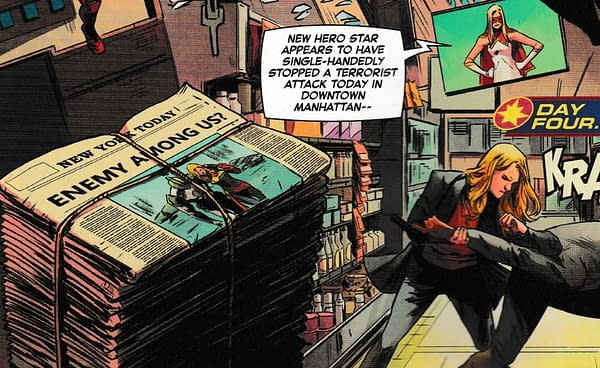 …becoming quite the talking point… and then rallying a cause.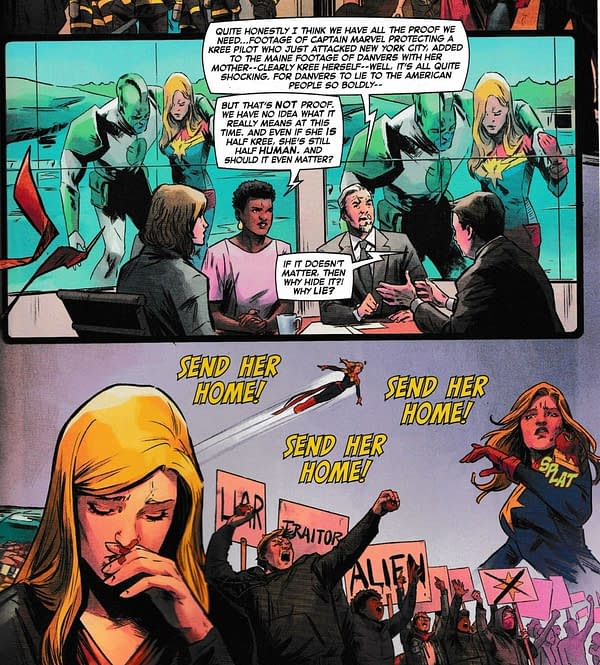 That it seems rather opportune is worrying. Because is there a point recently that maybe it wouldn't have seen opportune?
Captain Marvel #8 is published today, if you can find it. otherwise, a second printing will be along very soon – probably with Star on the cover, as above…
CAPTAIN MARVEL #8
(W) Kelly Thompson (A) Carmen Nunez Carnero (CA) Amanda Conner
CAPTAIN MARVEL: FALLING STAR! From the moment she returned to full-time Avengers duty in New York City, Captain Marvel's life has been nonstop…and slightly weird. But she's about to take on a brand-new threat – and a very old one! When her Kree heritage is exposed to the world in dramatic fashion, Carol goes from most beloved hero to public enemy number one overnight – and it's pushing her to the darkest edge. Can she save the day even while the world turns on her? Does she want to?
Rated T+In Shops: Jul 17, 2019
SRP: $3.99