We talk to Halloween Man creator Drew Edwards on his new special from Sugar Skull Media, Lucy Chaplin: Science Starlet, and about creating a new heroine who has garnered surprising attention.
Lucy Chaplin is a hero in a long tradition of science polymaths who can do anything, a la Reed Richards. The new special includes an amazing backup feature that purports to be an interview with the science starlet — complete with photos. We talk about heroes, body issues, Twitter tough guys, "Lucy Chaplin" model and musician Jamie Bahr, and Lindy West's conversation with her own trolls.
Sample images: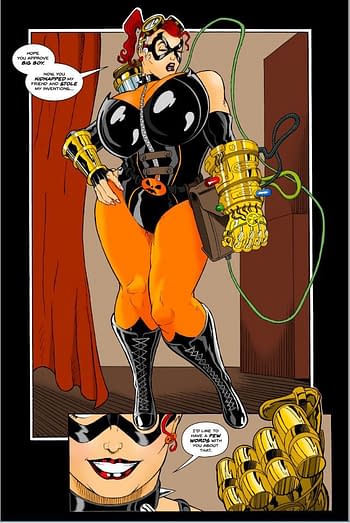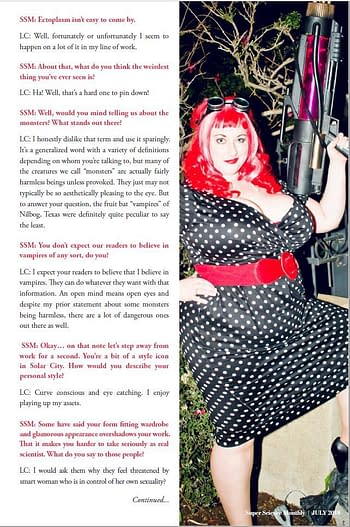 Listen here:
Listen on YouTube:
Castle of Horror/Castle Talk Podcast Links:
Join us over on Facebook to chime in.
The show is hosted here. Get our RSS Feed. Subscribe at iTunes. Listen on Stitcher. Or on YouTube.
Twitter: castleofhorrorp.
The Team: Hosted by Jason Henderson, one of the writers for Bungie's Destiny 2 and creator of the HarperTeen novel series Alex Van Helsing; Featuring Drew Edwards, creator of Halloween Man; Tony Salvaggio, lead singer of the band Deserts of Mars, lead guitarist of the band Rise from Fire, and co-creator of Clockwerx from Humanoids; attorney Julia Guzman of Guzman Immigration of Denver; and Jamie Bahr, lead singer and upright bassist of the rock and roll band Danger*Cakes.
Enjoyed this article? Share it!