What Gems Will We See on Tonight's CBH Interview with Steve Geppi?
Looking for some comic history to watch tonight? AT 9:oo PM ET, Steve Geppi of the Geppi Family Enterprises will be talking with Comic Book Historians' Alex Grand and Jim Thompson. The trio will discuss Geppi's long and influential career in comics, and will likely include the formation of Diamond Comics and the Geppi Entertainment Museum.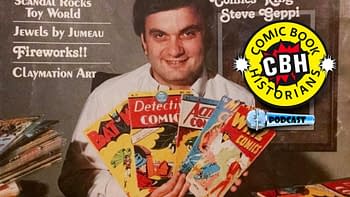 Steve Geppi, a Baltimore native who grew up in the heart of Little Italy, began his illustrious career in comics back in the mid-seventies with his comic book shops — Geppi's Entertainment World. I myself have fond memories myself of visiting the shop located in Security, right outside of Baltimore City. In 1982 he founded Diamond Comics Distributors, the largest direct distribution service for comics.
In 2006 he ventured into the museum world, opening up Geppi's Entertainment Museum located outside Oriole Park at Camden Yards in Downtown Baltimore. The museum celebrated pop culture from its early beginnings and up through the modern era. I enjoyed countless trips and visits to the museum, seeing Steve Geppi himself there a few times. Geppi's love for comics even passed onto his children, who have played an active and supporting role in his companies.
Unfortunately in 2018, Geppi's Entertainment Museum closed. Steve Geppi donated a majority of the museum's collectibles and materials to the United States Library of Congress. While there are other pop culture museums across the globe, Geppi's Entertainment Museum really captured the heart and soul of American pop culture's earliest years.
You can catch the live stream tonight via the link below. Can't watch it live tonight? The video will then be on the CBH YouTube channel for all to enjoy after. I can't wait to see what Geppi has in store for us. Maybe we'll get a peek at some of his remaining collection!