The CBLDF Beats Donald Trump Campaign Over MAGA Cartoon
The Comic Book League Defense Fund, or CBLDF, led a coalition protesting the removal of a cartoon satirizing President Donald Trump by Pulitzer Prize–winning editorial cartoonist Nick Anderson from the online marketplace Redbubble. Nick's cartoon was removed after Redbubble received a trademark infringement notice from the Trump campaign because the cartoon featured characters wearing MAGA hats.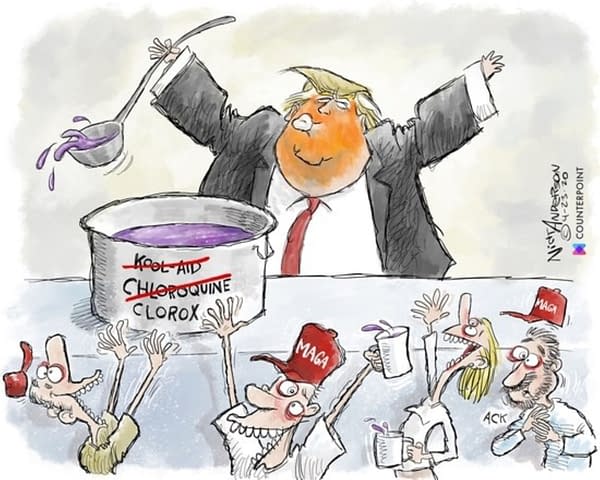 In response, CBLDF and coalition partners issued a letter to Redbubble calling for Mr. Anderson's products to be restored. They stated that the cartoon constitutes speech protected by the First Amendment, and its removal misuses mechanisms designed to protect intellectual property as a means to suppress protected speech.
Redbubble had removed products featuring Anderson's cartoon "The Trump Cult," based on allegations of trademark infringement from Donald J. Trump for President, Inc, citing the use of characters wearing MAGA hats.
CBLDF and coalition partners Association of American Editorial Cartoonists, American Library Association, Office For Intellectual Freedom, The Authors Guild, Freedom to Read Foundation, National Coalition Against Censorship, and PEN America issued a letter calling upon Redbubble to reinstate Mr. Anderson's product listings to affirm its commitment to its sellers' — and its own — First Amendment rights.
"Political campaigns have no business suppressing free expression, and that's precisely what's happening here," said CBLDF Executive Director Charles Brownstein. "The President's re-election campaign is out of bounds by misusing tools designed to protect intellectual property rights as a means for censoring legitimate political comment. The First Amendment protects Mr. Anderson, Redbubble, and any other merchant providing a platform to publish parody, critique and satire of public officials. We strongly urge Redbubble to reinstate Mr. Anderson's work."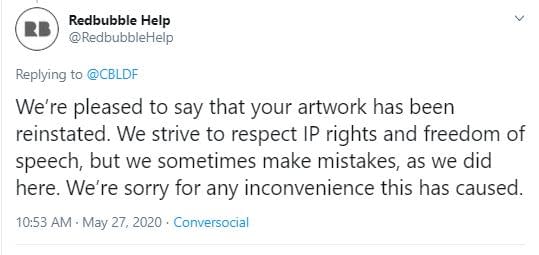 Last night, thanks to CBLDF and the coalition's efforts, Redbubble has restored the cartoon to their site. The CBLDF issued applause for Redbubble for reinstating the cartoon, and urges them to reject any other attempts by political campaigns to suppress protected speech. In a statement to CBLDF, Nick Anderson said:
I am pleased that Redbubble reversed their decision. I applaud them for this and for recognizing that it was an error. Still, there are some troubling issues raised. The cartoon was removed less than 24 hours after I posted it. I hadn't gotten a single order for it. I doubt anyone had even seen it yet on the Redbubble site. This reveals that the Trump campaign has a system in place, trawling for material they find objectionable. If it happened to me so quickly, it likely has happened to others. How much other content has been removed this way on Redbubble and other sites?

Also, when I received the first notice of the take down, I followed Redbubble's instructions to protest the decision. I honestly thought the original decision was probably made by some underling, with little knowledge of copyright or trademark law, or perhaps it was even made by a bot without human eyes evaluating it. It took more than a week before Redubble responded (in contrast to the quick response for removal). I was quite surprised that Redubble didn't reverse the decision. In fact, they doubled down and refused to reinstate the work.

It was only after the Comic Book Legal Defense Fund intervened on my behalf – and the letter written by CBLDF started getting viral attention on social media – that Redbubble reversed their decision. In the end, I recognize that Redbubble did the right thing. But it must be pointed out; the President of the United States is a hypocrite who complains about the "violation" of his free speech on Twitter, then tries to actively suppress the free speech of others. These are actions of an adolescent, wannabe-authoritarian.
"We're sensitive to the issues companies like Redbubble face in balancing competing rights owner issues, and were alarmed to see the President's re-election campaign exploiting those issues to suppress protected speech," said CBLDF's Charles Brownstein. "Our letter articulates the case law in clear terms to help prevent future censorship of this nature. We're pleased that Redbubble has done the right thing in this case. We hope that they will continue to assert the First Amendment rights they and their sellers are guaranteed by rejecting any similar censorship attempts."