Champions, Power Pack, Empyre Handbook Get Rescheduled, Marvel MIA
A new Champions #1 was meant to launch out of the Outlawed mini-event, but only the Outlawed #1 one-shot made it out before shutdown and the books fell off the scheduling list. But according to the Marvel website, it looks as if Champions #1 by Eve L Ewing and Simone Di Meo is getting a rescheduling on October 7th.
Note: The on-sale date listed here is subject to change. THE CHAMPIONS RETURN IN TROUBLED TIMES! A law is passed that goes against everything Ms. Marvel, Nova and Spider-Man founded the Champions for. But the world still needs heroes, even if the world doesn?t want them right now. After Ms. Marvel makes an unexpected and emotional announcement that her team won't go down without a fight, a group of teen vigilantes gathers to plan their next move. But the C.R.A.D.L.E. task force is hot on their trail, and there's a spy in their midst. Eve L. Ewing (IRONHEART, OUTLAWED) and Simone Di Meo (IMMORTAL HULK: THE BEST DEFENSE and VENOM: ACTS OF EVIL) team up for a dramatic new era of Champions that will define Marvel's teen heroes for years to come!
With Power Pack #1 by Ryan North and Nico Leon for November 4th.
Note: The on-sale date listed here is subject to change. Power Pack is back! Katie, Julie, Jack and Alex Power have been super-heroing since they were learning to tie their own shoes. It's been ages since they fought side by side as a family, but a special occasion and an old grudge is about to put the gang back together. There's just one teeny tiny hiccup: a brand new law restricting underage super heroes! But surely, if the fate of all New York City is at stake, the powers that be will make an exception? Keep your fingers crossed as the Power siblings fight for their right to save the world!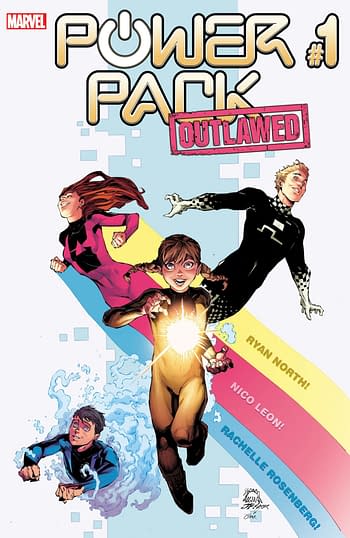 And before them all, The Empyre Handbook on August 5th.
Multiple races across the universe are pulled into a major conflict when EMPYRE hits! The Official Handbook of the Marvel Universe helps keep the participants straight with updates of the major players in this star-spanning war: The Avengers! The Fantastic Four! Captain Marvel (Danvers)! The Skrulls! The Kree! Hulkling! Plus: All-new profiles of Kree members Bel-Dann, Captain Glory (Gla-Ree) and Tanalth, Skrull member Raksor, and the Cotati Swordsman! Also featuring the mysterious, never-before profiled Blue Area of Earth's Moon!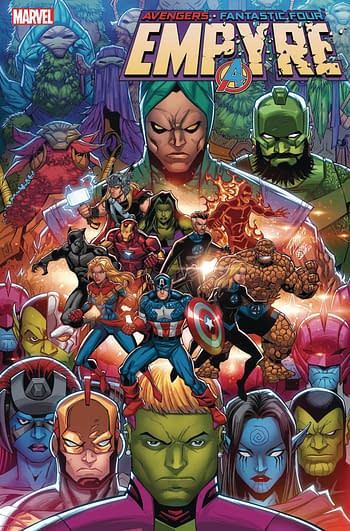 Time to make some changes to the big list. The Comic-Con@Home news means we will remove Werewolf By Night. The new Empyre list means we are going to remove Empyre: Spider-Man, Empyre: Stormranger, Empyre: Thor, Empyre: Squadron Supreme, Empyre: Ghost Rider – we are declaring them deceased at this time, even though the Empyre Handbook is back. And removing Champions and Power Pack of course.
Darkhold Alpha
X-Men: Dawn Of X Saga
Amazing Mary Jane
The Punisher Vs Barracuda
Children Of The Atom
Gwen Stacy
Amazing Spider-Man: The Daily Bugle
Runaways
Morbius
Black Panther
Nebula
Atlantis Attacks
Marvel
The Marvels
Marvels Spotlight: Spider-Man
America Chavez: Made In The USA
Black Widow: Widow's Sting
Widowmakers: Red Guardian and Yelena Belova
Taskmaster #1
How To Read Comics The Marvel Way
Conan The Barbarian
Savage Sword Of Conan
Dark Agnes
New Warriors
Union
Infinite Destinies Annuals: Iron Man, Thor, Avengers, Guardians
W.E.B. Of Spider-Man #1
Ghost Rider Annual
Star Wars: The Rise Of Skywalker #1
And no news on subsequent issues of the following:
Ghost Rider
Doctor Strange