Chef's Kiss, Debut Graphic Novel by Jarrett Melendez and Danica Brine
Chef's Kiss is the debut graphic novel written by Jarrett Melendez, drawn by Danica Brine, coloured by Hank Jones, lettered by Hassan Otsmane-Elhaou. and to be published in 2022 by Oni Press. It was picked up by Oni's former editor Robin Herrera, but will now be edited by Grace Scheipeter.
A queer YA graphic novel, Chef's Kiss will tell the story of a young, frustrated chef. "Despite a new college degree and a plucky attitude, nobody will hire Ben Cook for a job in his field. Desperate for work, he takes a job as a chef in an unconventional restaurant, where he discovers a new passion that may or may not have something to do with his gorgeous co-worker, Liam."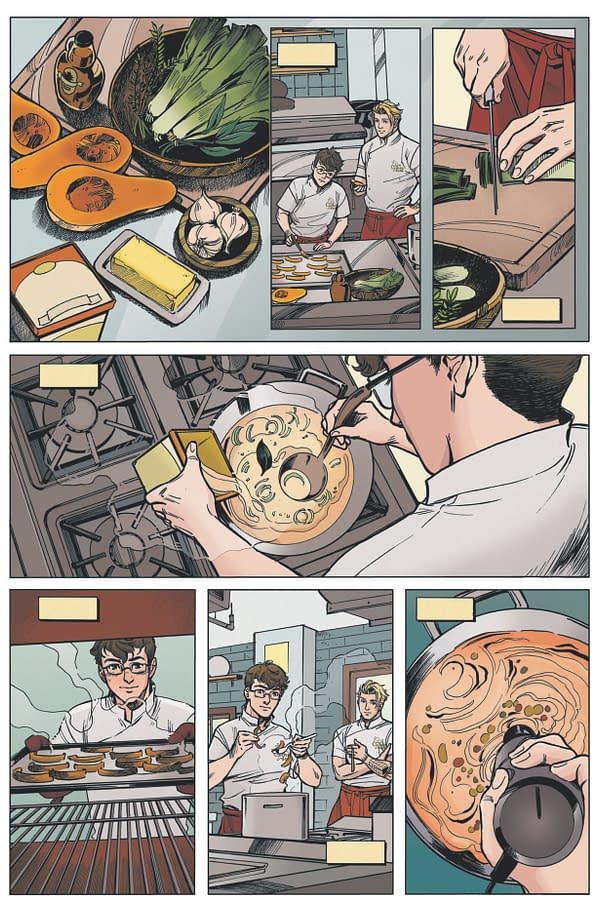 The creative team behind Chef's Kiss represented themselves without an agent. But I bet they'll get one now. Jarrett told Bleeding Cool "I'm so lucky to be working with such a talented team. Danica and I had been wanting to collaborate on something for as long as we've been friends. Everything she draws is stunning – food, people, even a humbly decorated living room. Hank's rich, vibrant use of color complements her lines so perfectly, and, though I can't show off Hassan's lettering just yet, he nails every moment perfectly, from showing dread in a character's voice to punching up a joke. We can't wait to get this book out in the world!"
Jarrett Melendez has written for Full Bleed, Field Tripping and All We Ever Wanted, but also used to be a professional chef. Danica Brine also worked on a couple of those, as well as covers for Wayward. Chef's Kiss also seems built for good reviews. Will anyone be able to resist saying "this graphic novel is, just… *mwa*!" I don't think they will.