Chris Claremont Goes To Huntsville Comic Con, Alabama
Bleeding Cool's Lying In The Gutters this morning reported how a number of small comic book conventions are starting to return this weekend, whether that is wise or not. Among them was the sixty-nine-year-old and famed X-Men writer Chris Claremont, which got quite a few people nervous. Chris posted his account to Facebook,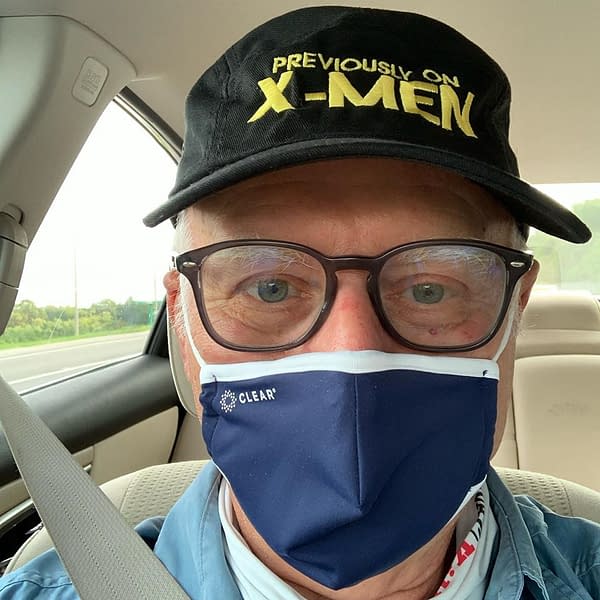 Been a while since walking down this road, 6+ months since the last convention & here I am in Huntsville, Alabama attending the Huntsville Comic & Pop Culture Expo. Not a bad day, tho' breakfast was a tad—limited, shall we say? Nice crowds, great-great people, tho' I likely did talk too much. I figure, take time to give everyone their due after their terribly long wait. Except—that makes the folks behind them wait that much longer🙄🤫 My bad, I know. I'm just so glad to see folks there at all. Made me feel great. And who knows, next time I hope to have new stuff to offer & better stories to tell. Great start for the Con; fingers crossed re tomorrow. 🤫🤗 @ Huntsville, Alabama
With plenty of other comic book creators and friends expressing concern and thoughts for Chris.
Joyce Chin Stay safe as you can Chris!

Walter Simonson Stay safe, Chris.

Scott Koblish Jimminy Crickets – stay safe!

James Reddington Stay safe Chris, remember you only wrote about mutant healing abilities.

Peter Sanderson A convention now? Alabama is far from the safest place in the pandemic and I hope everyone there is wearing masks .

Bill Sienkiewicz You're a braver man than I, Claremont-Din
The Huntsville Comic & Pop Culture Expo is currently being held in the Von Braun Centre. Their guest list is made up of Ernie Reyes, Jr., Chris Claremont, Austin St. John, Dameon Clarke, Leah Clark, Carey Means, Noah Hathaway, Sgt. Slaughter, Lex Luger, Clinton Hobart, Kevin Stokes and Eddie Price. Huntsville's website reveals the legend 'COVID couldn't keep us down' with the following statement.
We want you all to know we are doing everything we can to keep everyone as safe as possible. We are adhering to all guidelines set by the state as well as additional guidelines given to us by the VBC. This is going to be a long post but please read it all and know that we may add to this if new regulations come down.

-Masks are mandatory – we did not want to have to make this call, but we mean seriously, the masks are to keep everyone safe. It's not a political thing, its a science thing.

-If you are not well or have been sick please do not come. If you can't live without a certain autograph from someone please contact us and we will make it happen.

-We will have hand sanitizer stations throughout the building so please use them.

-Our aisles will be larger than normal to allow plenty of room for people to walk around but please do not stop in the aisles to talk. We know the Expo is a great time to see friends you haven't seen in a long time but please find a spot away from everyone to go chat and catch up.

-Social Distance as best you can. We will have over 100,000 square feet of space so please space yourselves out as best you can.

-Please be patient, with everyone. Know that this is a strange weird situation and everyone is doing their best to make it as great as possible.

We appreciate your patience and understanding in these dynamic times. We appreciate your support of the Expo. We look forward to seeing you in July! Be safe and stay well!