Chris Roberson writes,
PAGE 1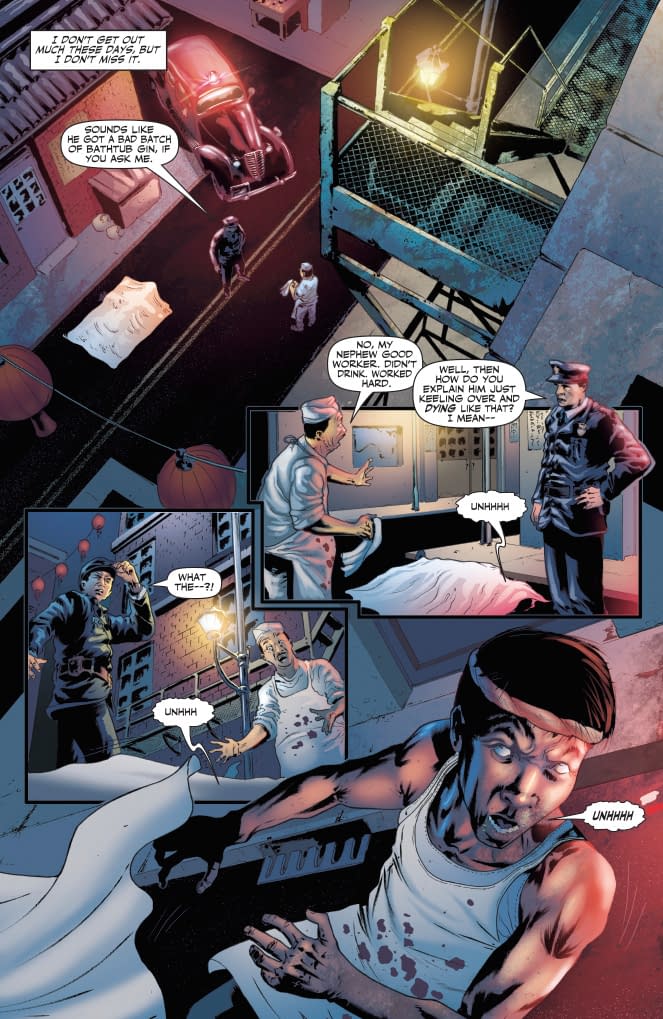 "I don't get out much these days…"
It was early in the outlining phase for this issue that I decided that this two-part story would be narrated by Burbank, the Shadow's "operator" who acts as a central communication point for his army of operatives. We never learn much about Burbank, either who he is or how he came to work for the Shadow, and so far as I can recall he seldom if ever leaves home. He is a voice on the wire, and little more. It made it a little challenging to have him be our narrator, but I figured he deserved his moment in the sun.
PAGE 3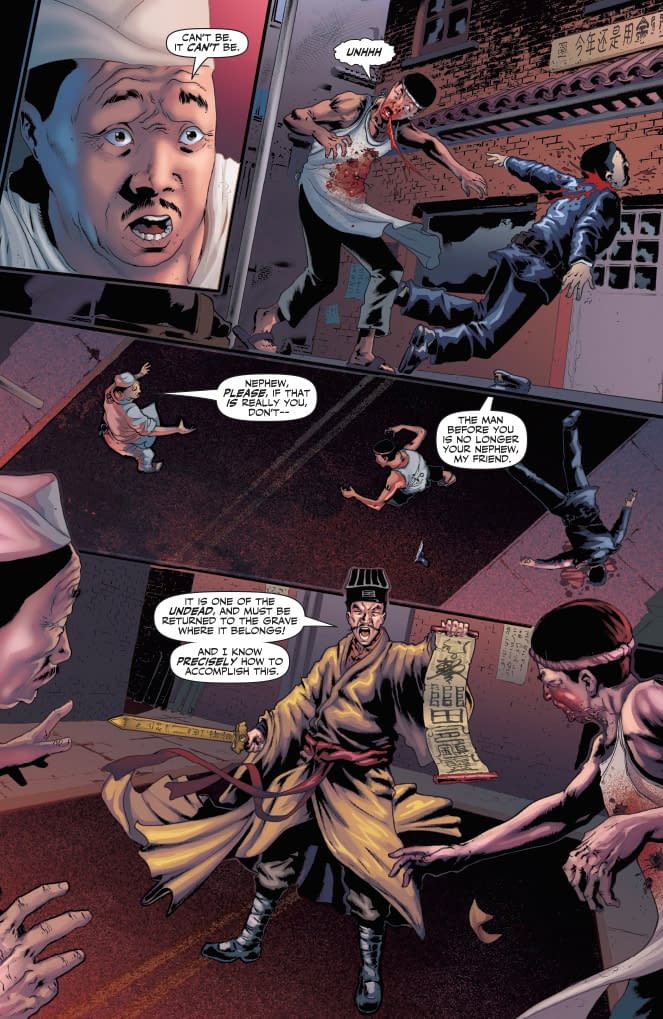 Our artist Giovanni Timpano really went to town on the Taoist priest on this page. I'm sorry we don't see more of that dude in this story, because he looks great!
PAGE 4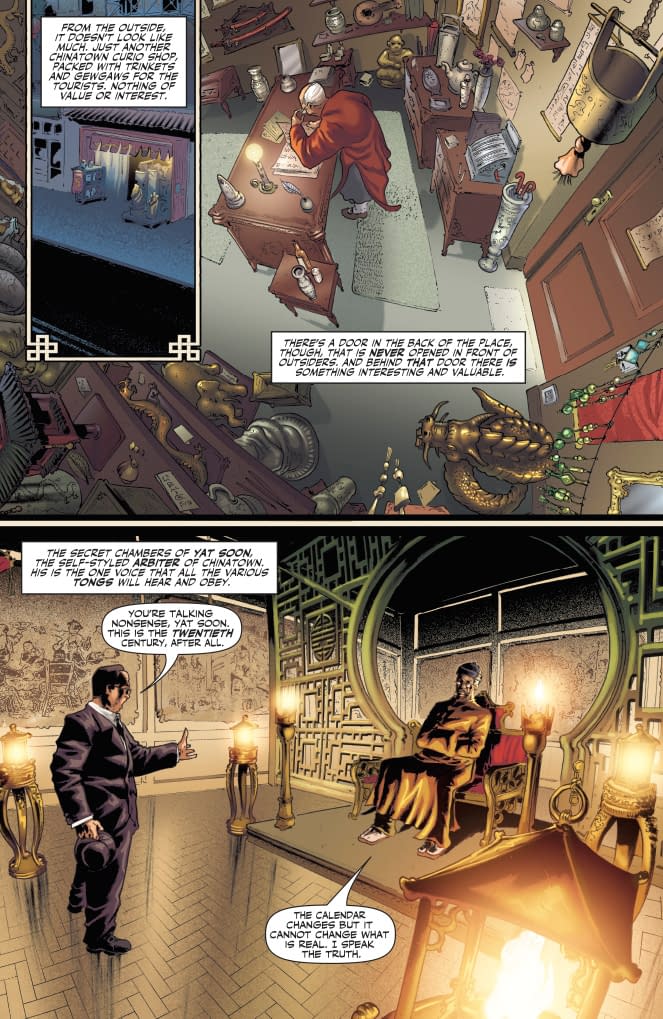 It's a testament to Giovanni's good nature that he doesn't fly across the Atlantic and strangle me in my sleep when I write panel descriptions like "Interior of a Chinatown shop, crammed with curios and trinkets, ceramic Buddhas, jade carvings, that kind of thing." A sentence like that takes me mere seconds to type, and the artist on the receiving end has to actually DRAW all that stuff.
But on this page we see Dr. Roy Tam, who was briefly glimpsed in an earlier issue of my run on The Shadow, and Yat Soon, a character from the pulps who has been rarely seen in recent years, so far as I know.
PAGE 12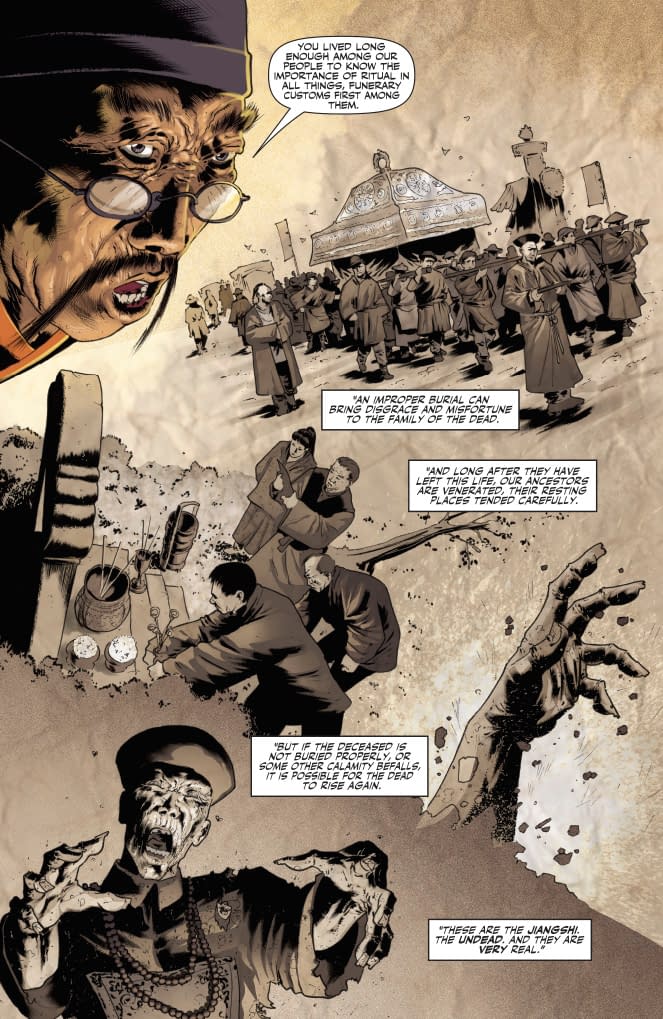 I've always been a little obsessed with Chinese folklore, and especially with the jiangshi, or "hopping vampires" as they're known to viewers of classic kung fu films. I stole a lot of the mechanics of how the Chinese "undead" were believed to function for the iZombie series I did with Mike Allred a few years ago, and I've written prose stories featuring jiangshi before, but I think this may be the first time I've written a comic that includes any mention of them.
PAGE 21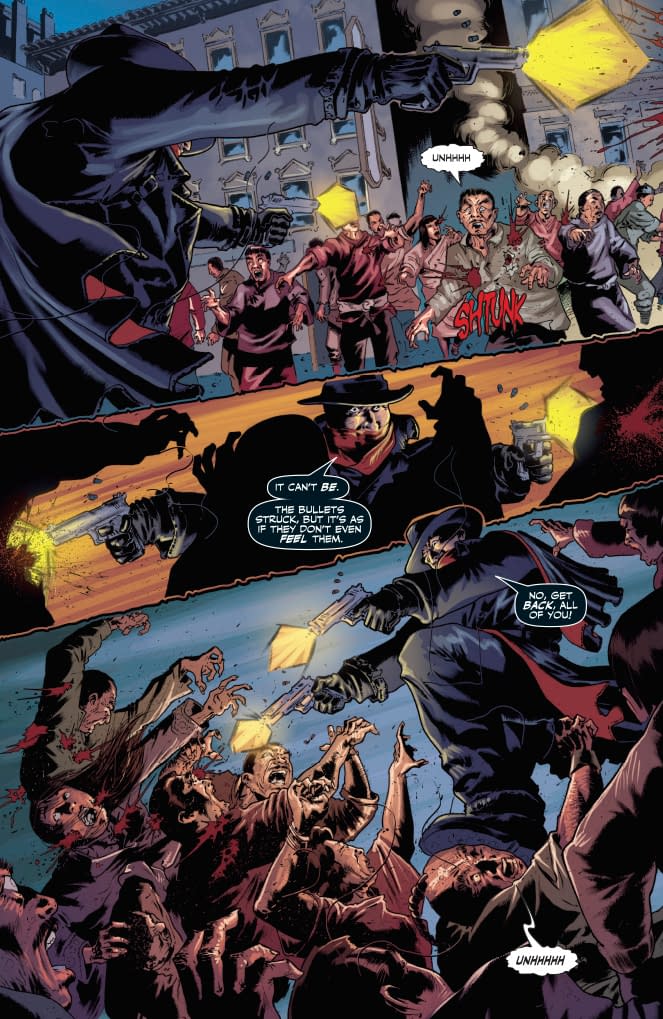 I'm often asked when one agent or another is going to appear in the comic, as most longtime Shadow fans seem to have a favorite operative or two. On this page we see Jericho Druke, Ruttledge Mann, Pietro, and Clyde Burk. If your favorite hasn't appeared yet, tune in next issue, because there's a VERY good chance you'll see them there.
Enjoyed this article? Share it!