A Writer's Commentary: Christopher Hastings on Six Million Dollar Man #3, on sale now from Dynamite.
Hello, dear reader! My name is Christopher Hastings, and I'm the writer of Dynamite's 2019 revival of the Six Million Dollar Man. I hope you've enjoyed the third issue. Let's jump in for a closer look!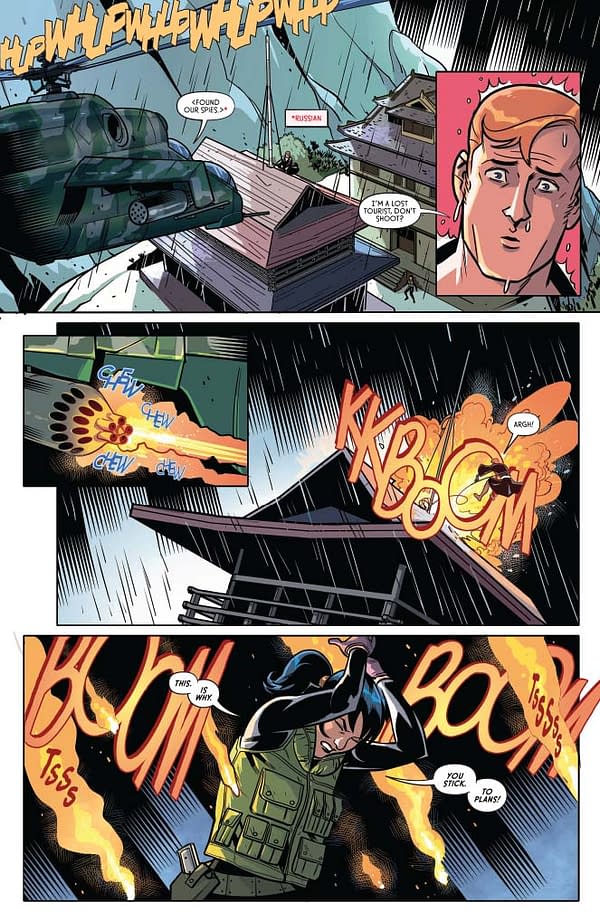 PAGE ONE
The art team is really showing off the fun that can come out of good comics collaboration here. Colorist Rosh and letterer Ariana have Steve flying straight through the 'O' in "KKBOOM". In general, I love how the sound effects in this book are a part of the art, not just tacked on top of it. Pay attention for other slick lettering moves as the book continues…
PAGES TWO AND THREE
So, Steve recharges his busted battery by Back To The Future-ing himself in a lightning storm. Except…
PAGES FOUR AND FIVE
Come on, yeah, there's no way we're gonna let it just WORK. Steve's got all sorts of shorts and wiring problems, so when he tries to fire a super charged eye laser, the signal gets mixed up and he does a super powered jump.
PAGE SIX
…and again. Anyway, he does manage to damage the helicopter, and scare them off, but not in the way he wanted, and he ended up jumping off into the woods to do it. We don't want anything to ever be easy for Steve Austin.
PAGE SEVEN
Setting up a little bit of strife between our spooky bad buy, Mr. Amari, and the Soviet spies who were GOING TO provide him with a nuclear warhead. In the next issue, that rift widens to get to a plot turn that actually rather surprised me as I wrote it. (And I'm also glad was approved by editorial, because it was NOT discussed in any of the early materials.)
PAGES EIGHT
Trim your nails, dude.
PAGE NINE
Oh damn, when the bad guy gets out of bed, you KNOW you're in trouble!
I do love the terrified phone butler, though.
Oh and yeah, the whole plan is to assassinate the Vice President of the United States. He was gonna do it with a nuke, but his gross-nailed bare hands should do just fine too.
PAGE ELEVEN
More fun with Steve's powers never ever working right. That's just part of the joy of writing comics versus other mediums with let's say… a more careful practical consideration of budget. You think "Maybe Steve should rip the wall of a house off when they are trying to be sneaky," and then you write it and then artist, David, just makes it happen, and it's great.
PAGES TWELVE AND THIRTEEN
Meet Niko's family!
I think the kid is saying something like, "Why is your skeleton made of car parts?"
PAGE FOURTEEN
And a whole three issues in, we finally do the origin story, told with a soccer ball.
PAGE FIFTEEN
It was important to me to touch beyond Steve's jokey surface, at least just a little bit, and to bridge the gap between our jolly version and the version of the novels and TV show. With all the nutty stuff that happens, it's nice to take a little time to ground things.
And then we put a dumb hat on him.
PAGE SIXTEEN
Man, this book is pretty.
PAGE SEVENTEEN
Ah crap.
PAGE EIGHTEEN
Double crap!
PAGE TWENTY
SPOILER LEVEL crap.
That's it for this issue! Things will ONLY escalate in terms of the bananas situations we put Steve and Niko through as they try to escape the island to save the Vice President from the horrifying Mr. Amari. I hope you return next month for more!
Enjoyed this article? Share it!