Clue: Candlestick #1 – Classic Who-Dun-It!? With a Modern Twist!
At an evening gathering on a stormy night, several acquaintances sit at the table of Mr. Boddy to discuss his estate matters concerning six different artifacts.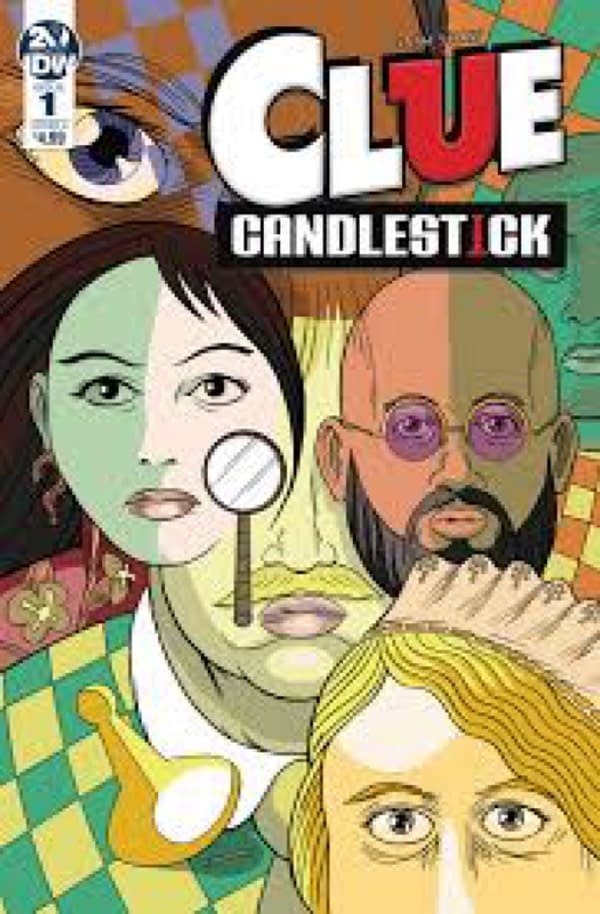 The rope that hung Calico Jack.
An ancient lead pipe from Rome.
The revolver that assassinated President Garfield.
A wrench that fixed Albert Camus' car.
Jack the Ripper's knife.
And a delightful sixteenth-century candlestick.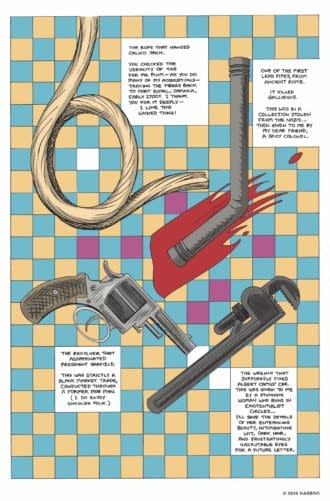 At the table, Mr. Plum narrates the story with Sherlock Holmes-level observations; noting everything from the flickering dining room light to the poly-blend tablecloth. Attending this party are the characters you know through the decades-long legacy of Clue; Colonel Mustard, Miss Scarlet, Mrs. White, Mrs. Peacock, Mr. Green and finally the ill-fated Mr. Boddy.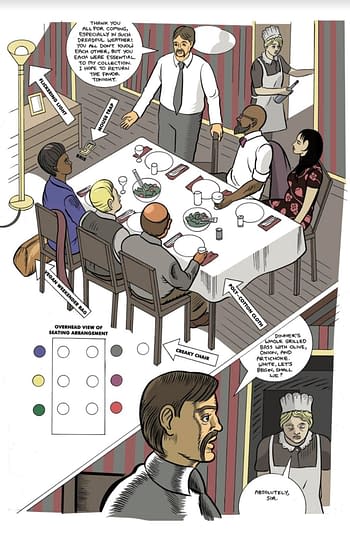 In true Clue fashion, a murder occurs and it is up to the house occupants to determine the culprit and their weapon. Splitting into pairs to investigate each room, the comic pulls imagery directly from the game; succeeding in showing readers something new while simultaneously dripping in nostalgia.
Dash Shaw (Cosplayers) brings an avant-garde twist on this comic he created and crafted down to the lettering. The artistry of the comic is bold, with different character styles seeming cut and pasted from different stories and clean lines on some pages with cross-hatching on others. Shaw spends enough time moving the plot along without feeling rushed, and explains character quirks in a way that makes them seem new and interesting. Colonel Mustard is a neurotic ex-spy who looks into the meanings of everyday interactions in a level only seen with PTSD survivors. Mrs. White, true to her namesake, weaves together harmless lies to improve the day-to-day of her employer who is suffering from his new reality as a widower.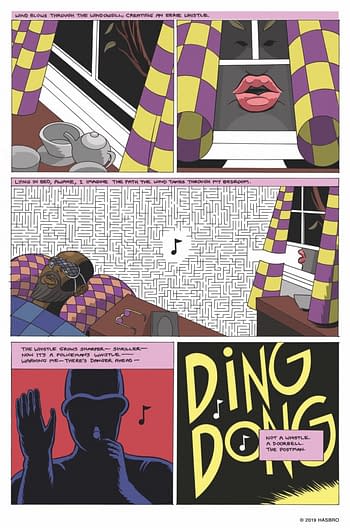 This comic redirects a classic game to a new medium that benefits the murder mystery trope; Shaw adds so many details into the background that must mean something, especially once characters begin to meet untimely demises. The final panels are meant to be cut out as building blocks and Shaw promises more cards with each issue so readers can piece by piece collect their own game. IDW's Clue Candlestick will make a fun addition to any comic fan or armchair detective's collection. At a concise 3-issue miniseries, Shaw kicks off his writer-artist Clue comic with a literal Bang!