Posted in: Comics, Current News | Tagged: channel 4, Russel Brand, russell brand
---
Comic Book Creators React To Russell Brand Investigation
The Times and Channel 4's Dispatches have made serious allegations towards Russell Brand. Heres how comics folk are reacting on social media.
---
The Times, The Sunday Times and Channel 4's Dispatches have run a series of pieces making serious allegations of sexual assault and grooming by a number of women towards the entertainer, comedian, actor and vlogger Russell Brand, as part of a four-year investigation. Russell Brand has denied these claims, stating that any actions were consensual.
Christian Ward of Batman and The Madness, ODY-C, Invisible Kingdom, Blood Stained Teeth and Black Bolt wrote succinctly, "F-ck Russell Brand and f-ck any man defending the prick."
Hamish Steele, creator of Deadendia, wrote "Look… you gotta wonder if Russell Brand knew this was coming a few years ago and this whole pivot to "exposing fake news" YouTube was prepping for this moment. His fans truly see today as validation of everything he's been saying… It's been a weird 24 hours because before it became clear he was the only name being mentioned, we'd discussed plenty of other creeps in the comedy world we all assumed were having their time. There's soooo many more of them :/"
Henry Flint: 2000 AD artist, brought in a page of artwork."That time Al [Ewing] and me had Russell Brand meet the singing wringing tree. We had to change his name of course."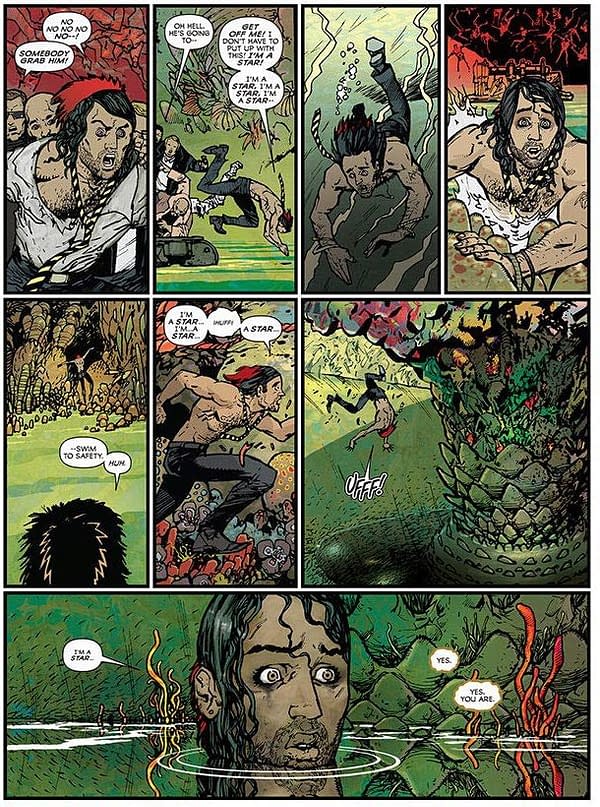 Gail Simone, writer of Birds Of Prey, Deadpool and Wonder Woman says "The Russell Brand allegations are even grosser than expected."
Vince Underwood, artist on The Miracles, "I gotta say that I am completely shocked by this Russell Brand news– wait. No. The opposite thing."
Zack Smith, Newsarama writer, "I don't want to be all "Guilty until proven innocent," but it's like, out of all the celebrities you could accuse, he's the least surprising for me. Like, I thought this was an older article at first, but no, the only crimes he's been accused of before were against good taste and human decency"
Bex Ollerton: As a survivor/victim, I truly hate sentiments like "I'm not surprised he was bad/ I knew all along" etc. Cool for you? You're so smart, well done. You're just So intelligent for not being charmed and manipulated like the victims! Thanks for choosing This Moment to let us know! /s"
Sooz Kempnor, star of Doctor Who: Doom's Day: "It WAS pretty baffling that Russell Brand went from staunchly socialist democrat for decades and then WOMP far-right conspiracy just asking questions bilge but I guess the decision will all make perfect sense soon enough."
Mark Chadbourn, writer of Book of Shadows comics, "There have been some astonishing journeys recently. Giuliani going from 9-11 hero to democracy-destroying crank. Russell Brand moving from revolutionary socialist to Far Right conspiracy theorist and now alleged rapist. Starting to think those conspiracy theories are a brain-destroying virus."
Nancy Collins:, Swamp Thing writer, "More rich, entitled dbags doing what they do."
Ella Baron: Monday's @guardian cartoon on the sexual assault allegations against Russell Brand

Martin Rowson: This is just brilliant. Continue knocking em dead @EBaronCartoons !
Alex Paknadel, author of Red Goblin, "Astonishing to see how many establishment figures are rallying around multimillionaire anti-establishment chimney sweep Russell Brand, innit? Why, it's almost as if…"
Jamie Smart, creator of Bunny Vs Monkey, "Weird how it's the right wing grifters rushing to his defence, even before seeing the programme. And by weird, I mean, of course they are."
David Quantick of Brass Eye, Veep andCroix-Noire, "Twitter is full of people deciding if someone is a bad person solely based on if they like them or not. I miss when we decided if someone was bad based on the music they liked."
Ned Hartley of Bananaman, Say what you like about Russel Brand because millions of his online fans will ignore you and tell you that he is actually Jesus
Rich Davids of Comic Printing UK: "Russell Brand won't see your defences of him, but survivors will and they'll know what kind of person you are. My point is carry on, you're inadvertently making the world safer."
Umar Ditta, creators of Lad and Untethered, "I looked, and behold, a black horse; and he who sat on it had a pair of scales in his hand. And I heard something like a voice in the centre of the four living creatures saying, "Cancel culture is a real thing. We will not be silenced.""
Duncan Jones of Moon, Mute and Madi, "If your first instinct hearing about the list of accusers ready to tell their grim stories about Russel Brand is, "they'll be after you next!" … you should probably consider what the f-ck is wrong with you.
Noel Clarke, creator of The Troop, and subject of his own allegations, added "Morning. Hope you're all well. Anything interesting been happening?"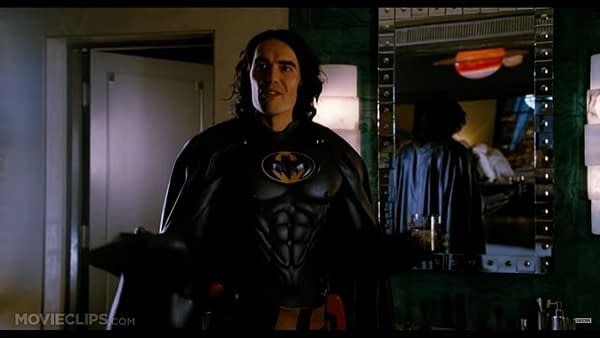 Personally, I think we are all just waiting to learn what Mark Millar will post about it all. I was once made aware by someone at Jerry Bruckheimer's company years ago that the TV show Lucifer, adapting the Neil Gaiman/Mike Carey comic book from DC Vertigo, originally planned to cast – or at least write for – Russell Brand as Lucifer Morningstar. The original pilot script was far more verbose and in Brand's mannerisms, but for whatever reason it didn't work out. If true, some people involved may currently believe they dodged a demonic bullet. Here's my own thoughts on the matter…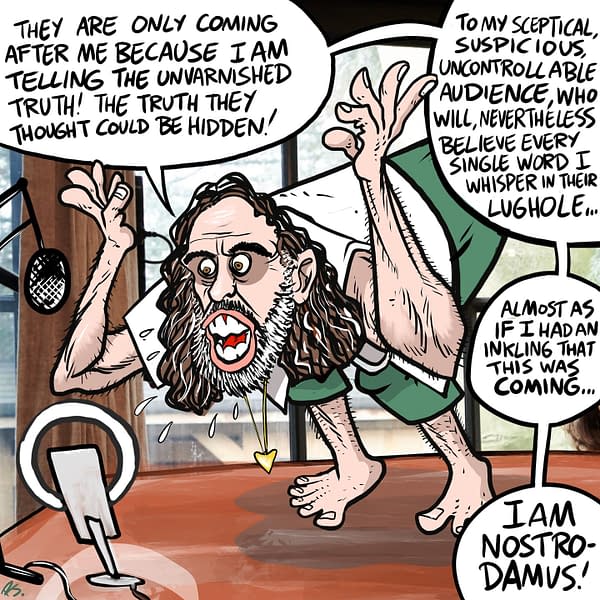 ---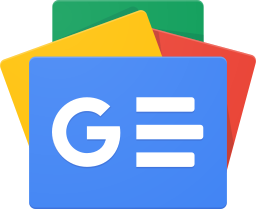 Stay up-to-date and support the site by following Bleeding Cool on Google News today!