Posted in: Comics | Tagged: funeral, queen, reacts
---
Comic Book Creators React To The Funeral Of Queen Elizabeth II
Today was the Funeral of Queen Elizabeth II, held in London's Westminster Abbey, before her coffin was transported down the high streets of England to her burial at Windsor Castle. It may just be possible you might have missed it. Here's what a bunch of comic book creators have been saying on social media, but it does seem that the sheen of several days' worth of media coverage may be starting to peel off somewhat.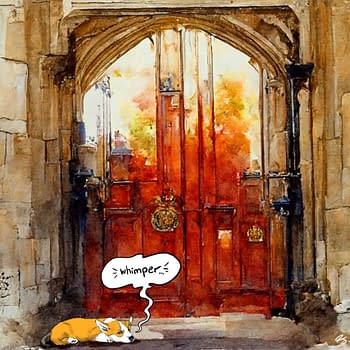 Rob Williams: "Tickets. Anybody want tickets? Buy and sell tickets." Touts out in force at the Funeral, I see.
Tom Galloway: This has the potential to go seriously off the rails. Monday is Queen Elizabeth's funeral. Monday is also Talk Like A Pirate Day.
Of course, this is what secondary audio channels (should have been) were made for….
Mike Collins: Fascinated by the Busby Berkeley precision of these moves…when on earth did they practice for this? And where?!
Jamie Delano: Been a bit short on sleep recently for various reasons, but the funeral music brought on a welcome nap.
Ramzee: I think I'm just too arrogant to be a Royalist. I ain't bowing to another human being just because they won the birth sweepstakes.
Feff: I think it's more arrogant to demand deference from others just because of winning the birth sweepstakes. We're all human at the end of the day, and our actions mean more than who we happened to be born as!
Ramzee: I'd sooner bow to David Beckham lol He's been grafting since young & came back from being The Most Hated Man in England to being a national icon. He worked for his status. But bow to Charles? Not today, Satan. Not ever
Cheryl Lynn Eaton: Boris not combing his hair for the funeral is wild disrespectful, but that's not my family so it is what it is. If I were king I would have had someone pull him aside over it. He's embarrassed the country enough.
Fee McBee: I can't believe they are taking the Queen through Staines High Street. It's good of her to come to me though. She must have known I don't do queues,
James Goss: Turned on the radio. Had no idea the Funeral March had been really missing a banging baseline. Thoughts and prayers with everyone at Pleasuredrome sauna standing solemnly, yet proudly, to attention.
Fred Van Lente: Dang, I keep writing *Prince* Charles on my checks
Steven Grant: If life were fair, newspapers & magazines would be talking a lot more about Jean-Luc Godard than about Queen Elizabeth…
Kev Hopgood: There really hasn't been enough coverage of the royal funeral on the main stream media. The BBC in particular really needs to raise its game.
Cheryl Harris: Anne being the one to accompany her mom on the last journey back to Windsor just got me.
Chuck Satterlee: My guess is … based on the US news channels… the British people probably have nothing other than Queen stuff on tv, b/c it isn't our monarch but it seems to be all that is on tv over here.
Steve Tanner: It really is an opportunity for the Nation to come together…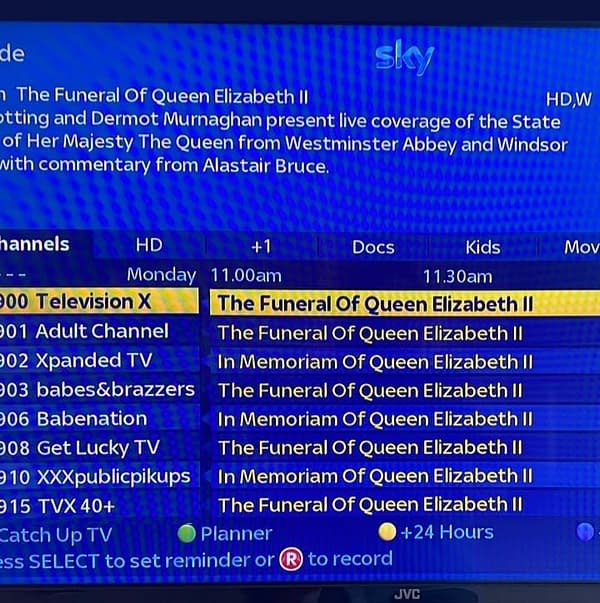 Valerie D'Orazio: Just groggily watching some live Sky News coverage of the Queen's funeral as they interview onlookers all along the route. And remembering how when my mom did Ancestry dot com, her side of the family was unexpectedly like 45% from England & I was like "nah". Whenever I consider any connection I would have with theoretical British ancestors, the 1st thing that pops into my head is like Lon Chaney Jr. inexplicably playing the son of Claude Rains in "The Wolfman"
Graeme McMillan: In this time of national mourning in the UK, let's be grateful for the most important thing: that there wasn't a really sh-tty, sentimental Doctor Who special episode about how great the Queen was rushed into production.
Chris Burnham: Phantom of the Opera closing after 35 years is our version of the queen dying.
Andy Khouri: This funeral music is literally the intro to "It's a sin" by Pet Shop Boys… This is so depressing to watch because I know my mom is gonna call and say this is exactly how she wants me to do her funeral…. I dozed off but the last thing I remember was something about the queen reappearing in the form of a spider crawling on her own coffin.
Wilfredo Torres: BREAKING NEWS! The Queen is still dead. LIVE updates as we exhaustively cover the situation 24/7
Mike Collins: Huw saying it's the Queen's last view of that Famous Balcony. What rubbish. She's in a lead lined coffin. Even Superman couldn't see through that!
Alex Zalben: [Benoit Blanc locks the doors to England] "now, one of y'all murdered the queen, that's just a fact. and nobody, I mean nobody, is leaving this country until we determine exactly who did the deed."
Si Spurrier: Holy sh-t, guys, the queen died?
---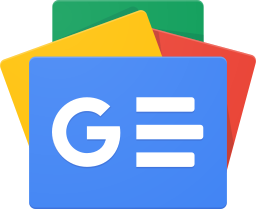 Stay up-to-date and support the site by following Bleeding Cool on Google News today!