Earlier today, Bleeding Cool ran the scoop today that DC Publisher Dan DiDio had gone at DC Comics. Reaction was swift. Here's how a few comic book professionals reacted to the news.
So @bleedingcool is reporting that Dan DiDio is no longer affiliated with DC Comics.

I liked Dan very much. We disagreed on a lot. But he did a lot that others took credit for, and when thinks went bad, he often took the blame he didn't deserve.

I wish him EVERY SUCCESS.

— GAIL SIMONE (@GailSimone) February 21, 2020
Working for Dan Didio was working for the ultimate comic nerd, a man who passionately loved the medium and its creators, a publisher who worked tirelessly on their behalf. I'm eternally grateful he gave me quite a few shots. Can't wait to see what he does with his next one. pic.twitter.com/Fxq1jHqIQq

— Tom King (@TomKingTK) February 22, 2020
Waiting for the tweet from DD the writer thanking DD the EIC for taking a chance on him and giving him so much work and having his back all these years.

— Evan Dorkin (@evandorkin) February 22, 2020
I'll miss Dan. I've known him for 20 years or so and he's always been infectiously enthusiastic about comics in general an DC specifically. He's the reason I came to DC and a big part of why I stayed. Hope he does well for himself.

— BRYAN HITCH (@THEBRYANHITCH) February 22, 2020
The wall he requested gave the builder a job, the supplier income, the gardener shelter and the house protection. But because some found it ugly they cheered when the bus ran him over. 🤬

— Liam 'Sharpy' Sharp (@LiamRSharp) February 22, 2020
I'm waiting to hear from former interns on how great the guy was to work with.

— Evan Dorkin (@evandorkin) February 22, 2020
A lot of fans seem to be wondering what Dan DiDio's departure from DC means for the characters; I'm more interested in knowing what it means for women who work or would like to work at the DC office.

— Jennifer de Guzman Strikes Again (@Jennifer_deG) February 22, 2020
Dan Didio was a supporter and champion of my work from day one. He kept Sweet Tooth alive and gave me my first chances at writing comics in 2010. Wish him all the best. DC won't be the same without his passion.

— Jeff Lemire (@JeffLemire) February 21, 2020
Oh man. Dan was a massive supporter of me being at Marvel. Sorry to see him go.

— Chip Zdarsky (@zdarsky) February 21, 2020
Dan DiDio was a great champion of mine over at DC Comics. I'm forever grateful for his support as I made my way to the DCU and for our conversation they led to Female Furies. I am wishing him luck on his next adventure. It's definitely the end of an era.

— cecil will be at ECCC NN-15 (@misscecil) February 21, 2020
End of an era at DC with Dan DiDio gone. FWIW, I always really liked Dan, and when we disagreed, it was amicable. Thinking of all of my friends there who are going through what is assuredly a challenging day.

— Van Jensen (@van_jensen) February 21, 2020
We lived in different universes and competed for more years than I can remember, he's a good guy and has been a staunch advocate for our medium for nearly two decades. I want to personally wish him the best and look forward to all his future endeavors and successes.

— JoeQuesada (@JoeQuesada) February 21, 2020
Few people brought more energy, passion and enthusiasm to comics than Dan DiDio. If you spent any amount of time with him at or caught one of his many convention panels, you couldn't help but see that. Sad to see him go and I wish him all the best.

— Dan Jurgens (@thedanjurgens) February 21, 2020
Right now I'm not thinking about how it affects my future, or interested in rumblings of the past from those that took umbrage, I just wish Dan DiDio the very best in whatever his future brings. He has been very good to me personally over the last few years. Cheers to you Dan!

— Liam 'Sharpy' Sharp (@LiamRSharp) February 21, 2020
I never had any problems with Dan, aside from the fact that he didn't instantly approve whatever I wanted to do at enormous page rates, of course.

So yeah, I wish him the best, and I'll wait and see what direction DC takes from here. I don't think they're going to rush to get… https://t.co/aP5pWkY712

— Kurt Busiek Resists (@KurtBusiek) February 21, 2020
So I wish Dan the best, and thank him for being a cheerleader, an irritant, a fan, a booster, and a good pal. Things will move on. They won't be the same as he gets off the train, but they never are. /4

— Cully Hamner (@CullyHamner) February 21, 2020
The first time I met Dan right before DC announced REBIRTH and I'll never forget the sheer excitement and passion he had for the characters, and for DC. That passion never faltered and he has always been a true champion in my corner. I really hope I get to work with him again.

— Mitch Gerads (@MitchGerads) February 21, 2020
Dan DiDio took big chances in comics because he believed in the importance of innovative storytelling. He let me turn the Flintstones into a dissection of civilization and Snagglepuss into a gay southern gothic playwright. He always had my back and I will forever be grateful.

— Mark Russell (@Manruss) February 21, 2020
Dan DiDio – His time at DC was an amazing accomplishment. Thank you Dan for letting Amanda & I grow as storytellers & always having our backs. We will miss that bold & creative energy that you brought to DC & we look forward to seeing what comes next.

— Jimmy Palmiotti (@jpalmiotti) February 21, 2020
Absolutely gutted to hear about the loss of Dan Didio at @DCComics. Dan was always a great guy with a huge heart and laugh. I never worked with him, but I will mourn his exit nonetheless.

— DONNY⚡️CATES (@Doncates) February 21, 2020
Dan Didio was holding DC back for YEARS. This is the best outcome.

— robliefeld (@robertliefeld) February 21, 2020
Be kind, don't crow. Have empathy, don't gloat. It's ugly to paint yourself as always knowing what's right and best. We never have the full picture.

— Liam 'Sharpy' Sharp (@LiamRSharp) February 21, 2020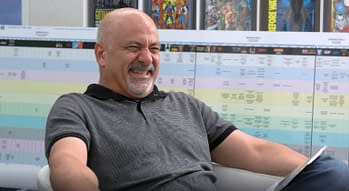 Enjoyed this article? Share it!